Talking heads: The Mercedes DRS
So how does Mercedes' 'passive DRS' really work? Why do we only know now? Does this feature have a future? Bickering answers ahoy...
Last Updated: 26/04/12 12:42pm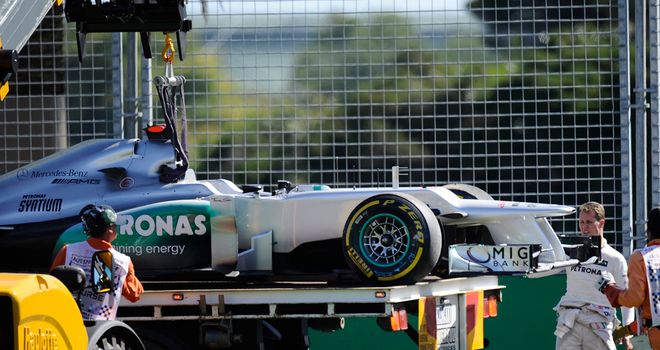 Going head-to-head as we discuss the latest technical wheeze to be the talk of the paddock...
So just what is it that Mercedes are doing?
Good question.
Thanks. Any chance of a good answer?
Less of the cheek, please. The good news you should be concerned with is that we're finally beginning to work out how the Mercedes system actually works.
Spill the beans then.
Well, if you watched Friday's edition of The F1 Show this will sound uncannily like a repeat, but we think it works like this: The Mercedes driver activates the DRS from the cockpit to open up the W03's rear wing. When the flap is raised, two small holes on either side of the wing are fully revealed. To quote Ted: "These two holes allow air to flow down the endplates and into parallel pipes that twist and turn as they route forward along the length of the car, down the nosecone and central pillars of the frontwing and into a hollowed out area of the wing."
And did Mr Kravitz, who seems to have done most of the work for this feature so far, happen to reveal where the air comes out?
I was just coming to that. According to Ted, the air then exits from six slits cut into the front wing.
And what does that do?
If you ever stop interrupting, I might be able to tell you. The trick is that this extra flow separates the air around the front-wing to cause an aerodynamic stall. The effect of this is that downforce is reduced and there's less drag so the Mercedes can go faster in a straight line.
How much faster?
At Albert Park, the Merc was recorded as being about 10mph faster in a straight line than the Red Bull.
So it's a F-Duct and DRS rolled into one? Clever. But is it legal?
That's the question still being asked in the paddock. So far, the FIA have deemed it to be within the rules, but a number of dissenting teams, led by Lotus and Red Bull, held more discussions with Charlie Whiting in Malaysia and we're expecting a definitive judgement from the FIA delegate in China.
Yes, yes. But is it legal?
I'm not Charlie Whiting so I can't tell you if it is legal or not. All I can tell you is that the antis argue the system should be deemed a driver-operated aerodynamic device, and therefore banned, while Mercedes insist that it isn't a driver-operated system and so there's no valid reason for it to be banned.
And so far Charlie is on their side?
Well done for paying attention. Boiled down, he has accepted Mercedes' argument that the stalling of their front wing is part of the conventional DRS process and he can't separate one from the other.
Or so the theory goes.
Indeed. And lest we forget, the original F-Duct concept, wheezed up by McLaren in 2010, was first deemed legal and then subsequently banned - much like the double diffuser of 2009.
So what you're saying is that the rules change?
No, what I'm merely observing is that sometimes opinions change for all kinds of reasons.
You've got to do better than that. Get off the fence and tell us what you're thinking.
F1 is a tit-for-tat business and if a formal protest is made against the Mercedes then it's highly likely that they might find something they don't like on one of their rivals' cars. Citing the 'spirit of the rules' is a convenient fudge when a compromise is required.
Oh is that all? I was hoping for something far juicer. But what will happen if the Mercedes system isn't banned?
Then the work being done by all the other teams to replicate it - and we can be sure that the rest of the field is already busy working out how to produce their own copy - will continue apace.
Well they do say imitation is the highest form of flattery. But is this why Mercedes left it so late before unveiling their car this winter and skipped the Jerez test?
Very possibly. It certainly seems as if the rest of the field only began to fully cotton on to what Mercedes were doing in Australia. Before then, there were only some vague suspicions.
Why only then?
Because it is only in qualifying that the system pays substantial dividends because it's only in qualifying that the use of the DRS isn't restricted. And it was only in Australia that we saw some close-ups from underneath the Mercedes after Michael Schumacher's beached WO3 was lifted onto a crane.
You mean lifted by a crane?
Yes. But the point is, this wheeze might be clever but it only seems to work to any productive effect in qualifying. On a Sunday, the Mercedes only seems to go backwards.
Which isn't what a F1 car is supposed to do
There's hope for you yet. But, yes, the problem seems to be that, as well as being very fast in a straight line, the W03 is also very hard on its tyres - perhaps the hardest of any car in the field.
A coincidence?
Probably, but one theory beginning to do the rounds is that the Merc is particularly hard on its tyres because their room for manoeuvre with ride height and weight distribution is being restricted by the needs of their passive DRS system - or whatever it is we are calling it this week.
It's too far weighted towards qualifying instead of the race, you mean.
Nice line - and yes. If it doesn't have a pointed effect in China then some of the less-minted teams might wonder if it is worth the bother.
And if they do land some big points?
Then all this fuss will finally seem worth the aggravation.
And this feature..
Hopefully.