British GP preview: Silverstone Questions
All will be revealed in due course, but here are some of the burning questions ahead of this weekend's event...
By Pete Gill and Mike Wise
Last Updated: 10/10/12 5:15pm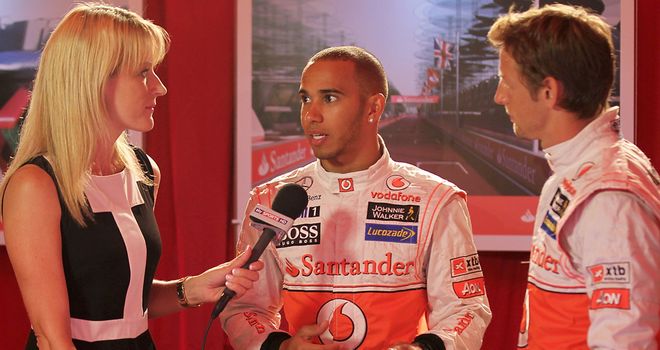 But you'll have to wait until Sunday for the answers...
Will McLaren's upgrades work?
Lewis Hamilton made no secret of his dismay at the shortage of upgrades for his MP4-27 in Valencia, repeatedly bemoaning their absence and highlighting a raft of new parts on the Ferrari and Red Bull. Curiously, the team had itself stressed the importance of introducing upgrades for each and every race only the week before, with Sporting Director Sam Michael telling Sky Sports News: "We've brought at least a tenth of a second to the car at every race and in some races we've brought much more than that. I think you have to bring at least a tenth per race and to stay still."
The best-guess explanation for the discrepancy between word and non-deed is that McLaren have elected to save a raft of upgrades for their home event this weekend - a race with a far higher profile than the European GP. If so, the policy seemingly backfired in Valencia and could do again this weekend if the forecast bad weather wipes out much of Friday's scheduled running.
There will be nervous looks all round the McLaren garage if the team start Sunday's race with untested new parts bolted on to Jenson and Lewis' cars.
Will the Red Bull be reliable?
Although Sebastian Vettel's retirement from the lead in Valencia was attributed to a fault on his Renault engine, the series of mechanical bugs that resulted in Mark Webber's early exit from qualifying highlighted the risks of making sweeping changes to an ultra-sensitive and finely-tuned machine - according to Sky Sports F1, as much as 80 per cent of the Red Bull may have been altered in the month of June.
The risk to reliability is one that McLaren will also have to be mindful of, but there's unlikely to be any going back from Red Bull - Vettel was around a second-a-lap faster than his closest pursuers in Spain until the Safety Car was deployed. The team must believe that if they can keep their car running, they'll be the lead frontrunner. Quite the 'if', though.
Will we have another crazy race?
A bit - or a lot - of rain can always spice things up but the bare facts to emerge from Valencia (the first two-time winner of the season; an all-too-familiar polesitter waltzing off into the distance) suggested that the 'crazy' outcomes we've had so far might be starting to settle down towards normality.
That Red Bull's latest updates have impressed is beyond doubt; in this most competitive of seasons, might they prove enough for the World Champions to finally steal a march? Or might the European Grand Prix prove to be a false dawn? The last time F1 visited a high-speed circuit such as Silverstone, Williams won. With Silverstone hosting the first of three races spread across just four weekends, July could provide a critical harbinger of what's to come for the rest of the year.
Will home advantage benefit Jenson and Lewis?
Though Silverstone is a favourite track of the McLaren duo, it has not proved to be a happy hunting ground for either man: in almost twenty attempts between them, Button and Hamilton have secured just a solitary triumph on home soil - the latter's victory in 2008. Home advantage is assumed but not necessarily guaranteed - the burden of expectation can drown out even the most enthusiastic support. How will Jenson and Lewis cope with the pressure?
Can Di Resta stall Hulkenberg's revival?
And then there's the fortunes of the third Brit in the field to consider. Paul di Resta has impressed this term, but in Valencia it was Nico Hulkenberg who took up the mantle of lead Force India driver, beating the Scot in both qualifying and race trim. With the drivers' market poised to open for business, and Mercedes to consider Michael Schumacher's future over the next six weeks, Di Resta can ill-afford a repeat defeat to his team-mate this weekend.
How will Pirellis new tyres perform?
It's not a subject to set pulses racing, but every team will be closely monitoring the performance of the experimental hard compound Pirelli are introducing for Friday's practice sessions (the first time that a new compound will have been tried during a race weekend in 2012).
The one line guaranteed to focus attention is Pirelli's assurance that "our priority is to ensure that no one team is handed any particular advantage" by the new compound. Cue suspicion and counter-suspicion as every team strives to fathom which, if any, of them is favoured by the new rubber - and then, of course, insist that the answer isn't them.
Who will roll the dice on strategy?
There are two aspects of particular interest to this weekend's strategy choice: 1) Pirelli are yet to experience a dry British GP after last year's race started on intermediate tyres and none of the lead runners used the hard compound before its finish, 2) This week's selection of the hard and soft tyres means that, for only the second time this year, there will be a full 'step' between the available compounds.
Even if it stays dry, the cool conditions should open up the full range of selection choices - meaning we could see a few cars one-stopping, some two-stopping and others three-stopping.
...And will the tyred mystery finally be solved?
Assuming conditions this weekend are - let's be diplomatic here - cool but also largely dry then they will surely be further grist to the mill as far as the teams' engineers are concerned, as they seek to understand Pirelli's fickle rubber.
Hitherto, the challenge of unlocking the Pirelli has been consistently hampered by a large variation in climatic conditions across a weekend, with Valencia the first to be entirely warm and sunny. Might three days' worth of consistently cool and cloudy weather aid them in unpicking the conundrum? Consistently dry conditions, though, seem a big ask.
Will Caterham reach the midfield?
A significant weekend is in the pipeline for Caterham with Heikki Kovalainen revealing the team believe their new parts will be worth "half a second to one second". Having talked up in pre-season their hopes of achieving a breakthrough into the midfield, Caterham have delivered a relatively disappointing campaign so far. But if this weekend's upgrades are as good as their estimated word, the Toro Rossos should finally be within their reach.
Will it rain?
No, on second thoughts, that's not a question. That's a certainty.
Pete Gill and Mike Wise