Mixed emotions ahead of mid-season break
Sky Sports F1's Martin Brundle reports on why so many drivers departed Budapest for their summer holidays with long faces - and how a particularly happy Lewis Hamilton returned to the title race...
Last Updated: 31/07/12 9:38am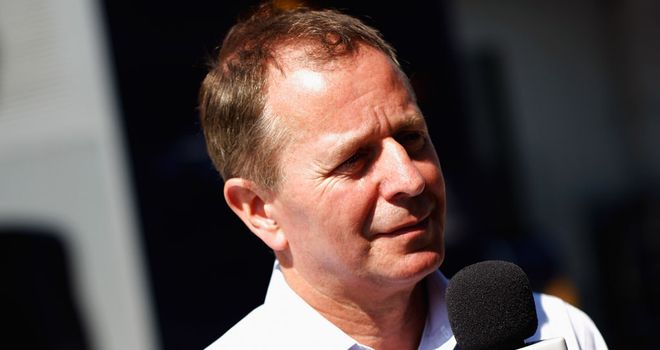 Reflecting on the Hungarian Grand Prix my overriding image is one of disappointed racing drivers. In many ways this is a reflection of the quality and depth of the 2012 competition, and the importance of getting every aspect of race preparation and delivery absolutely right.
Kimi Raikkonen is a case in point. He showed stunning pace at the end of his second stint, and in combination with his Lotus was very much a potential race winner. It was his fifth podium in eleven races on his Formula One return after a rallying sabbatical. In those races he has gained 32 positions from his starting grid slots, and the team have really taken the fight the recent front runners. Yet on the podium and in the post race interviews he had a face like a wet Monday morning as he rued another race victory that had slipped away. And it really impresses me that he takes that much pain on what by any standards is a very successful return.
Standing alongside him on the podium was his equally disappointed team-mate Romain Grosjean. Here's a man who two seasons ago was in a mildly competitive GT car as he tried keep his career alive having flunked his first chance in F1. Grosjean looked the man most likely to beat Hamilton to the chequered flag until held up by Michael Schumacher when lapping him, and a slightly scruffy pit-stop. Being nerfed off the road by Raikkonen as he exited the pits and they apexed turn one side by side probably didn't help his demeanour, and third place didn't represent his ultimate potential and he knew it.
The good news for Grosjean is that his close combat racecraft looked great and underlines that his first lap incidents this season have been unlucky rather than indicative of bad judgement.
Other drivers were ruing strategy calls. Mark Webber was comfortably ahead of his championship rival Alonso when the team decided not to gamble on the tyres lasting and three stopped him. The difficulty in passing other cars on this tortuous layout meant that he would only finish eigth and lose out. Similarly Jenson Button almost seemed to be negotiating over the radio to two stop instead of three, and having finally conceded he would see his potential third place slip to sixth, although in reality he was going to be passed by Raikkonen anyway.
This all pales into insignificance compared with Schumacher's day. Already down in 17th on the grid he stopped one row too early for his grid slot. The subsequent aborted start saw him switch off his engine rather than follow the procedure of completing another formation lap. This was brought in many years ago to prevent the aggravation and time loss of dragging all the equipment and personnel back onto the grid. Formula One cars have copious amounts of clever systems and devices, but a starter motor is not one of them.
They pushed him into the pit lane, during which time he collected a puncture on a drain grill, and then in his haste to get to the end of the lane broke the safety speed limit. He was given a drive-through penalty but actually this should have been a fine, as in practice sessions, because the race had not yet started. They retired the car later on, and then hopefully had a beer or two and looked forward to Spa.
Conversely Fernando Alonso had a very lacklustre day to finish fifth and went home very happy having extended his championship lead to 40 points. Under the surface though he must be very concerned because Red Bull, McLaren and Lotus have very strong cars. Furthermore Lotus has a very interesting rear wing device using a fluid switch which could see them mighty fast in Spa.
Ferrari are now in fourth place in the Constructors' title race and they will have to fight very hard to keep Alonso at the head of the drivers' championship too in the remaining nine races. They desperately need Massa to get into the action and take points off Alonso's rivals.
Lewis Hamilton was the happiest and most open that I've seen him for ages. He's become a Twitterholic, he left the circuit embracing his dad, and he was much more approachable and not charging around the place head down, under a cap, and behind dark glasses. He answered media questions with polite charm and engagement. From Friday morning until the chequered flag on Sunday afternoon he looked like the man most able and determined to win the race, in and out of the car.
He's put himself back in the title hunt, and a happy Lewis in that upgraded McLaren can clearly be a major force every race now.
MB