Sky Sports F1's Japanese GP schedule
What's coming up during the early hours this weekend...
Last Updated: 02/10/12 2:35pm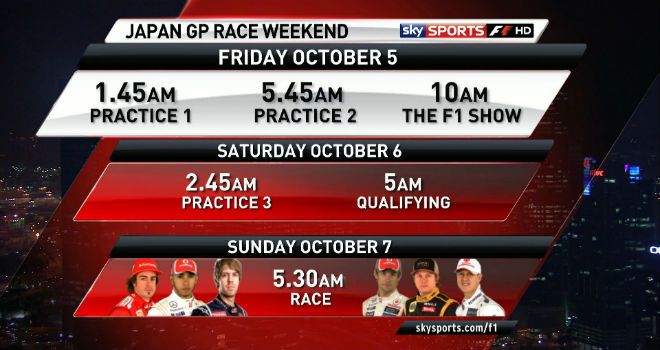 There are plenty of early mornings ahead for F1 fans wanting their live fix of F1 from this weekend's Japanese GP but the Sky Sports F1 team is promising to make all those sleepy starts worthwhile.
The team - led by pundits Martin Brundle, Johnny Herbert and Anthony Davidson, and to be bolstered from Saturday by a late-appearing Ted Kravitz - will be broadcasting every session from the famed Suzuka circuit live and have plenty of tricks up their sleeves to keep viewers back in Blighty wide awake.
For starters, our race programme - which starts at 5.30am on Sunday - will include a one-on-one interview with the driver that everyone has been talking about since Singapore: Lewis Hamilton. And no prizes for guessing what subjects might be on the agenda...
Meanwhile, Romain Grosjean will be taking the Sky F1 crew for a track guide while Kamui Kobayashi will be telling us what it is like to be a Japanese driver at the Japanese GP. Another driver who can expect plenty of local support is the Japan-loving Jenson Button and the McLaren man will be reflecting during our Qualifying Show on his recent trips to those areas of the country which are suffering the devastating consequences of last year's horrific earthquake.
And just to cap off our illustrious cast of characters, we have a man (or is it a woman?) of mystery as well: a secret psychologist who will be detailing the role psychology plays in the sport and why F1 has become such a tough mental challenge.
As always, don't miss it!
Thursday October 4:
7am: Drivers' Press Conference - Live!
7:30pm: Britain's Next F1 Star.
Friday October 5:
1:45am: Japanese Grand Prix Practice One - Live!
5:45am: Japanese Grand Prix Practice Two - Live!
8am: Team Principals' Press Conference - Live!
10am: The F1 Show - Live!
Saturday October 6:
2:45am: Japanese Grand Prix Practice Three - Live!
5am: Japanese GP Qualifying - Live!
Sunday October 7:
5:30am: The 2012 Japanese Grand Prix - Live!