Why Kimi Raikkonen's Abu Dhabi win was a long time coming but still perfectly timed
Sky Sports F1 commentary expert Mark Hughes examines the foundations of Kimi Raikkonen's victory in Abu Dhabi and why it took so long for the team to achieve this season...
By Mark Hughes
Last Updated: 06/11/12 5:28pm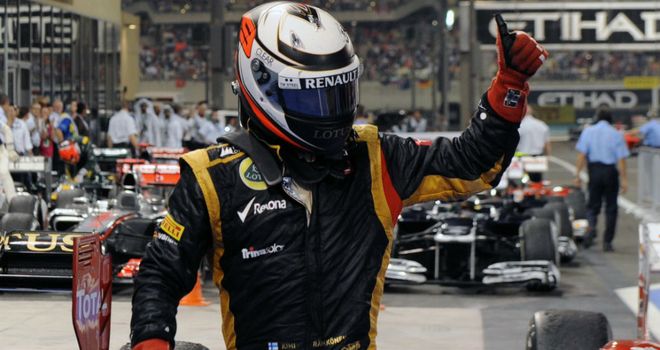 It was only partially gifted - in that Lewis Hamilton's McLaren had been able to pull away from the Lotus at will but then retired with electrical failure. But the point was, it was Raikkonen and Lotus who were in a position to best capitalise on that bit of luck. The steady improvement in competitiveness in the last few races is what allowed Kimi's inheritance to be the lead of Sunday's grand prix rather than merely a better position.
Bahrain, round four, was a possible Kimi victory lost by the team not moving Romain Grosjean out of his way. Barcelona, too, was probably winnable but floundered on Kimi not putting together his best qualifying lap and the strategic complications that followed.
The Lotus was in great race day form for Grosjean at Montreal, Valencia and Silverstone, but never really in a potentially winning position and it wasn't until Hungary that it threatened for victory again. There, Kimi had again failed to stitch together his best qualifying sector times - and if he'd done so he'd have started from the front row. From there, he may have been in a position to have got past Hamilton at the start. Instead, the Lotus pair were stuck at Lewis' tyre-saving pace when they could have been using their superior tyre degradation to pull away from him.
But that was the last time the Lotus was genuinely fast. It was beginning to look as if the Enstone team had, in those earlier races when its car was so fast, blown its chance of taking its first race win since Fuji 2008.
Thereafter Red Bull, McLaren and Ferrari appeared to get a handle on how to better keep the tyres in their working temperature range, taking away a crucial Lotus advantage. At the same time the Lotus' development ran dry while Red Bull and McLaren, in particular, found very fruitful developments paths. Ask technical director James Allison if that development path was compromised by the experiments with the passive 'Double DRS' device at this time and he replies: "Absolutely, yes. Turn the clock back and I'd place less emphasis on it than we did."
So it was only in Korea, round 16, that the Lotus appeared with a Coanda exhaust for the first time. This system - used by McLaren, Ferrari, Red Bull and Sauber from the start of the season - takes advantage of the tendency of a fluid (in this case the exhaust gas) to follow the contours of an adjacent surface (in this case the downward sweep of the sidepod at the back).
Directing the exhaust flow in this way over the rear brake ducts (which are shaped so as to create downforce) and the sides of the diffuser walls (thereby sealing it and preventing the underfloor airflow from leaking out from the gap between the bottom of the diffuser and the track) increases downforce. This is particularly the case at low speeds, where the diffuser is running at its maximum height above the ground. The downside is that the smaller exhaust pipe diameters needed to accurately direct the flow costs the engine around 13bhp. It also requires a different set up and a subtly different driving style to maximise.
Korea, India and Abu Dhabi have been all about the team and drivers learning about the set up and driving style changes. During that time the Lotus/Raikkonen combination has steadily clawed back some of its lost competitiveness.
"We've improved it with each race," says engineering chief Alan Permane, "with little add-ons - front wings, chassis wings etc that have all worked. But it's been more about understanding how to set the car up with those exhausts and also how to drive with those exhausts. In India, Kimi was a bit irritated with himself for making a small change to the car between P3 and qualifying which hurt its balance but which perversely probably helped the car in the race there.
"So he's just been thinking about things around local set up and tweaking it here and there. In Q1 here he came in and said it's the best it's been all weekend and we were able to build from there."
Fifth quickest became fourth on the grid with Sebastian Vettel's penalty. Fourth became second with a great start. Second became first with Hamilton's retirement. It all looked incredibly straightforward for Kimi, an experienced old hand who's won so many times before. It was understandable that the team was more anxious than he - as confirmed by the radio conversations between them - but the reality was the result was never in doubt once Kimi had been gifted that place. Controlling things from the front is what he was born to do and that flat-line lack of emotion is perfectly suited to such a task.
The result could hardly have come a better time for a team in a difficult, transitional time, with recent complex financial hurdles impacting upon operation and morale.
The road ahead is clearer now.
MH