Welcoming F1's new American home as Alonso keeps the title fight alive for Brazil
Sky Sports F1's Martin Brundle on the welcome success of Austin and the rights and wrongs of Ferrari's grid change...
Last Updated: 22/11/12 8:09am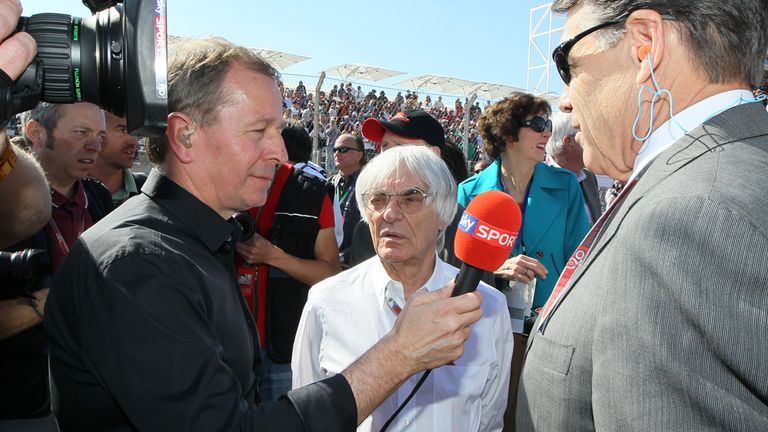 Early in the week I often heard people say 'this reminds me of Adelaide', which is a great compliment. Many Aussies could never understand why we all loved the event in what they considered to be a sleepy city of churches.
We loved Adelaide because it was just the right size to fully embrace F1, and was logistically very easy. It seemed to us that every man, woman, child and dog were pleased to see us and the sporting and party spirit endured every year. The local media fully engaged and the crowds were huge and enthusiastic. Austin was very similar and if the drivers are positive and the entire place is rocking then this infectious enthusiasm must transmit to the hundreds of millions of TV viewers. Which only underlines why the likes of Mokpo in Korea feels so wrong.
Sebastian Vettel looked unbeatable throughout the three practice sessions, and by some margin. Lewis Hamilton's qualifying effort which so nearly stole pole position was all the more impressive for that and confirmed that, curiously, he seems in a very good place at the moment and is surely driving as well as ever. With a more reliable car he would have been right in the title hunt and probably signed up again for more McLaren mastery in 2013.
The race would be all about 'switching tyres on'. Basically the shiny new surface, coolish conditions and conservative Pirellis meant that grip was in short supply. It really doesn't matter if the tyres are too soft and degrading, or too hard and sliding, as long as they are not quite right we have great races. I've always said that wet or changeable races are usually very exciting so let's have a lot less grip in the dry. And that's exactly what generated a great race along with a fine track layout and some truly skillful driving.
Ferrari seemed to struggle more than McLaren and Red Bull, which rather confirms they have less downforce. Massa had threatened to out qualify Alonso pretty much all day on Saturday and so it proved. Vettel on pole and Alonso eighth looked grim for the championship especially as the dirty side of the grid was correctly predicted to lose a place off the start.
By intentionally taking a five-place grid penalty for Massa this moved Alonso onto the grippy side and with Ferrari's normal flying start likely up to 4th or 5th out of the first corner with less chance of contact, rather than say 9th. Which is exactly what happened.
For the team to intentionally cut the seal was always going to be controversial. Let's be frank, it's not impressive and is generally rather smelly, especially in the USA of all places. It was always going to rake up previous F1 dramas around team orders and intentional crashes.
But it was within the regulations, although clearly outside of the intentions of the gearbox rule provision. Ferrari helped a potential PR nightmare by simply telling the truth about what they had done to assist Alonso to keep the championship alive.
Understandably many fans won't like it, just as some felt that it was wrong that Red Bull could alter Vettel's car and start from the pitlane in Abu Dhabi. Teams constantly interpret the rules to their benefit, whether it's double diffusers, engine maps, fiddle brakes, blown exhausts, flexi front wings and so on. That's life at the top of every sport, where you use all of the strategic, physical and psychological tools available to you.
A team boss who was vociferous against the Ferrari move asked me if I was going strong on it for TV. I said 'no, that would be hypocritical because I would do the same thing in Domenicali's shoes to stay in the championship, as would he...'
What a race it turned out to be. Side-by-side action all the way, occasional banging of wheels but I don't recall a single nose cone being changed.
It's easy to give designer Hermann Tilke some stick if you don't know all the hoops he has to jump through, usually with a year less than he needs in some faraway place. It's easy to criticise some of his early tracks even if you do know, but he really seemed to get this one right again. I asked him why so many of his tracks are anti-clockwise and he hadn't actually seemed to have noticed that. He said it's more about where the pits and turn one needs to be. I suspect he instantly decided such a natural hill would make a handy turn one.
It was so important for F1 to put on a good show in the USA for the future of the sport. We have to keep improving and expanding because other sports will. I see there is a World Sportscar race in Austin next year. I fancy doing that and I'll be jealous if I can't and my boy Alex can.
So for the first time in his 100 races we had Vettel, Hamilton and Alonso on the same podium. With Jenson Button's mechanically-affected poor grid slot and Mark Webber's Red Bull breaking down, Alonso would probably have finished third anyway from his original grid slot providing he didn't have contact early on. Their Stetsons on that podium will become an iconic image.
It was very impressive that Red Bull took their third consecutive Constructors' title. At the age of just 39, Christian Horner has done an incredible job, not least being very smart in attracting Adrian Newey and then making sure that he's totally happy in his environment.
Alonso must be on the podium this weekend to have even a chance to take the championship, and anywhere in the top four will seal it for Vettel. Interlagos can be so unpredictable though.
MB