Driver-by-driver review of the season
The Sky Sports F1 Online team assess all 24 drivers' years...
By James Galloway, Mike Wise and Pete Gill
Last Updated: 04/12/12 11:59am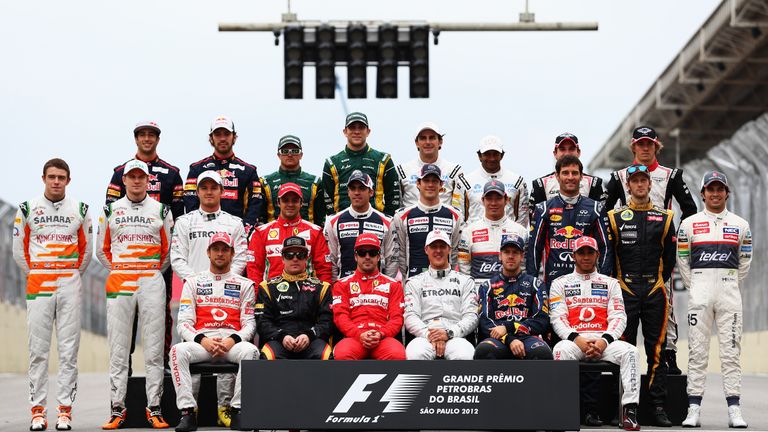 Sebastian Vettel
Points: 281; Final position: 1st
Another season, another title and yet more records for the driver who, at still just 25 years of age, is already fast cementing his place among the greats of the sport. But while in years to come the history books may come to portray this as a period of domination by Vettel, the reality of his second title defence was that it was anything but easy. Red Bull undoubtedly had the fastest car at certain points - no more so than in the final Asian flyaways when Vettel crucially won four races on the spin - but at other stages, particularly in qualifying, the RB8 was a challenging Bull to tame.
It meant that, yes, there was the odd mistake and error of judgement from Vettel- both in races and, unusually for him, qualifying - but, rather like his childhood-hero-turned-good-friend Michael Schumacher in his prime, Vettel always seemed to be there or thereabouts at the business end of a weekend - when his RB8's alternator didn't fail that is. It also allowed him to showcase his previously maligned wheel-to-wheel skills. He is therefore a deserving youngest three-times champion and you'd be a brave man to bet against him taking a fourth title in 2013. JG
Mark Webber
Points: 179; Final position: 6th
There was a time, mid-season, when things were looking rosy for Mark Webber. Silverstone was probably the high-point: the British Grand Prix became his second victory of the season after Monaco. At that moment, he enjoyed a 16-point lead over team-mate Sebastian Vettel and a new one-year contract was duly signed. The defending Champion had, by the imposing standards he had set the previous year, been struggling: might the Australian be able to peg him back this time? Might he, indeed, be able to strike out?
Red Bull took a step forward after the summer but the advantage they found - or the part of it that centred on exhaust blowing - was best exploited (as it had been in 2011) by Vettel. The end for Webber really came in the Far East, as first an assault by "nutcase" Romain Grosjean in Japan and then a botched start from pole in Korea cost him momentum. Vettel surged ahead and, alas for the 36-year-old, there was more than a feeling of inevitability about it. MW
Jenson Button
Points: 188; Final position: 5th
Jenson might have denied describing the MP4-27 as the worst of the three McLaren cars he has driven, but the 2009 World Champion has never attempted to disguise the difficulties he endured throughout 2012 when trying to conquer the 2012 Pirellis. "The way I drive I really struggle to get the tyres up to temperature and that's been a big issue for me," he conceded as the campaign reached its conclusion.
Statistically, the season was better than Button's frustration intimated. Book-ended by victories at the season-opener at Australia and the Interlagos finale, he was also in resplendent form as he won with comfort to spare at Spa. In the final reckoning, he was just a couple of points behind Lewis Hamilton, too. Yet statistics are misleading things, and Button's struggles throughout the season were vivid and consistent. Saturdays, in particular, were persistently disappointing as he toiled to generate heat into those troublesome Pirellis. No wonder he can't wait for 2013 - a year in which Hamilton will be replaced by Sergio Perez and for he has the chance to mould the team and car to his suit his style. PG
Lewis Hamilton
Points: 190; Final position: 4th
Given he was embroiled in a drawn-out contract saga for most of the season, which ultimately resulted in his momentous and no doubt heart-wrenching decision to cut his umbilical cord to McLaren, Hamilton's on-track focus was exemplary in 2012 and resulted in arguably the most complete season of his Formula 1 career to date. That he only finished fourth in the standings and 91 points adrift of Vettel was essentially down to one thing - McLaren's unreliability. Failures while leading in Singapore and Abu Dhabi, along with a fuelling mix-up in Barcelona that saw him stripped of what had been a dominant pole, ensured three further likely wins were snatched from his grasp while early-season pit-stop blunders also cost the 27-year-old dearly in the final reckoning.
With seven poles, and four further front rows, Hamilton could justifiably claim to have been the fastest driver in 2012 and two of his four victories, both in North Americas, were particularly special. Yet for all that his luckless exit at the season finale at Interlagos kind of summed up his season and, given Mercedes' form of late, it appears likely that things will get worse before they get better. JG
Fernando Alonso
Points: 278; Final position: 2nd
Even before Sebastian Vettel took the title almost everyone seemed to be proclaiming Fernando Alonso as their driver of the season. The evidence as to 'why' has been there right from the very beginning. All the talk pre-season had been of Ferrari's recalcitrant F2012 yet once the lights went out in Melbourne, the racer within tamed the red beast. Not only did Fernando bend an ill-handling, underperforming car to his will, he also managed to have the same effect upon the races themselves. Is that not the hallmark of a supreme sporting performer?
Time after time, Alonso was to be found on the threshold of the top 10 after qualifying but then, inevitably, came the demon start with rapid progress to follow. Invariably a podium finish was the result but on three occasions he found himself on the top step. Malaysia and Germany were both wonderful wins but the European Grand Prix brought a genuinely heroic performance, even taking Sebastian Vettel's retirement into account. Spain's footballers were also hitting top gear in Euro 2012 that weekend yet surely not all of those firecrackers lit in Valencia were for the purveyors of tika-taka? Speaking of teamwork, Alonso said Ferrari's was essential in keeping him in the race for so long. Yes, the Scuderia sailed close to the wind matters sporting in Austin but by then they were desperate; in effect, it was a complement to Red Bull. Alonso winning the World Championship would have been an outrageous achievement; that he came so close is reason enough for almost everyone to be right. MW
Felipe Massa
Points: 122; Final position: 7th
Summing up Massa's year as a season of two halves is a decent starting-point for any review of the Brazilian's campaign, but still falls a long way short of adequately expressing just how contrasting the peaks and troughs of his year were. From finishing 15th at a Malaysian GP which team-mate Fernando Alonso won to out-driving the title-contending Spaniard in the final three races of the year, Massa's season was the ultimate roller-coaster.
Somewhere near the middle was a second place at Japan which amounted to his first podium in a couple of years. That result was followed by a one-year contract extension, the brevity of which underlined the deal was as much a probationary reprieve as a reward. Just as well, then, that Felipe ended the year with 53 points scored from the final five races compared to a squalid two in the first five. More of the same at the start of 2013, please. PG
Michael Schumacher
Points: 49; Final position: 13th
The phrase "lies, damned lies, and statistics" springs to mind when assessing Schumacher's swansong season. On paper, the headline numbers were depressing: as many retirements as points finishes (eight), his worst championship classification since his 1991 rookie year (when he only competed in six races) and his longest ever sequence without scoring a point (six races). Yet the reality was that, in many ways, 2012 was the most impressive season of his comeback.
In Valencia he finally made it back onto the podium for the first time since China 2006; in Monaco he set the fastest qualifying time and would have started on pole but for a grid penalty carried over from the previous race; and, finally over the course of the season, he managed to more than match Nico Rosberg's single-lap pace. The latter in particular wasn't bad for a 43-year-old but in general the good fortune that deserted him right at the end of his first career never returned and it was as if lady luck was trying to make crystal clear to him this year that it wasn't returning. A couple of humiliating crashes aside, Schumi deserved far better in 2012 although he was at least able to bring the curtain down for the final time in characteristically never-say-die style in Brazil. JG
Nico Rosberg
Points: 93; Final position: 9th
Nico Rosberg won his first grand prix in 2012 yet he still ends the season with question marks surrounding the true extent of his talent. Rosberg cantered to victory in Shanghai having dominated qualifying and in the immediate aftermath - a period when fluctuations in form were at their wildest - he was consistently picking up more points than anyone else. Yet the fact that it wasn't to last sums up the problem people have with him: does Rosberg really have the stomach for the fight?
He may have stamped his authority on the Chinese Grand Prix but it's a result that seems an aberration. Three weeks before in Malaysia, Rosberg fell backwards in a car that suffered with its rear tyres - a season-long problem for Mercedes - yet the contrast between his performance and the spirit shown by Michael Schumacher was marked indeed. His next best result was a second at Monaco but even then his thunder was stolen somewhat by Schumacher's pole lap that wasn't. From then on, Rosberg's season sank and by the end of the season Mercedes, without a point in five races, had turned their attentions to 2013. Perhaps Rosberg had too. Results show he outperformed the old master yet he often appeared anonymous. There will be nowhere to hide next season when The Lewis Hamilton Show arrives. MW
Kimi Raikkonen
Points: 207; Final position: 3rd
So comebacks in F1 can work. While Michael Schumacher's second stint in the sport proved to be a near-unabated failure, Raikkonen returned to F1 as if he had never been away (which, of course, he had been for a couple of years). As quick and laconic as ever, the Finn was also formidably consistent, finishing more laps than any other driver in the field.
If there was a fault in his form, it tended to be on Saturdays when his qualifying performances sometimes veered towards the underwhelming, and if there was minor criticism, it was that it took so long for him to achieve his first comeback win. Better late than never, however - and far better still for F1 to have such a vast talent back amongst its ranks. PG
Romain Grosjean
Points: 96; Final position: 8th
For all the positives around the Frenchman's return to F1, Grosjean's 2012 will sadly be forever tainted by him becoming the first driver to be banned for a race in 18 years for causing the horrendous first-corner pile-up at Spa. The suspension was the culmination of a string of first-lap misjudgements - of which there were seven in total - and brutally undid much of the work Grosjean had done to repair his tattered reputation since his ill-fated first stint with the Enstone team at the end of 2009.
Pace-wise the 26-year-old had little problem re-acclimatising to F1 and until the final months of the season enjoyed a clear advantage in this area over the similarly-returning Raikkonen. Yet while Kimi's experience shone through in his consistent results, Grosjean's card was more erratic with highs of podium finishes in Bahrain, Canada and Hungary sitting alongside eight retirements, only two of which could be put down to the car. The fact Lotus have yet to re-confirm him for 2013 suggests the management still aren't 100% sure which side of the Grosjean equation is likely to win out. JG
Paul di Resta
Points: 46; Final position: 14th
That Paul di Resta earned his best results to date yet also finished one place further down the Drivers' Championship sums up his season. Making a strong start and earning the best finish of his career - a sixth place - in Bahrain, the Scot shaded team-mate Nico Hulkenberg during the first half of the year. Yet despite going one better in Singapore, di Resta was in general out-performed by his team-mate from there on in - Hulkenberg by now firmly finding his feet having been on the sidelines during 2011.
Disappointingly, di Resta's career aspirations were also thwarted towards the end of the season when the driver market shakedown left him with nowhere better to go. At the time of writing, Force India have not confirmed the 26-year-old for next season. He has done more than enough to suggest that they will, but di Resta needs to re-establish momentum next year. There was literally none at the end of the season, di Resta having crashed late in the Brazilian Grand Prix. He was running seventh at the time. In contrast, Hulkenberg finished fifth having led the race for 29 laps. It's the latter sort of performance that the big teams notice. MW

Nico Hulkenberg
Points: 63; Final position: 11th
One of the biggest - if not the biggest - climbers in the F1 pecking order during 2012, it is arguably only in his destination for 2013 that Hulkenberg has fallen short. If he was to move on from Force India, shouldn't he have been aiming higher than Sauber?
As reliable a judge as Martin Brundle believes that Hulkenberg would have been a better bet for McLaren than Sergio Perez, and it says plenty about just how impressive Hulkenberg was as he defeated Paul di Resta during the course of 2012 that he was thought on the verge of replacing Felipe Massa at Ferrari until the Brazilian finally found form again. Nonetheless, Hulkenberg ends the year with his star very much in the ascendency. PG
Kamui Kobayashi
Points: 60; Final position: 12th
The fact Japan's only active F1 star has taken to setting up a website for fans to donate money to help him stay in the sport could in many ways illustrate how the 26-year-old's stock has plummeted since he burst onto the scene in swashbuckling style three years ago. To an extent that is true, but Kobayashi might also feel somewhat hard done by - both to lose his Sauber seat and not appear to be particularly prominent on anyone else's radar, given the trajectory the career of his 2012 team-mate Sergio Perez has taken.
While Perez's highs were higher this year, Kobayashi did claim his own debut podium with a sublime drive on home soil and was only pipped at the post by the Mexican in both points and qualifying results over the course of the campaign. Yet the C31 should have arguably achieved more than either managed and it's Kobayashi who was left to pay the ultimate price. JG
Sergio Perez
Points: 66; Final position: 10th
To date, Sergio Perez's main virtue has been that he tries something different. In his rookie year - in his debut race, indeed - the Mexican revealed an uncanny gift for managing his tyres and twice this season, in Canada and Italy, he used it to hugely impressive effect. The pattern has invariably been thus: qualify somewhere just outside top 10; run a long opening stint on the prime tyre; change to the option and make more hay in the closing laps.
The Malaysian Grand Prix, where Perez challenged eventual winner Fernando Alonso before a late slip up, also revealed a willingness to take a punt: his eventual second-place being built upon a foundation of a timely stop for wet tyres soon after the race had started. Who dares wins? It seems that way for Perez, who has earned himself a McLaren contract for 2013 and beyond. They have obviously seen plenty in the 22-year-old beyond that which has helped him achieve his strongest results to date, but the fact he failed to score a point in each of the final six races (in the process becoming involved in a number of accidents) suggests a diamond that still needs quite a bit of polishing. MW
Daniel Ricciardo
Points: 10; Final position: 18th
Could have done better, should have done better? The table doesn't lie, but it does tell the occasional porkie and Ricciardo's position beneath Vergne delivers a misleading impression of their respective years. Yet while nobody would argue that Ricciardo looked the quicker of the two Toro Rosso newbies, Ricciardo's failure to make much of an impression during the course of the season was a persistent disappointment. Have lined-up sixth in Bahrain, the young Aussie didn't qualify in the top-10 again and 2012 ended with F1 almost none the wiser about his talents than when the year started. Careful, Daniel, this is a long time to keep a jury waiting. PG
Jean-Eric Vergne
Points: 16; Final position: 17th
Like many wet-behind-the-ears graduates to F1 in recent years, Vergne expressed more than his fair share of Q1 jitters during the course of his rookie season and his eight early Saturday exits were far more than anyone from a pre-2010 team. Yet to his credit that particular fate only befell him twice in the second half of the year, and with Toro Rosso in tandem picking up their own competitiveness, the Frenchman was able to showcase his skills with a handful of solid drives to the points. Neatly, all 16 of his points were registered via eighth-place finishes, and although team-mate Ricciardo finished in the top ten more often and dominated qualifying, it was Vergne who finished higher in the championship. He stays on for 2013 but will have to make a big step forward to convince the Red Bull management he is the future race winner they're looking for. JG
Pastor Maldonado
Points: 45; Final position: 15th
When was the last time a race-winning driver finished so low in the overall standings? Maldonado didn't put a foot wrong in Barcelona back in May, but it was just about the only time that happened all season. Besides his victory at the Spanish GP, the Venezuelan has chiefly become known (alongside Romain Grosjean) as F1's resident bad-boy racer; hauled before the beak more times than anyone cares to remember. Certainly if it wasn't for that win, one has to wonder whether Maldonado would have any future at Williams.
Pastor has, however, with that success, plus a couple of other outstanding qualifying performances, convinced Williams that there is more to him than his petro-dollars. Perhaps the 27-year-old is, in fact, one of the fastest drivers around? "I'd rather have somebody who has big speed, a heavy right leg and tends to make mistakes, but is capable of acknowledging those mistakes, than somebody you can't get up to speed. You either have it or you don't," said Williams Executive Director Toto Wolff in confirming the driver's retention for 2013. MW
Bruno Senna
Points: 31; Final position: 16th
In truth, 2012 never really got going for Bruno and his ousting in favour of Valtteri Bottas felt something of an inevitability from mid-season onwards. While more consistent than Pastor Maldonado, the Brazilian's lack of pace was a constant handicap and a drawback he could never quite overcome. He might have finished in the points on ten occasions, but, on the salient flip side, he was unable to finish higher than sixth after the rain-induced chaos of Malaysia. The inferred lack of star quality - and potential race-winning pace - is probably what cost him his seat at Williams. A shame, because there really wasn't a nicer chap on the 2012 grid. PG
Heikki Kovalainen
Points: 0; Final position: 22nd
At one stage strongly being touted as a replacement for Felipe Massa at Ferrari, Kovalainen ended the season unsure if he would even be on the grid come 2013, with economics more than ever to the forefront for the smaller teams in F1. Whether by coincidence or not, rather like Paul di Resta, once it became clear he had been overlooked for some of the more coveted seats his form, particularly relative to the unheralded Vitaly Petrov, tailed off and it was the Russian who more often than not finished ahead on race day. Generally, though, Kovalainen continued to be a reliable performer - as his 19-race finishing streak from Malaysia to Brazil showed - but whether his career has ultimately gone up a Caterham cul-de-sac is open for debate and is likely to be revealed before too long. JG
Vitaly Petrov
Points: 0; Final position: 19th
'To finish first, first you have to finish' goes the adage. Add on 10 places and you could apply it to Petrov who, having quickly overcome his mispronunciation of Caterham's name on Sky Sports News the day his arrival was announced, proceeded to outrace incumbent team-mate Heikki Kovalainen. He was outqualified more often than not by the Finn but was there more often when it really mattered. And when it really, really mattered, it was Petrov who delivered: the Russian passing Marussia's Charles Pic in the closing laps of the Brazilian Grand Prix to secure the 11th place Caterham needed to beat their rivals to that all-important 10th place in the constructors' standings. "We reserve this :) yes yes yes :)))," tweeted an ecstatic Petrov after the race. Yet with Pic joining the team next season, can he keep his seat? The 28-year-old might have out-raced Kovalainen but his status as a paying driver remains intact. MW
Pedro de la Rosa
Points: 0; Final position: 25th
While it's easy to be dismissive of De la Rosa's participation in F1 at the grand old age of 41, the fact remains that his 17-3 qualifying defeat of Narian Karthikeyan was one of the most emphatic any driver achieved in head-to-head combat against his team-mate this season. And in a car as uncompetitive as the HRT, that was as much as anyone could have asked of Pedro - even a superior hybrid of Alonso and Vettel wouldn't have scored a point in the F112. Yet the overriding memory of de la Rosa's year was his dignity in the wake of the news that the cash-strapped team had been put up for sale. A real class act who deserved better. PG
Narain Karthikeyan
Points: 0; Final position: 24th
Sadly for India's F1 hero, the only time he received any time in the spotlight was when he was getting in somebody else's way - namely Sebastian Vettel, in Malaysia and Austin. The former occasion famously also prompted the German's somewhat lost-in-translation 'cucumber' jibe. Being dominated by the 41-year-old de la Rosa didn't help perceptions of Karthikeyan but he did his best to keep the Spaniard honest and did achieve HRT's best result of the year with 15th place in Monaco. JG
Timo Glock
Points: 0; Final position: 20th
Marussia are the smallest team on the grid and in Glock they have one of their largest assets. The German is a potential race winner in the right car but his current outfit aren't going to deliver on that anytime soon. As such, Glock finds himself locked into their development drive - at best a painfully slow process, and one he knows all-too-well having been privy (albeit from a completely different perspective) to Toyota's F1 project. Occasionally linked with a larger team, the 30-year-old must surely cast an occasional, wistful eye elsewhere and wonder what might have been. It might still happen, of course, but with the trend now for drivers who have youth, talent and money on their side, it seems more likely that Glock will have to continue taking his satisfaction from giant-killing. MW
Charles Pic
Points: 0; Final position: 21st
While at first glance the young Frenchman might have been a peripheral, inconspicuous figure through the course of his debut year, close examination of his season revealed a very handy start to his F1 career. Having been almost a second behind Timo Glock in the first qualifying session of the campaign in Australia Pic's recovery was sufficient to see him outqualify his far more experienced team-mate on seven occasions. Caterham, with a little financial persuasion, also saw enough to hire the 22-year-old for 2013. PG