Where the Australian GP was won and lost
Sifting through the small print of Sunday's season-opening race
By Pete Gill and James Galloway
Last Updated: 18/03/13 4:35pm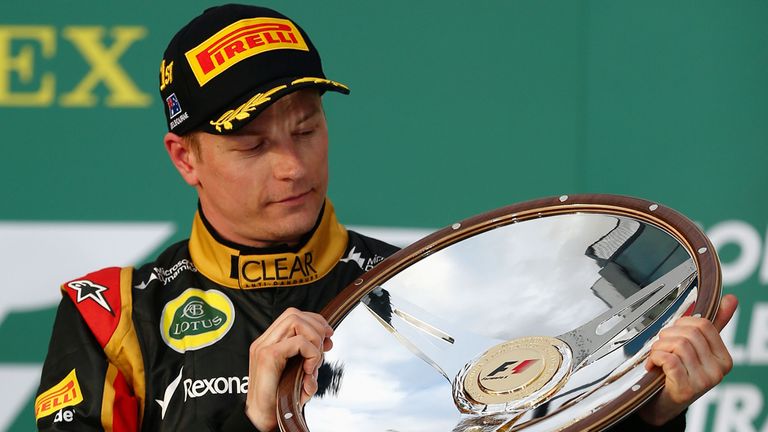 Just how did Kimi Raikkonen win from seventh on the grid?
Considering the fact that in its previous 17 editions, Albert Park's grand prix had only ever twice been won from outside the front two rows on the grid, Kimi Raikkonen's achievement in triumphing from seventh in a race of low attrition was both unexpected and highly impressive. So quite how did he pull off the 20th victory of his F1 career?
The Finn's hopes of making Lotus's pre-planned two-stop strategy work to such stunning effect would almost certainly have been flattened had he not managed to dispense with the two Mercedes - both of which were running even longer opening stints - inside the first two laps.
Raikkonen himself ultimately ran only to the same point as Fernando Alonso on the supersofts (lap nine), but this was already two laps longer than the race leader Sebastian Vettel, whose lap times had dropped of the 1:33s by lap five due to sharp degradation. The Lotus, treating its tyres far more gently than the Red Bull could, was consistently faster throughout the sint.
Nonetheless, it was only during the second stint, run on the medium tyres, that Raikkonen's advantage became decisive. While the three-stopping Vettel, Massa and Alonso spent 11 laps following Force India's Adrian Sutil's before pitting, Raikkonen was able to keep a watching brief behind while seemingly not overstressing his tyres. Then, once that quartet pitted, the Finn was able to stretch his middle stint all the way to lap 34 - some 14 laps longer than Alonso had managed and 13 more than Vettel.
The Lotus re-emerged back into clean air and fifth place and although Alonso was actually still lapping faster than the Lotus initially on now older tyres (lap 36's 1:30.674 v 1:31.881 being the clearest example) the Spaniard's need to make an additional visit to the pits meant Raikkonen was almost guaranteed to resume the net lead.
So it proved with Raikkonen holding a five-second lead after Alonso's third and final stop. The Finn's advantage was immediately trimmed by the Ferrari recording the first two laps of the day inside 90 seconds but traffic - first in the form of Lewis Hamilton's Mercedes and then lapped runners - halted Alonso charge while Raikkonen's pace remained a model of consistency.
Indeed, the race victor actually ended the grand prix firmly on the front foot after setting the afternoon's fastest lap of 1:29.274 on lap 56 of 58.
Game over.
Where did it go wrong for Red Bull?
Having dominated qualifying and secured pole position by over a second from the Ferraris and Lotuses, Red Bull boss Christian Horner said "it was fairly apparent from lap four or five" that the World Champions were on the backfoot with the RB9 hard on its tyres. It's the rate at which the Red Bull lost speed that will most alarm the team as they prepare for Malaysia.
Have eeked out a two-second advantage on the first two laps in customary fashion, Vettel lost half a second to Alonso on lap three and was thereon consistently reeled in by the Ferraris before pitting on lap seven. Red Bull will be particularly alarmed that Vettel apparently suffered sharp degradation from as early as lap three, after which he was unable to stay in the 1:33s.
Raikkonen, by acute contrast, was still in the high 1:33s on laps seven and eight before he pitted for the medium compound.
To what extent Vettel was hindered by Adrian Sutil upon returning to the track behind the long-running Force India is debatable. Running in hot, dirty air would have hurt Vettel's tyres but it is an ambiguous fact that the Force India was quicker than the Red Bull on laps 14 to 19 before the World Champion made his second stop on lap 21.
It was at this stage of the race that Vettel lost second place to Fernando Alonso with the Spaniard's in-lap for his stop on lap 20 six tenths quicker than the German's.
Once again, Vettel's third stint was to tail off with sharp degradation: after starting out in the mid 1:31s, the Red Bull was back in the 1:33s by lap 30, whereas Alonso was still running in the 1:30s and 1:31s long after Vettel had made his final stop on lap 37.
Such was the apparent concern with tyre wear that Vettel didn't once dip into the 1:29s over the entire over the 58 laps and his fastest lap during the race was over a second slower than Raikkonen's.
Having been streets ahead in qualifying, the World Champions just weren't at the races on Sunday afternoon.
Would Massa have finished on the podium had Ferrari pitted him earlier?
The inescapable impression that Felipe Massa is now firmly ensconced in the role of Alonso's dutiful number two appeared to be rammed home during the second round of pitstops at Albert Park.
After the Brazilian had pipped his team-mate in qualifying and held track position over the sister car through the first stint, the Ferrari pitwall had stuck with established F1 convention at the first stops and serviced their lead runner first (lap eight for Massa compared with lap nine for Alonso).
However, after Massa, closely followed by his Spanish stable-mate, had then run in the dirty air of Sutil and Vettel all through the second stint, that pitstop order was suddenly reversed at the second stops with Alonso in first on lap 20 while Massa was kept out all the way to lap 23.
Although Ferrari actually serviced Massa's car in a fractionally quicker time (2.6s to 2.8s), in the five laps encompassing Alonso's Lap 20 in-lap and Massa's lap 24 out-lap there was a four-and-a-half second swing in the Spaniard's favour. Furthermore, not only did the earlier stop mean Alonso jumped ahead of his team-mate, he also leapfrogged both Vettel and the long-running Adrian Sutil, setting him up for a shot at victory.
Massa, meanwhile, followed the Force India all the way to his own final stop on lap 36 by which time Sutil had dropped to over a second off Alonso's pace, increasing his deficit to his team-mate to around eight seconds.
That the 11-time race winner ultimately finished 21 seconds behind Alonso at the chequered flag would perhaps vindicate Ferrari's earlier tactics, with Massa lapping in the mid-1:32s to low-1:33s during the closing ten laps for instance while Alonso, still chasing Raikkonen at this time, was clocking three successive laps in the 1:29s alone. But track position is often everything in F1 and you can understand why Massa appeared aggrieved with his lot after missing out on a maiden Melbourne podium.
Did Force India pit Sutil too early for his final stop?
Having twice led the race after running his tyre strategy in reverse order after starting out on the mediums, Sutil was required to finish with an 11-lap stint on the supersofts. Although a lighter fuel tank would have reduced the rate of degradation, this was still one of the longest stints any car attempted on the supersofts and would have cost the German seventh place but for Force India instructing a frustrated Paul di Resta not to challenge his team-mate. After closing right behind Sutil with a 1:30.894 on lap 56, the Scot backed off by three seconds on the final lap.
Could the team have spared themselves the aggravation by extending Sutil's second stint? The timsheets suggest they could. Although his second stint was already longer than his first, Sutil was still in the 1:32s when called in on lap 46 to put on the supersofts.
However, what forced the team's hand was Lewis Hamilton's unscheduled stop on lap 42 and subsequent fast lap times of 1:30, 1:29.7 and 1:29.9. At that rate, the only hope Force India had of keeping Sutil ahead of Hamilton was pitting him immediately for his mandatory change to the supersofts. With Sutil in the 1:32s and Hamilton the 1:29s, one more lap would have been sufficient for the Mercedes to have caught the far-slower Force India on the road - Sutil returned to the circuit just 2.4 seconds ahead of Hamilton.
Although Hamilton quickly passed his former friend and the earlier-than-scheduled stop left Sutil on a long run to the finish, the gamble was worth taking and it was only the supersofts' unexpected early graining which made Sutil so vulnerable to Di Resta's late surge.
Could Mercedes have kept Hamilton on a two-stopper?
While their rivals appeared locked into their respective strategies even before the lights had gone out on Sunday's grand prix, Mercedes adopted a more fluid approach to their two cars' races at Albert Park.
Initially they attempted to emulate Lotus in going for a two-stopper and the first leg of that strategy provided much encouragement as they managed to go four and five laps longer than any of their rivals on the supersoft tyre - lap 13 with Lewis Hamilton and lap 14 with Nico Rosberg. While neither drivers' pace in the opening five laps was eye-catching, Hamilton's final four laps were all in the 1:33s bracket whereas the then race leader, Vettel, had stopped on lap seven after slipping to 1:34.748 on the supersofts.
An eighteen-lap stint on the medium tyres followed for Hamilton, which while consistent - his laps ranging from a 1:32.311 (Lap 17) to a 1:33.869 (Lap 30) - didn't see him lapping in the same high-1:31 ballpark that Alonso, Vettel and Raikkonen (still on his own second stint) were occasionally dipping into. As a result, Hamilton was eventually passed by Alonso in a plume of tyre smoke just prior to his second stop.
Then came the crux point of the team's afternoon. Pitting Hamilton again as scheduled on lap 31, the Briton would have needed to have completed a 27-lap final stint to the chequered flag on the medium tyres to pull off a two-stopper, three more laps than even Raikkonen required. While such a stint wasn't inconceivable given his W04's diminishing fuel load, it was a big ask and what ultimately made Mercedes' mind up to switch strategy was the rate at which the three-stopping cars were now charging back up to him: Hamilton's 41st lap, the last one before he pitted, was a 1:31.653 whereas Alonso was flying on a 1:29.725 and Vettel, including passing the Mercedes, on a 1:30.409.
The other thing that undoubtedly swung them towards the three-stopper was that there was no net loss from the move: Hamilton, having also been ovetaken by Massa, pitted from sixth place and rejoined in the same position. Furthermore, that became fifth place on lap 51 when he caught and passed the ailing Sutil, thus ensuring the new combination achieved an encouraging result from their first race together rather than a potentially regretful end to the opening weekend.