Questions for Malaysia
Who will handle sweltering Sepang? Where next for McLaren and Williams? What odds on a new title favourite by Sunday night?
By James Galloway, Pete Gill, Mike Wise, William Esler & Jamie Casey
Last Updated: 21/03/13 1:32pm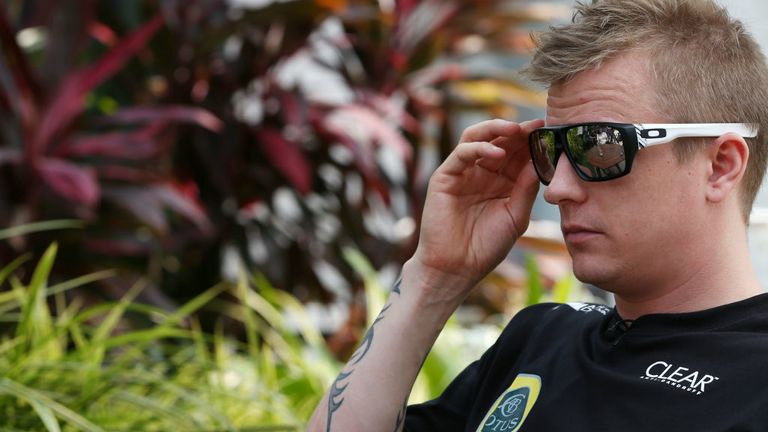 Believe it or not, Melbourne had been in the midst of an early autumnal heat-wave prior to the F1 juggernaut touching down at the start of last week, so the onset of conditions which Sky Sports F1's Damon Hill described as the coldest he had ever known at Albert Park - and prompted Damon's unscheduled pitstop for a hot chocolate during Sunday's race show - underlined quite how far the barometer had swung round. Reassuringly therefore for everyone, we're expecting the standard fare in tropical Malaysia: oppressive heat, stifling humidity and, oh yes, thunderstorms.
History tells us the latter tend to hit late in the afternoon at Sepang and since the race was moved to a late afternoon/early evening slot to accommodate European TV audiences in 2009 we've seen two races red-flagged - and one permanently so. It's highly possible, then, that fears over slick tyre life heading into this weekend's event could well be irrelevant come 4pm local on Sunday.
However, should the race indeed stay dry then Pirelli's 2013-spec compounds will experience an extremely tough workout which would, in turn, give us a clear indication of which 2013 cars are partial to the heat and which ones will be yearning for those chilly European climes again. Lotus may have given a lesson in how to manage tyres in the cool conditions of Albert Park, but the E21's predecessor was even happier in hotter weather last year while Red Bull, with victories in Bahrain and Singapore along with dominant pace in Valencia, also found warmer conditions to their RB8's liking.
On the flip side, the worst of Mercedes' 2012 tyre problems manifested themselves in hotter temperatures and so therefore a dry Malaysian GP would provide an acid test of just how far they've come in striving to reduce degradation since the end of last season.
JG
What will be asked of Martin Whitmarsh?
Martin Whitmarsh's brutal honesty about the MP4-28's shortcomings last week echoed in unsplendid isolation as the only thing impressive about McLaren's winter work. Where others would have hid - remember how Ferrari gagged Fernando and Felipe from speaking to the press during testing last year? - Whitmarsh kept on fronting up and kept on telling the world just how bad it really is at McLaren. No grip, no understanding, no pace; and absolutely no denial that McLaren aren't in serious trouble.
Yet while admirable, Whitmarsh's brutal honesty poses a difficult question for his inquisitors which is likely to rebound on the McLaren boss sooner rather than later. After all, given that there is nowhere left to interrogate about the inadequacies of the MP4-28, the only questions to be asked of Whitmarsh next are either about the possibility of bringing the MP4-27 out of retirement (impossible, at least in the short term, until it has been made legal for 2013) or about his own future and job security. Which won't be fun.
All told, Malaysia may be even more uncomfortable for the McLaren Team Principal than the horrors of Melbourne. It's a tough price to pay for honesty.
PG
Williams: Are things really as bad as 2011?
While McLaren's travails captured the lion's share of the attention Down Under, there was plenty of head-scratching further down the paddock at Williams as well. Both teams disappointed in Melbourne but while McLaren's decision to adopt an altogether different design approach for the MP4-28 has, almost since its launch, been construed as a gamble that - in the early races at least - might not pay off, there seemed genuine bewilderment at Williams with the sluggish performance of the FW35 in Albert Park.
The contrast in Pastor Maldonado's demeanour could not have been more marked. On Thursday, he talked of pre-season promise translating into a points finish at the very least on the sort of track he really likes. Fast forward 24 hours and the by now crestfallen Venezuelan reckoned he might struggle to escape Q1. And so it came to pass: saddled with a car more than three seconds off the pace, one of F1's most mercurial qualifiers found himself in the drop zone for the first time since 2011. Remember how bad things were at Williams then? Maldonado would rather not, yet he still drew comparisons between then and now.
Technical Director Mike Coughlan did not sound quite so apocalyptic but still reckoned that turning things around will not be the work of a moment. According to Coughlan, Williams have unwittingly taken a step backwards with their car since it was launched in Barcelona and so must revert to their baseline spec. Sepang, therefore, will bring more head-scratching. Such is the relentless pace of F1 development: one race in and already teams are losing ground to their rivals.
MW
Can Red Bull transfer qualy dominance into race pace?
The World Champions head into this year's Malaysian event trying to resolve a quandary which is the exact opposite of the one they faced this time last season. Twelve months ago, for just about the first time since the Milton Keynes team became F1's standard-bearing force, Adrian Newey and company had been puzzled in Melbourne as to why the RB8 had been quick and consistent over the race distance, but unusually sluggish over a single lap. Fast forward a year, and the opposite is true: the team were six tenths of a second quicker than the rest around Albert Park last Sunday morning. Yet a mere five hours later, the RB9 was chewing up its tyres inside the space of three laps.
Christian Horner pointed to mitigating circumstances for the car's unceremonious and hugely unexpected slump from its position as the weekend's seemingly dominant car to arguably only its third fastest - namely the tyres being out of their operating window in the dank Albert Park conditions - while Sebastian Vettel warned against reading too much into the formbook from the first 307km of the racing season.
Heat, as we explained above, certainly won't be an issue at Sepang but conversely any inherent difficulties the RB9 actually does have with preserving its tyres are likely to be brutally exposed over the race distance here, even if the fast nature of the circuit has again dictated that Pirelli are bringing their hardest two tyre compounds to the event. Should that prove the case, and the World Champions really be shown to have more serious cause for concern, then the shows of speed in Q3 - irrespective of how jaw-dropping they are - will count for little come the end of the opening stints on Sundays.
JG
Will the weekend end with a different title favourite?
Only a disastrous weekend for Sebastian Vettel will see him displaced at the head of Sky Bet's Drivers' Championship outright odds. Australia offered no indication that the RB9 is unreliable, with Red Bull boasting the longest odds at 14/1 to be the first team to suffer a retirement in Sepang.
However, a scenario whereby Fernando Alonso or indeed Kimi Raikkonen wins the Malaysian Grand Prix with Vettel failing to register a point will force the bookmakers to find a new favourite for the title, but the Red Bull driver remains the 6/4 favourite despite a disappointing third place from pole position in Melbourne.
He's 2/1 to win at Sepang for a third time, an outcome which may see his title odds slashed to evens. But this track has been kind to Ferrari over the years, with Alonso priced at 7/2 to claim a fourth career win here. The Spaniard's odds are likely to shorten if the forecast predicts a wet weekend.
JC
On a circuit they know, will the GP2 graduates deliver more?
It is a daunting prospect making your Formula 1 debut, let alone at a circuit you have never driven around in any category of racing. That was the case for all five of F1's rookie class of 2013 in Melbourne and whilst you would not have expected the Marussia and Caterham drivers to be doing anything other than fighting at the back, Esteban Gutierrez made an unspectacular start to his Sauber career, finishing a lap down in 13th place - an improvement of five positions on his grid slot, but then four cars ahead of him did retire.
Sepang, though, could be different. Gutierrez, Max Chilton and Giedo van der Garde will head to a circuit they raced at during last season's GP2 Series, which should eliminate one obstacle they face this weekend. Jules Bianchi - who made the biggest impression of the rookies at Albert Park - didn't race in Malaysia during his time in the championship, however.
So how did they get on last year? Gutierrez qualified a disappointing 15th, nine spots behind Lotus ART team-mate James Calado but showed great race pace to fight his way through to seventh - ahead of Calado. That set up a front-row start for the reverse grid sprint race, which the Mexican converted to second at the chequered flag.
Like Gutierrez, Chilton also has a podium to his name in Malaysia. The now Marussia driver's race was a bit of an up-and-down affair - he qualified third only to drop back at the start before regaining the position later to take his maiden GP2 podium - whilst Dutchman van der Garde produced a strong drive in the sprint race when he charged through from ninth on the grid to fourth.
Fast forward 12 months and while it would be unrealistic to expect Caterham and Marussia to be challenging the midfield, both Chilton and van der Garde will hope to be closer to their team-mates than they were in Melbourne. Gutierrez, meanwhile, was never the strongest of qualifiers in GP2, but tended to make good use of the Pirelli tyres to work his way through and score consistent points (remind anyone of a certain other Mexican that used to drive at Sauber?) and has the potential to repeat his feature race performance of 2012 now he's in the big time.
WE
Surprised by Sutil?
The first race of the season always brings surprises and fairly prominent among them in Melbourne was the performance of Adrian Sutil. It certainly came as a surprise to the marshals during the Australian GP, who at one stage waved blue flags at the Force India driver - oblivious to the fact that he was lapping in such rarefied surroundings on merit. The bare facts speak for themselves: racing in his first grand prix for two seasons, Sutil managed to lead for the first time in his career. Not once, but twice. It's uncanny sometimes how circumstances conspire to produce such outcomes.
Of course, those circumstances were propitious: the combination of Sutil's grid slot (12th), his free tyre choice and the fact that the supersofts worn by the cars ahead were quickly rendered useless all eased his passage into the lead by lap 14. Forced to switch to supersofts himself, Sutil appeared to be going backwards in the closing laps but there's no denying that, overall, he made the strategy work. It was a performance that brought nods of approval in the paddock on Sunday night.
The question now is whether he can produce more of the same. That team-mate Paul di Resta also scored points in Melbourne bodes well for Force India, yet it still comes as a surprise that Sutil is back up to speed so quickly. More than once, he has said that his time away from the sport might actually have helped. "I think my advantage is having been away and lived a normal life," Sutil said on Sunday night. "It's such a stressful sport and sometimes you have no time to learn. I believe I learned a little bit more not having driven a car and now, coming back, I can start on a good level and maybe step up a little more." It comes as little surprise, then, that another points finish is on the agenda this weekend.
MW