The unanswered questions from Sebastian Vettel's tainted win at the Malaysian GP
Should Vettel be suspended? Could Webber really quit? When did the pitwall give the order? Just how should Red Bull react?
By Pete Gill and James Galloway
Last Updated: 26/03/13 10:08am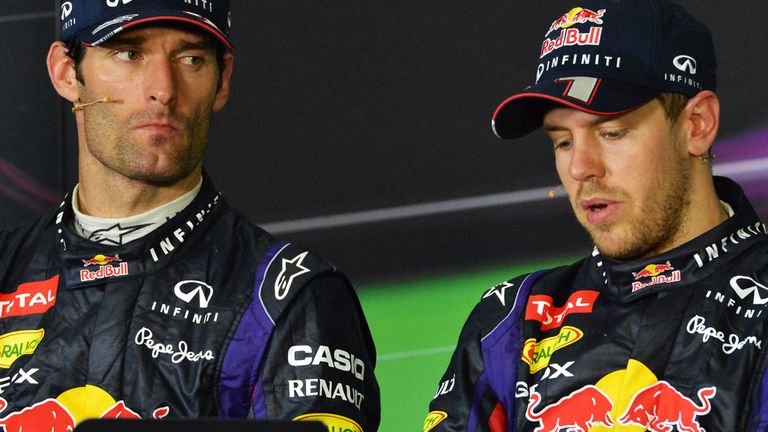 Did Sebastian Vettel deliberately ignore team orders to win the Malaysian GP?Vettel repeatedly denied as much in the explosive post-race press conference, insisting "I didn't do it deliberately so I didn't realise I had made a mistake [until] I came back", later adding "I didn't ignore it on purpose" and "I didn't mean to ignore the call".
But the difficulty in appreciating - or even accepting - just how Vettel wasn't aware of an order which was issued to Webber on at least two occasions during the race is further compounded by the damning testimony of Christian Horner.
According to the Red Bull boss, who pointedly offered no defence of the World Champion, Vettel "chose to hear what he wanted to hear" and had "obviously chosen to ignore" the team's instructions in order to "put his interests beyond" the team's.
In short, Red Bull seem certain Vettel's misdeed was entirely deliberate.
Why didn't Red Bull order Vettel to give the lead back to Webber?
The answer to this question is married to Red Bull's belief that Vettel deliberately flouted their instructions. As rhetorically asked by Horner as he faced the press pack late on Sunday night at Sepang, "Do you honestly think if we'd told him to slow down and give the place back, he'd given it back? There's no point. He'd made it quite clear what his intention was by making the move."
Only if Vettel hadn't deliberately ignored a team order might he have been prepared to surrender his position. But as Red Bull were sure his actions were deliberate, they didn't ask. Perhaps the real question, then, is whether the team, fully aware of the circumstances in which Vettel had taken lead, were wrong not to try in order to at least partially protect themselves from the inevitable fallout.
Could Webber quit F1 or Red Bull before the Chinese GP?
The threat certainly exists. Asked point-blank in the post-race press conference whether he was considering 'your future with the team, maybe even in Formula One?', Webber replied: "My mind, in the last 15 laps was thinking that many things, yes."
In the cold light of day, however, it seems unlikely that Webber will walk away from either Red Bull or F1 once the dust has started to settle and emotions have cooled. In view of Webber's claim on the podium that "Seb will be protected", Horner's public rebuke of Vettel - a first in their relationship - will have gone some way towards placating Webber and the Red Bull boss described the Australian as adding "very constructive" feedback for the RB9 in the debrief which took place several hours after his threat to leave was made plain.
Whether Webber is at Red Bull for 2014 is an altogether different and rather more doubtful matter, though.
Will Vettel be punished for ignoring the team's instructions?
Difficult to say, not least because the ultimate answer will come from a man whose voice is rarely heard in public: team owner Dietrich Mateschitz.
Calls for a race suspension - echoed by former McLaren driver John Watson - are unlikely to be heeded given that Red Bull's undoubted preference will be to draw a line under the affair and move on. Only if Webber quits might public pressure reach such a pitch that the team consider side-lining Vettel in Shanghai.
That said, they are already under intense pressure to punish Vettel - an employee who flouted a direct instruction from his superiors. Our expectation is of a suspended race suspension which will be kept private and only come into force in the wake of a repeat misdemeanour.
Why did Red Bull instruct their drivers to hold position?
The Red Bull pitwall would have known they had effectively won the Malaysian GP the moment Lewis Hamilton's need to fuel save became critical and the Mercedes driver was passed by Vettel on lap 39. With their one-two now re-established, and the threat from behind fast diminishing, Red Bull's priority switched to tyre preservation for the final stint as, in the words of Christian Horner, "the tyres were obviously marginal all weekend".
While the sweltering heat of Sepang and the demanding nature of the high-speed track alone in reality dictated such a strategy, the Red Bull pitwall would have been particularly sensitive to tyre wear given their challenge for victory just seven days previously in Melbourne had faded badly due to excessive degradation. In any case, it's reasonably common practice in F1 for teams to call off the 'fight' between team-mates once the final stops have been completed if they are running first and second, irrespective of whether they operate an overt number one and two policy.
When did Red Bull give their drivers the order?
This part of the story is anything but clear. Reading between the lines of Horner's explanation to the media after the race, the coded - and now infamous - 'multi-21' message to hold position would appear to have been given promptly after both drivers had completed their second stops on Lap 43: "When that last pit stop was complete, Mark was ahead - it was very close on pit exit. As far as we were concerned, it was a matter of managing the tyres to the end of race...and the instruction was given to both cars to effectively hold position."
Of course, Webber returned to the track immediately in front of the on-rushing Vettel and the pair dueled for the lead all the way up to Turn Five, so it's hard to imagine there was time for the messages to be relayed in the midst of that blood-and-thunder battle. Indeed, the first radio call played out on the world feed shortly afterwards from Vettel's race engineer was simply "Sebastian, be careful".
Indeed, Vettel - having been told the length of his penultimate stint would be the same as the one before in wake of his previous stop - had clearly been on a charge from the moment he had passed Hamilton. After overtaking the Mercedes on lap 39, his gap to Webber had come down steadily - 5.009s, 4.215s, 4.602s, 4.252s - and mid-way round his lap 42 in-lap he had further closed that deficit to 3.5s. Throw in a significantly quicker in-lap than Webber (1:43.839 v 1:44.754), a fractionally faster total pitlane time and his fastest out-lap of the entire race and there's no indication that he was going into cruise and collect mode as yet.
Who would have won without team orders?
Given both drivers were running to different agendas in the closing stint, this is the impossible question to answer. On the one hand you could argue that the fact that Vettel did ultimately manage to pass the sister car on lap 46 in what was clearly a proper battle for position - even if not a sanctioned one - indicated he had a fundamental pace advantage.
The very justifiable - and logical - flip side of that is Webber had already been instructed to turn his engine down and hold position to the end of the race, hence it wasn't a battle he was either expecting or fully equipped to rebuff. His later cryptic admission that "there were a lot of things going through my mind in the last 15 laps of the Grand Prix" proves further evidence that his ultimate 4.2s 'defeat' by Vettel is irrelevant and the damage was already done.
What now for Red Bull?
In the post-race words of Christian Horner there will be further meetings between himself and both Vettel and Webber before the F1 community reconvenes in China in two weeks' time in a bid to clear the air. "It's the type of thing we talk about behind closed doors," Horner said. "He and I [Seb] have had the discussion already. Taking the emotion out of and with time to reflect, we'll have (another) discussion."
As explained above, the Red Bull hierarchy will also have to decide whether another 'dressing down' will suffice in this matter in regards to Vettel, or whether they'll have to be some sort of more formal in-house sanction to make it crystal clear to the World Champion they won't tolerate stunts of this nature again.
Undoubtedly, however, they'll also be just looking to ride out the storm as best as possible and have both drivers in the right frame of mind to go back into battle in Shanghai to build on what it has almost been forgotten was a resounding result.