Difficult questions for Sebastian Vettel as F1 grapples with awkward Pirelli dilemma
Sky Sports F1's Martin Brundle reviews the extraordinary events in Sepang - and what they mean for the World Champion, Red Bull and F1...
Last Updated: 25/03/13 1:33pm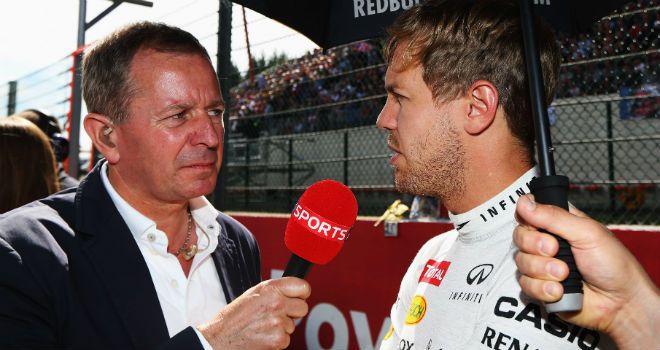 Understandably many demand wheel-to-wheel action from lights-out to the chequered flag, whoever's involved. From the feedback I receive, there appears to be degrees of acceptance, with many feeling that it's especially wrong to apply team orders early in the season when all of the drivers remain in with a shout of the title - for example, race two in Malaysia.
Some others, and possibly the same people, paradoxically accept that once a driver is mathematically out of contention it is natural for a team-mate to help out.
A general system has evolved of racing each other hard to the final pit stop, and then stroking the cars home to the guaranteed points and podiums which keep the teams financially afloat. This came about in the McLaren days when they had a dominant car and, barring mistakes, a victory was certain. But the whole team-mate issue goes back to the 60's when maximum engine revs would be agreed, and then promptly ignored. In the 50's they simply handed their cars over to their team mates mid race when required in a somewhat more respectful period.
Red Bull is an interesting case. A few years ago they were happy to criticise Ferrari for using team orders and declaring that their own drivers could always race, until Vettel and Webber crashed together in Istanbul in 2010. Then we fast forward via numerous team decisions to this Sunday's Malaysian GP.
The duel was called off when the Mercedes duo chasing them faded away, at which point one driver chose to ignore the agreed procedure and instructions. This has all the hallmarks of Villeneuve and Pironi in Imola 1982 (which ended tragically at the next race) and Senna and Prost at the same circuit in 1989.
Not for the first time between Vettel and Webber we saw a brutal intra-team battle with great risk which is very exciting. But put yourself on the Red Bull pit wall and tell me you would sit back and wait for them to crash away a one-two finish and hand it to Mercedes. I wouldn't.
Despite that some difficult questions remain. Vettel was initially confusing about the event before clearly admitting that he "messed up" and ignored the team call.
He apologised, but I suspect he feels that Mark was less than helpful to him in the championship showdown in Brazil last year, and previously at Silverstone too. There's historical bad blood between these two great drivers, and as Sebastian said 'we have respect for each other but we're not friends'.
One big question remained, why didn't the team simply ask him to drop back behind Webber again? I asked Christian Horner this on the way home, and his answer was that 'we had asked him to hold position and maintain a gap for three laps before he overtook, so there was little point in asking him to reverse the move'.
The resultant swing of points gives Vettel's a 14-point advantage over Webber, exactly the cost of the position switch. It will be equally clumsy if and when they try to reverse this now. The killer instinct in Vettel is a vital part of his makeup and success but he must not be a flawed genius because this will badly undermine his ultimate respect and support.
Mercedes were handling their own team battle. Rosberg looked the stronger of the two on the day especially as Hamilton was struggling with fuel consumption. Much to Nico's chagrin he had to fall into line and a contrite Hamilton had the good sense to fully recognise this after the race. His humility will have resonated well.
The good news for Rosberg is that he is clearly not going to be overshadowed by his illustrious team-mate, although he may have realised that his contract is not quite so favorable...
Formula One itself has a dilemma. The Pirelli tyres are giving us great races with uncertainty all round until the race strategy begins to take final shape. It's not elegant to see large chunks of rubber flailing off the tyres and then accumulating in a carpet of doom just off the racing line, but this adds yet another challenge to the drivers.
One-stop races can be dull, and Pirelli could easily have taken the hard compound to Melbourne and we would watch gripless F1 cars running on durable tyres. In my view, races which are borderline two to three stops are the most intriguing. Four stoppers such as we had in Malaysia, albeit partly to get shot of the initial intermediates, mean that the pit-lane looks busier than the pit-straight. Single stop races can be dull.
Many drivers don't like the situation and I can understand that. It adds significant variables to their performances which are outside of their control, and Webber summed it up by saying they are driving at only eight-tenths simply to protect the tyres. A team boss said to me "I want to see who's the fastest not who's best at nursing tyres." This goes for the feeder series of GP2 too.
The drivers all agree that the races are much less physical now that it's not a series of qualifying stints interrupted by brief pit stops. It's the perennial conflict, is F1 the purest engineering and sporting challenge, or is it a show to entertain the public? The first can't take place without the second, otherwise there's no money.
Pirelli points out that it's been the same at the beginning of the past two seasons, and soon enough the teams and drivers get on top of the challenge and the pit stops will reduce. Whether this is the best Pirelli can actually do, or whether they are genuinely happy to spice up the racing, at least we have them. Other manufacturers left because they couldn't justify the cost or because in an exclusive supplier scenario they only ever got mentioned when there was a puncture or tyre delamination.
And who might replace Pirelli? Do Michelin or Bridgestone may have the resource and stomach to return? Have Dunlop or Hankook, for example, got the resource and budget to supply a competitive F1 tyre out of the box.
Set up and tyre management is clearly a knife edge issue, as witnessed by the relatively ordinary pace of Lotus and Ferrari through the race compared with just seven days before in Oz. It's very unusual to see Fernando Alonso making a clumsy mistake too, and quite why the team didn't call him in before his front wing buckled is a mystery.
The interviews on the podium were interesting and mildly challenging. After rushing through the tunnel from the commentary box, changing my shirt and radio transmitter for talkback to the race TV director, and throwing on a jacket, I had two minutes to think about how to handle the situation. The podium is a celebratory moment of great achievement, not a piercing press conference as such. However, I had to ask the pertinent questions to the three very distracted drivers. It was pretty tense, but ultimately fine, and at least I was happy to be there.
Happy Easter. Talk to you from China.
MB