Questions for China
Is it now every man for himself at Red Bull? Will Alonso respond to Massa's pace? What chance tyres still dominating talk by Sunday night?
By Pete Gill, James Galloway, Mike Wise & William Esler
Last Updated: 10/04/13 10:59am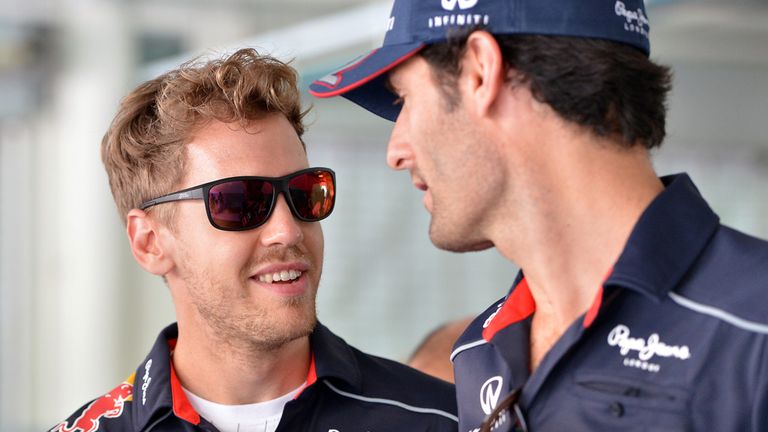 No prizes for accurately predicting where the focus of media attention will be at the start of the Shanghai weekend. The post-Malaysia rumpus at Red Bull, with its layers of intrigue and sub-plots, was a veritable goldmine for the press pack. Better still, this is a story with plenty of legs and many miles still to travel.
For starters, we still haven't heard from Mark Webber since Sepang. His veiled threat to quit in the wake of Sebastian Vettel's 'betrayal' has been quelled - or so we assume - by downtime Down Under, but there are plenty of questions begging to be asked of the Aussie. Has he accepted Sebastian's apology? Will he trust his team-mate in the future? If not, does that mean he'll cease to obey any team orders from the Red Bull pitwall when he's in position to challenge Vettel? And if that's the case, is it open civil warfare at Red Bull? Answers please.
As if the press pack didn't already have enough encouragement, Webber is too plain-spoken, too Aussie, to bother with any mealy-mouthed PR-spun answers. He'll tell it precisely as he sees it, regardless of how uncomfortable anyone at Red Bull - including his team-mate - might find it. After all, with his career Red Bull almost certainly reaching its expiry date at the end of 2013, Webber has nothing to lose from making Vettel's life as difficult as possible both on and off the track.
All of which makes Webber both a very dangerous opponent for the World Champion and the press pack's new best friend.
PG
Is Fernando Alonso under pressure?
After any other race but the now infamous 2013 Malaysian GP, the very brief nature of the Ferrari number one's afternoon at Sepang would have garnered rather more examination that it ultimately did. If clumsy was the word that best described the Spaniard's misjudgement into the downhill second corner on the opening lap, the decision to battle on with a broken wing in the hope of coinciding a pit for repairs with a switch to dry tyres bordered on the reckless.
The Ferrari pitwall took the rap for that decision after Alonso ended up beached in the gravel trap but this didn't completely exonerate the double World Champion in the eyes of some of the Italian media, who were understandably still more Ferrari-centric than their European colleagues despite the team orders furore. Indeed, Italy's influential Gazzetta dello Sport speculated as to whether the seemingly inscrutable Spaniard was suffering from a nasty bout of 'Massa syndrome', owing to his Brazilian team-mate's dramatic upturn in form since the end of last season.
While such a suggestion may be slightly sensationalist, the recent head-to-head qualifying statistics do make unusually uncomfortable reading for Alonso. Having only outqualified his more vaulted team-mate once in the previous 21 attempts (and only then by default when Alonso's rear wing broke in Q3 at Monza), Massa now has four Saturday victories on the spin dating back to last November's U.S. GP. The context of that sequence is that only two men - Lewis Hamilton in 2007 and Jarno Trulli in 2003 and 2004 - have ever done that to Alonso in the past. Five-in-a-row would be completely uncharted territory.
When put on the spot about his team-mate's revival after being knocked off the frontrow by the sister Ferrari in Malaysia, Alonso said all the right things - "it's the best news for the team because we need to have a competition between the two drivers" - but history tells us that pressure from the other side of the garage doesn't always bring out the best in the 30-time GP winner. On the other hand, Alonso himself confessed even before the season started that it was going to be nigh-on impossible for him to emulate the near-immaculate form that took him so close to the 2012 title. Sepang proved him correct - but it will be his response in Shanghai which proves far more telling.
JG
Tyres: will they still be a talking point on Sunday?
Given that tyres have been, for better or worse, the? talking point ever since Pirelli arrived back in the sport, we can assume that little will change this weekend. What will the Shanghai-specific storyline be? The 2013 season might have brought a new batch of rubber but while the subtleties remain as impenetrable as Ulysses, the gripes stay more or less constant. Mark Webber's comment that drivers now need only race at "eight tenths" has gained much traction post-Malaysia, although in the immediate aftermath of the race it was buried amid the fallout of that manoeuvre. Yet all of what transpired three weeks ago has its roots in the need to preserve tyres before they turn into what an unimpressed Jean-Eric Vergne has termed "cauliflowers". Red Bull might, one way or another, have stage-managed a one-two finish at Sepang but having fared less well in Melbourne's cooler climes, they're clearly unhappy with the status quo. With attempts at persuading rivals to turn the clock back to 2012 appearing doomed to failure, where do they stand heading to China?
Let's face it, even with squabbling team-mates and fresh veg bolted to each upright, Red Bull are in a pretty good place. Already leading both Championships? Team bosses up and down the pitlane would surely love to have Christian Horner's problems. Shanghai does tend to revert to towards lower temperatures, as was the case last year when a great long trail of cars lapped nose-to-tail behind race leader Nico Rosberg. Lemmings speeding towards 'the cliff', it was Kimi Raikkonen's demise that proved the most spectacular as he fell from second place to 14th in the space of four late laps.
Twelve months on, the Finn's prospects have, together with those of Lotus, counterbalanced those of Red Bull. Master of Melbourne; also-ran at Sepang: which is it to be for Kimi this weekend? Once again, everything is up in the air although, according to Horner, the question marks won't be quite as pronounced as they were 12 months ago. In a brief interlude between fighting fires after the Malaysian GP, he reckoned it would take five races for a clear pattern to emerge.
MW
Will McLaren turn it around?
Or, to boil the question down to its core, can the team transform the MP4-28 from calamity into a contender? As discussed in Mark Hughes' latest must-read column for this website, 'a major engineering upgrade of the troublesome MP4-28 is underway' and McLaren have been working around-the-clock in order to produce a raft of changes for the MP4-28. The car might have been much improved for Malaysia from Australia, but given they were almost two seconds off the pace in Melbourne, that's a tame boast. They still need far, far more.
Indeed, given both the scale of their problems and the widespread expectation that McLaren will turn their season around, it's not an exaggeration to suggest the team's reputation is on the line with the MP4-28's remodelling. Nor is a leap of speculation to opine that Martin Whitmarsh's future as McLaren Team Principal may also hinge on the success (or otherwise) of the car's relaunch. According to paddock gossip, the option of bringing the MP4-27 out of retirement was supported by Ron Dennis but ruled out by Whitmarsh.
If true, he can't afford for the upgrades not to produce a frontrunning trick.
PG
Can Marussia get out of Q1?
Following the demise of HRT, escaping Q1 is a more difficult task for the 'new teams' as they now need to finish ahead of three drivers from the established outfits.
The fact that we are even discussing Marussia getting out of the first knockout phase shows the dramatic step forward the team have made in 2013, having opted for a more conventional car design process, rather than the adventurous CFD only concept they entered F1 with in 2010.
With the experienced Pat Symonds now a full member of the team, coupled with the use of McLaren's simulator and windtunnel and running KERS for the first time, the team have overtaken Caterham and now firmly have their sights set on the midfield. However, those positives are still handicapped by the use of the Cosworth engine - considered the weakest of the four engines on the grid.
Thus, on outright pace, the odds are still against Marussia making it out of Q1 in China, but the consistently-impressive Jules Bianchi has already emerged as one of the revelations of 2013 and was just a few tenths behind both a Williams and a Toro Rosso in Malaysia. An improving driver in an improving team, he's adding a fascinating - and largely unexpected - new dimension to Q1.
WE
Can Mercedes repeat their 2012 trick?
Never mind anything that Messrs Vettel and Alonso achieved last year, a moment that stands out as one positively dripping with panache was the sight of Nico Rosberg climbing from his car after claiming pole position in Shanghai. There was still more than enough time to squeeze the pips out of Q3 but, really, what was the point in trying again when you've already achieved perfection? That was how Rosberg described his lap and it stands to reason when you're half a second clear of everyone else.
He duly converted 24 hours later to claim a historic victory but for Mercedes, the 2012 Chinese Grand Prix represented the sharpest of spikes in a season that eventually spiralled down the pan. In fact, it had hardly been plain sailing prior to Shanghai with Mercedes' W03 overcooking its tyres in Melbourne before doing the opposite at Sepang. That they then struck the sweet spot so comprehensively was helped in no small part by that car's double DRS - now outlawed, of course.
However, setting up a car to get the best out of its tyres remains the be-all and there have been encouraging signs so far this season that the W04 is delivering more consistently than its predecessor. Factor in the considerable presence of Lewis Hamilton (which also seems to be galvanising Rosberg) and there's every reason to suggest that, if not dominant like they were 12 months ago, then Mercedes should at least be there or thereabouts this weekend.
MW