Talking Heads: Is F1 getting slower?
With some drivers getting ever more critical about the current nature of grand prix racing, our Talking Heads debate whether F1 has slowed down - and if it's actually a good or bad thing
Last Updated: 09/04/13 3:40pm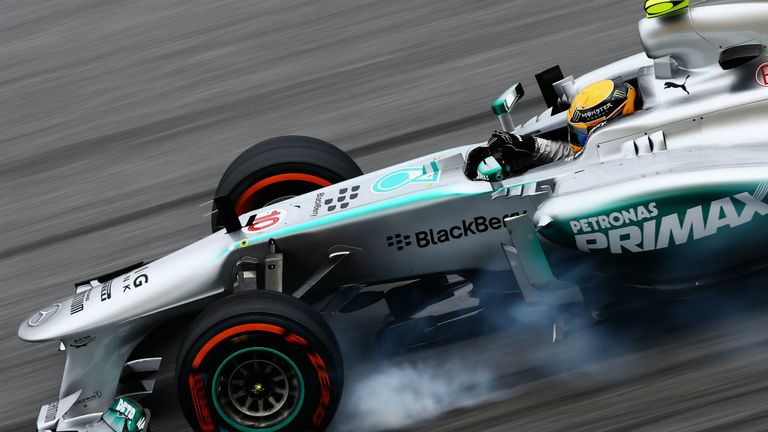 How typically presumptuous of you! But if you're thinking along the lines of a feuding German and Australian you'd be wrong.
Darn, I was. So what it is then?
F1 as a whole - and whether it's slowing down because of tyre preservation and fuel saving.
I'm still listening, but has anyone else voiced their concerns that F1 is slowing down?
Try Mark Webber - who by his own admission had a "little rant" on the matter: "You still have to drive the grands prix these days at eight-tenths - it's not like the old day when grand prix drivers are driving flat out and leaning on the tyres like hell - because the tyres are wearing out." And then there's Lewis Hamilton who likened driving to targeted lap times for most of the Malaysian GP to having "a hundred dollars and you have to spend it wisely over a period of time".
Lucky he's on slightly more than that at Mercedes then! But, seriously, where is the factual evidence for this?
Well, if the implementation of team orders or the constant references to walking on egg shells with tyres isn't enough for you, then just take a look at how the fastest race laps so far in 2013 stack up to the all-time records.
Go on then...
For starters, the fastest lap in Australia - a 1:29.274 by Kimi Raikkonen - was a massive five seconds slower than Michael Schumacher's lap record 1:24.125 from 2004. And it was pretty much the same story in Malaysia - Sergio Perez's best 2013 time of 1:39.199 compared to a lap record, again from 2004, of 1:34.223 . In fact, of the 19 circuits on the current calendar, nine of the lap records still stand from 2004.
And they're also this slow on low-fuel?
Not quite. Across shorter runs in practice or qualifying the time difference isn't as pronounced. For example, the fastest time set at any point around Albert Park this year was 1:25.908 relative to 2004's best of 1:24.408 - although the caveat is that back in 2004 qualy times were set with a stint's worth of race fuel on board.
So it's only the races where the current cars are significantly slower then?
Yes, and here are the most revealing statistics of all. Using data from dry-weather qualifings and races, the numbers show that whereas in 2004 the fastest race laps were on average only 0.84 seconds slower than the best recorded in either practice or qualifying, in 2012 the difference was a mammoth 3.89 seconds.
Did you just say four seconds slower?
Pretty much, yes. And a F1 car can go a very long way in four seconds - so long as it is going flat-out, of course.
Why were lap times so fast in 2004 anyway?
Numerous reasons - not least more powerful engines. Back in 2004 the regulations still permitted the use of three-litre V10s which produced outputs of over 19000 rpm, while traction control was also very much still in vogue. There was also a fierce Bridgestone v Michelin tyre war.
Are you feeling nostalgic in your old age?
Well, the intervening years have not only seen engine sizes reduced - 2.4-litre V8s came in for 2006 and a 18,000rpm limit later introduced - but engine development has been frozen and strict lifespans introduced for both engines and gearboxes. Throw in the regular implementation of aero restraints and other directives to cut cornering speeds for safety reasons along with the advent of deliberately fast-degrading Pirelli tyres and ban on mid-race refuelling and you have your answer.
So you're longing for a return to those halcyon early 21st century days?
Ah, now, see this is the contradiction. The drivers may be becoming increasingly vocal about the endurance nature of grand prix racing these days, but if memory serves us correctly the early years of the century weren't always the most exciting of the sport's history were they?
Some guy dominating in red springs to mind?
Exactly. But more than that was the fact the tyres generally lasted longer, and as the fastest cars were able to run closer to their ultimate pace, there was far less scope for unpredictability - especially if one team was streets ahead anyway.
Ah, so perhaps faster isn't always better?
You may just be onto something...
F1's lap records
Australia - 1:24.125 - M Schumacher (2004).
Malaysia - 1:34.223 - JP Montoya (2004).
China - 1:32.238 - M Schumacher (2004).
Bahrain - 1:30.252 - M Schumacher (2004).
Spain - 1:21.670 - K Raikkonen (2008).
Monaco - 1:14.439 - M Schumacher (2004).
Canada - 1:13.622 - R Barrichello (2004).
Britain - 1:34.908 - F Alonso (2011).
Germany - 1:29.468 - M. Schumacher (2004).
Hungary - 1:19.071 - M Schumacher (2004).
Belgium - 1:47.263 - S Vettel (2009).
Italy - 1:21.046 - R Barrichello (2004).
Singapore - 1:45.599 - K Raikkonen (2008).
Korea - 1:39.605 - S Vettel (2011).
Japan - 1:31.540 - K. Raikkonen (2005).
India - 1:27.249 - S Vettel (2011).
Abu Dhabi - 1:40.279 - S Vettel (2009).
USA - 1:39.347 - S Vettel (2012).
Brazil - 1:11.473 - JP Montoya (2004).
JG