Conclusions from the 2013 Chinese GP
Tiring of the tyre debate, why it's too inconclusive at the front to call, Romain Grosjean disappears, and the youngsters struggle at the back...
By Pete Gill
Last Updated: 15/04/13 4:05pm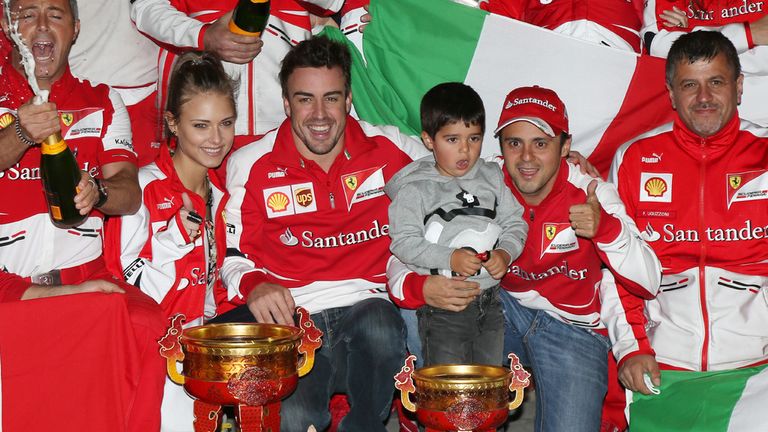 2013 is a mere three races old and already the ongoing debate about tyres is wearing thin. The problem, first and foremost, is not whether they are a force for good or bad, but that they are the chief topic of debate. It's like discussing horseshoes ahead of the Grand National.
Yes, the Pirellis are helping to deliver entertaining races - if, that is, citing the number of different leaders and overtakes in a race can be considered an accurate measure of entertainment - but their means to an end is to the detriment of all other traditional performance differentials. From lights out to chequered flag, speed - the very thing that F1 is based upon - has become a subordinate to tyre saving. That's the crux which cannot go unchecked.
Nor are the Pirellis passing the casual viewers test. While the entertainment induced by the Pirellis should, in theory, compel the floating audience to take another look at F1, the lingering wonder has to be what irregular followers of the sport would have made of Sunday's grand prix as Jenson Button and Sebastian Vettel asked their pitwalls whether they were actually racing, strategy became a complex exercise in understanding the difference between primes and options, and even identifying the race leader required a hefty commitment in concentration. Viewed with a hangover, it must have been purgatory. Even with a clear head, it was hard work.
It's not all bad, of course; the cream is still rising to the top, as evidenced by the composition of the World Championship standings and Sunday's top five consisting of five different World Champions. But the core issue in F1 at the moment is that, with the Pirellis more fragile than brittle, there just isn't enough of it: qualifying featured less than twenty minutes of track action, Friday's practice sessions largely went to inactive waste as the teams opted to keep their rubber dry, and the race itself was run on half steam.
F1 needs to remember itself.
What a difference a race makes
Even if 2013 is so far proving to be a model of consistency compared to the manic mayhem of 2012 when the opening seven races hosted seven different winners, divining a pecking order remains an exercise in expansive guesswork.
What can be determined, however, is that Red Bull, Lotus, Ferrari and Mercedes are in a class of their own, ahead of a midfield pack which now includes McLaren and is rounded off by Williams and Toro Rosso.
More detailed conclusions will have to wait, with the balance of power swaying session-by-session, stint-by-stint. Even the W04's apparent lack of race pace at Shanghai may be open to retrospective revision with Ross Brawn blaming a stray piece of debris for Lewis Hamilton's relative struggles as he fell behind Fernando Alonso and the noseless Kimi Raikkonen. The Ferrari looks an especially well-balanced package but has only won as many races so far as the Lotus and Red Bull. We're a long way from spotting our title favourite just yet.
F1 has a pair of leading qualifying specialists
Not only have Sebastian Vettel and Lewis Hamilton claimed six of the last seven pole positions in China, but they've also sat on pole for eleven of the last thirteen races, including the last seven in succession. They're a class apart on Saturday.
Not that Fernando Alonso has any reason to fret about his qualifying disadvantage, however, with the Ferrari typically the fastest to react when the lights go out on Sunday and the F138 particularly quick on the opening laps. Hamilton saw him coming - "The Ferrari is massively quick on the first lap," he warned on Saturday night after claiming the first pole of his Mercedes tenure - but could do nothing to repel Alonso as the Spaniard shot past his W04.
Perhaps the Ferrari's speed advantage over the rest in getting up to speed partially explains why Alonso rammed into the back of Vettel in Malaysia, but either way the thought is gathering momentum that the Spaniard is effectively on pole just so long as he qualifies in the top three.
Sergio Perez and Mark Webber just can't win these days
It's the age-old sportsman's curse: when luck and form are against you, everything that could go wrong, does go wrong.
Just ask Mark Webber. As if the prospect of lining up 14th on the grid due to a refuelling failure wasn't bad enough, he was then expelled to the back of the grid; and if crashing out wasn't itself sufficient punishment for his clash with Jean-Eric Vergne, another costly grid penalty has been imposed for Bahrain. Talk about kicking a man when he's down.
As for the beleaguered Perez, he could have been excused leaving Shanghai in a state of confusion after being accused of "being all over the road" as the top three converged for the podium ceremony and then hearing his team boss complain he wasn't being tough enough on the road. It's a contradiction which sums up current Perez's plight. Short of answers, short of pace, and no doubt short of confidence, he just can't do anything right at present.
Daniel Ricciardo has perfect timing
For what better weekend on which to enjoy your best ever results in F1 than this, with Mark Webber's hold on his Red Bull seat more tenuous than ever and a vacancy alongside Sebastian Vettel looming for 2014? If he can be spirited out of Lotus, Kimi Raikkonen will surely be Red Bull's preferred choice, but, after failing to make a vivid impression in 2012, Daniel Ricciardo's performance at Shanghai has put him back in the frame.
Romain Grosjean just isn't the driver of last year
It's all-too easy to forget just how fast the Frenchman was at the start of 2012 when he held the upper hand at Lotus over Raikkonen, gave Alonso a run for his victorious money in Valencia, and generally offered a convincing impression of a World Champion in waiting.
It was on account of that fleeting memory that Lotus opted to stand by Grosjean in the wake of his race suspension for turning F1 into a demolition derby, but it has to be asked to what extent his subdued performances this year are a result of the team making him sweat on his place for two months after Raikkonen received confirmation of his retention. In seeking to curb Grosjean's excess, Lotus may have clipped off his wings.
2013 is no place for youngsters
Although Jules Bianchi continues to impress in the Marussia, 2013 is, as a rule, proving to be a tough baptism of fire for the five newbies on the grid - Valtteri Bottas, Giedo van der Garde, Esteban Gutierrez, Max Chilton and Bianchi.
All five failed to progress from Q1 this weekend, a result which based on their form in Australia and Malaysia wasn't a surprise, but was inconceivable when Sir Frank Williams hailed Bottas upon his appointment as "quite simply one of the most talented young racing drivers I have come across". The highly-rated Finn has been an anonymous figure so far, although neither has Pastor Maldonado managed to impress in a car which has matched the McLaren for disappointment. Don't turn against the Bottas hype just yet.
Keeping faith Gutierrez is an altogether different matter, however, with the youngster guilty of a woeful misjudgement as he rammed into the back of Adrian Sutil's Force India and simply unable to extract the level of performance which saw Nico Hulkenberg lead Sunday's race. With a five-place grid drop to be imposed on Gutierrez in Bahrain, the gap between the two Saubers may become a chasm.
PG