Questions for Bahrain
Will the medium tyres be the answer for the desert? Is it Red Bull and Lotus's to lose? Will Webber break out of his cycle of bad luck?
By Pete Gill, James Galloway, William Esler, Mike Wise and Jamie Casey
Last Updated: 18/04/13 11:13am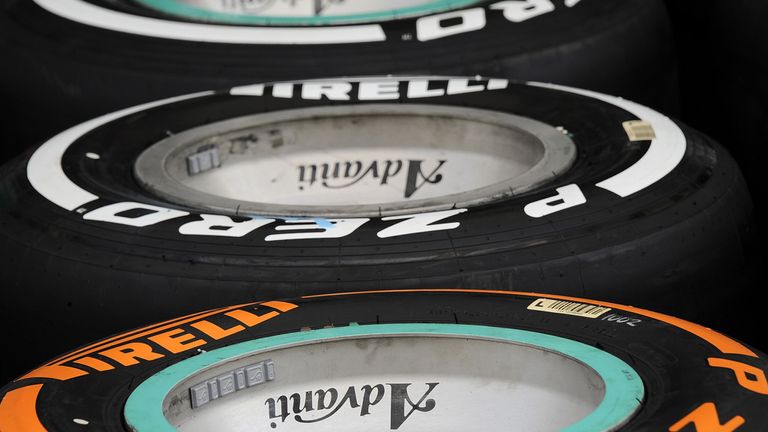 There's not much you can get past the 24-hour media in this day and age - particularly one as news hungry and perceptive as F1's - but Pirelli so very nearly managed it at the start of this week when they casually dropped into their Bahrain preview that they were bringing the medium and hard tyres to Sakhir. The understanding had been, amongst everyone but the people who really mattered as it turned out - the manufacturer themselves and the teams - that the soft was again serving as the 'option' tyre, and in wake of the controversy caused by the compound's brittleness in Shanghai, there was a slight sense of foreboding over how the yellow-marked rubber would handle 'desert racing'.
So Pirelli's quiet change of plans may well prove a move of brilliant foresight given the soft tyres struggled to complete more than about six laps in Shanghai before falling off the now horribly clichéd 'cliff'. The expected wear lifespan of the medium tyre for Sakhir is 13-15 laps, but with the hard at only 15-17 laps, Pirelli are still expecting most cars to have to complete three pitstops during Sunday's race owing to the demanding nature of the track and guaranteed sultry weather.
So, while we certainly shouldn't see the kind of blink-and-you'll-nearly-miss-them stints on the option tyre which divided opinion so much last weekend, there'll still be a heavy premium on tyre management during the course of the three days as teams try to ensure they have as much flexibility over strategy as possible for Sunday's race. But if it produces the first truly memorable Bahrain GP should anyone really mind?
JG
The sun will shine...can Alonso make hay?
Back-to-back races seem designed for drivers who like asserting themselves and no driver, not even smiling assassin Sebastian Vettel, is better at doing that than Fernando Alonso. Conclusive proof - if it was needed - came time after time last season and Alonso's overwhelming desire was again apparent during the opening few seconds of last weekend's Chinese GP. Starting third on the grid, he simply pointed his Ferrari at the Turn One apex and went for it. It wasn't enough to get him past polesitter Lewis Hamilton but it was clearly too much for Kimi Raikkonen, who was sluggishly away from second. It was almost as if Alonso had anticipated the outcome. When did he last make a sluggish start? If anything, the Spaniard's retirement in Malaysia came as a result of getting off the line too well.
Ferrari were more than happy to let Red Bull hog the limelight (for all the wrong reasons, of course) in Shanghai. With hindsight, their form had ominous feel to it - although hindsight might also lead one to wonder how commanding Alonso's victory might have been had Raikkonen not only fluffed his start but also emerged unscathed from his altercation with Sergio Perez. The suspicion is that the Finn would have been right there at the chequered, not 11 seconds down the road and nursing a wobbly wing. But that's by the by: Alonso took the 25 points and made up valuable ground for Sepang. What better way would there be to celebrate a 200th race start than by doing it all again seven days later?
As the champagne flowed after Sunday's race, the question of how Ferrari might perform in the desert was one that vexed Stefano Domenicali. "What we have seen in the first three races is quite a difficult picture to understand. We saw cars very strong in qualifying and a bit less during the race; we saw the other way round," the Team Principal said. "We have another situation in Bahrain with different conditions. We will see where the performance of our car relative to the others will be. I don't have a clear picture of what is the pure performance classification, because we have to divide qualifying and the race - and it's not easy this year." You said it, Stefano, although no-one seems to have told Fernando.
MW
Will Bahrain suit the Red Bull and the Lotus
Both recent history and informed wisdom suggests Red Bull and Lotus - not exactly far off the pace at the worst of times - will be particularly strong this weekend. Exhibit one: last year's race when Sebastian Vettel, Kimi Raikkonen, Romain Grosjean - whatever happened to him? - and Mark Webber claimed the top four places with Mercedes half a minute down the road. Exhibit two: the renowned characteristics of the stop-start, traction-demanding Sakhir circuit, which should suit both the RB9 and E21 like a tailored glove. According to Ted Kravitz, Lotus are particularly bullish - pun intended - about their chances of victory this weekend.
But hold on for a mo. The fun of this season has been - nay, continues to be - the wild contrasts in form from race to race, week to week, session to session. After dominating qualifying at Melbourne, Red Bull were third best later in the day. In Malaysia, they reverted to their 2011 dominance on both Saturday and Sunday. But in round three at China the balance of power see-sawed once again to the extent the World Champions didn't even attempt to fight Mercedes and Ferrari for pole position.
So don't be too hasty in betting your mortgage on the RB9 or E21 to prevail in the desert. This is as season which is confounding all the best-laid expectations.
PG
Can Vettel and Hamilton be stopped in qualifying?
It's not likely, according to the Sky Bet trading room. Bahrain has traditionally been kind to Ferrari on race day, but not so much in qualifying with only Michael Schumacher and Felipe Massa having claimed pole position here for the Italian team.
Between them, Sebastian Vettel and Lewis Hamilton have gone fastest in qualifying on the last seven race weekends, with the former the 11/8 favourite to make it three in a row at Bahrain while the latter is 100/30 to achieve back-to-back poles this season.
Ferrari will have to accept that they're likely to be start behind the front row more often than not again this season, with Fernando Alonso (6/1) third favourite to start on pole and the punters aren't convinced, with few taking up those odds to date, while Massa is a 16/1 long shot to repeat his 2007 feat of starting at the peak of the grid.
Lotus ran well on race day here last season and are a good bet to do likewise on Sunday as tyre preservation has always been key to success in Sakir, but they're unlikely to front the grid with Kimi Raikkonen rated 8/1 and team-mate Romain Grosjean a 50/1 shot. Meanwhile, in a measure of how slow McLaren have been of late, eight-time pole sitter Jenson Button is 50/1 to top qualifying while the under-achieving Sergio Perez is a massive 150/1 to do likewise.
JC
Can Webber end his run of bad luck?
Ending a run of bad luck requires a strong mental state. Fortunately, that's something we know the self-titled '@AussieGrit' Mark Webber has in abundance. It is important not only to stay positive and accept that problems such as the fuel rig and loose wheel nut issues in China will happen over the course of a season, the trick will be not trying to force a good finish as overdriving can lead to more poor results and thus the vicious circle will continue.
Given the 36-year old's track record (pun intended), Bahrain would not be the circuit he would choose to visit when in need of a reversal of fortune. Having driven in all eight of the races at Sakhir to date, Webber's best finish is fourth in last year's Grand Prix - prior to that you have to go back to his Williams days for a pair of sixth places.
However, the track is likely to suit the RB9 this weekend and the Australian has the experience to pull himself out of the downward spiral. Remaining positive and ignoring any conspiracy theories or any perceived favouritism towards Sebastian Vettel will be key in Bahrain.
WE
Is this the early acid test of Lewis Hamilton's title quest?
Was it really only two months ago that Lewis Hamilton was suggesting that simply finishing races in the points was Mercedes' early season goal? Of course, Lewis never quite specified where in the top ten he was targeting, but whatever, eight weeks on and a fifth place, a pole and two podiums - already one more than his predecessor managed in 58 attempts - has led even the 2008 World Champion himself to concede he "definitely" feels like he is in the title hunt with a month of the season gone.
His subsequent use of the more cautionary words "at the moment", however, underlined that Hamilton hasn't entirely discarded the realistic mindset he has adopted ever since news of his bold team switch broke last autumn. He's right too. After all it's only 12 months ago that Mercedes arrived in Bahrain being tipped to sweep all before them after Nico Rosberg took a brilliant pole-win double in China, only to register a rather underwhelming fifth-placed finish, nearly a minute adrift of the race winner. Mercedes' season scaled few heights thereafter.
The W04 is undoubtedly right up there over a single lap and while its performance in all three races to date also suggests it isn't quite the tyre eater like its predecessor, the kind of unforgiving conditions it will be exposed to at Sakhir are likely to put that latter characteristic firmly to the test once and for all.
JG