Conclusions from the 2013 Bahrain GP
Sebastian Vettel delivers a masterclass in the desert, Mercedes' old problem rear up again, Lotus can't camouflage their speed deficit for much longer, and Caterham make ground at the back
By Pete Gill
Last Updated: 23/04/13 10:02am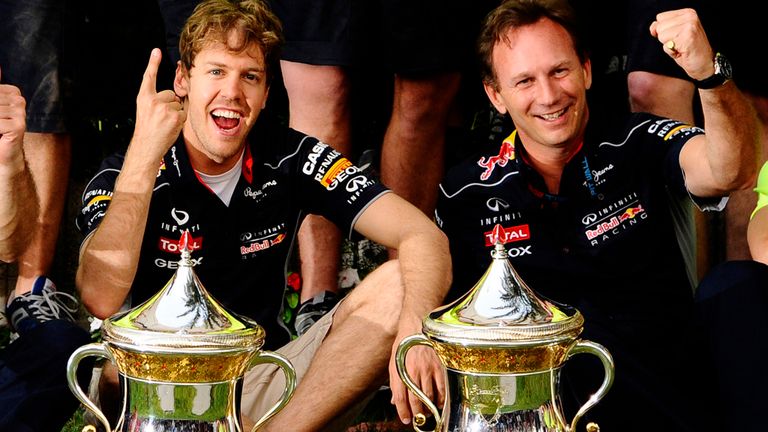 With 27 previously-recorded victories to sift through, there's plenty of past testimony to consider before a definitive conclusion is reached on where Vettel's win this weekend ought to sit in his growing collection of F1 triumphs. But the awe-struck instant reaction to the World Champion's utterly dominant victory in Bahrain on Sunday was that this one of Vettel's very best. If not the best.
From start to finish in the desert, Vettel was simply sublime, delivering faultless lap after faultless lap of faultlessness in a supreme example of frontrunning endeavour. It all begun, of course, with an opportunistic mugging of Fernando Alonso on the first lap to be followed by the crafty pickpocketing of Nico Rosberg for the lead of the race, but Vettel's driving thereafter ought to draw as many plaudits. Unlike wheel-to-wheel overtakes, frontrunning is a difficult skill to appreciate, but Vettel's mistake-free masterclass was the drive of a champion in a class of his own - and a class apart from his distant team-mate.
You may not like Sebastian, especially after the grubby events of Sepang, but on days like these it's awfully hard not to admire his talent.
The trick of Vettel's trade continues to be his canny understanding of the sport's runes. In 2011, he countered the introduction of DRS by focusing all of his weekend's work on the opening laps of a grand prix to ensure that he could blast his way out of any vulnerability. This weekend, his trick was to only run the medium compound in qualifying, thereby saving three fresh sets of the hard tyres for race day. With superior speed allayed to smart strategy, and fresh rubber benefiting from fresh air, Vettel was in a race of his own just as soon as he rounded Rosberg and Alonso to winning effect.
Lotus are the tortoise to Red Bull's hare
The positive for Lotus is that they are still managing to put far less stress on their tyres than their rivals even when extracting as much potential out of their package - if not more so. The nagging negative is whether their car has anything like the naked pace of the Red Bull, Ferrari and Mercedes. According to Kimi Raikkonen, for instance, there was nothing mysterious about their disappearance on Saturday after leading the way on Friday in Bahrain. "We just haven't got the speed for one lap," summarised the Finn.
And therein is the rub of his World Championship quandary because his challenge based on a quirk of strategy, not speed, and the apparent ability of the E21 to run at, say, 80% of its capabilities without burning up its rubber while everyone else is reduced to 70% or so of performance. It's worked so far, but history declarers that the teams will gain the upper hand over the Pirelli tyres sooner rather than later - just as they did last year when the early-season mayhem settled into a matter of similarity. And it's at that point Lotus will either have to deliver plenty of extra pace or face being left far behind.
Mercedes need to trim a strength to fix their weakness
The frustrating disappointment of Mercedes' struggles in the desert weren't that they were so pronounced - especially for Nico Rosberg as he retreated from pole position to ninth at the chequered flag - but that they were so very predictable. Overheating its tyres, and particularly the rears, is a flaw which all of the team's cars have seemingly possessed and the failure to find a cure is the longstanding reason to doubt Mercedes' place among the elite.
All their rival frontrunners have had problems and still have problems; the difference is that they aren't so consistently repeated. The assumption must be that this is an inherent flaw, deeply rooted in the design process at Mercedes, and carried over as a trade-off for one of the team's principal strengths (straightline speed, high-speed cornering, etc). Boiled down, then, the disappointment isn't that the flaw is stuck on endless repeat but that Mercedes still haven't quite mastered the necessary trade-off.
Grosjean's problems may have all been in his head
Until Bahrain, the 2013 season had been a litany of anonymity for the troubled Romain Grosjean. The delivery of a new chassis in the desert seems to have been just the revitalising trick he needed, however - although not because the new car fixed all of the handling problems he'd been experiencing, but because it ended any doubts he may have had that the problem was specific to that particular chassis. The upshot - his first podium since July - owed a considerable debt to the vagaries of the current qualifying regime after the Lotus driver ultimately benefited from not reaching the top-ten and saving up a fresh set of tyres with which to defeat Di Resta.
Nevertheless, it would be no surprise if a confidence-boosted, clear-headed Grosjean now regularly returns to the front. As a psychological experiment, it will certainly be an interesting case study to follow.
Helmut Marko knows his man
Remember what the Red Bull advisor said of Mark Webber in January?
"It seems to me that Webber has on average two races per year where he is unbeatable, but he can't maintain this form throughout the year, if some technical mishap occurs, like with the alternator for example, he falls relatively easily into a downward spiral."
It's easy to question whether Helmut ought to have made those remarks in public, far harder to deny that the criticism was valid four races into the new season. Fine in Australia, outstanding in Malaysia, luckless in China, but utterly insipid in Bahrain, the narrative of Webber's season is following an identical path to one forecast by Marko. A line was drawn in the sand for Webber this weekend; until now, he had been there or thereabouts against Vettel and suffering from bad luck. On Sunday, he was nowhere and waylaid not by bad luck but by bad form. Out of excuses, he needs to do all of his talking out on track at Barcelona if 2013 isn't to run away from him altogether.
Perez was written off too soon
Short memories are a perquisite for all outspoken critics but some of the criticism levelled at the Mexican over the last month has been particularly galling.
Bluntly, don't be deceived into believing McLaren's alleged mistake was abundantly clear at the time of Perez's appointment last year. While there were a few quibbles with the selection of Perez to partner another non-qualy specialist in the form of Jenson Button, Perez was almost-universally regarded as the brightest up-and-coming talent six months ago when his podium finish at Monza was fast-tracked, a few weeks later, into confirmation he would be replacing Lewis Hamilton at McLaren.
When viewed from McLaren's perspective, the signing wasn't a mistake but, to generalise the welter of opinion into a single line of summary, a coup. Indeed, the prevailing response was not to ask what McLaren were thinking but to question why Ferrari had let Perez escape from their clutches.
But that's just one element of the hypocrisy. The other is the retrospective attempt to depict Nico Hulkenberg as the obvious choice to replace Hamilton. Nonsense. Securing a replacement in case Lewis departed is a process which McLaren would have instigated months before any deal was actually done. Perez was the frontrunning candidate from March onwards after his maiden podium in Malaysia. By salient contrast, Hulkenberg was a slow starter in 2012, scoring more than half of his final points tally in the last six races.
This isn't to say that Hulkenberg wouldn't have been a better choice. Even after taking Perez's display this weekend into account, Nico ticks more boxes than Sergio. But just don't be fooled into thinking that this was a popular opinion when the decision was actually made.
An awkward anniversary awaits Williams
The devil is in the detail because Pastor Maldonado's final Q1 lap would have been significantly quicker but for his Williams sliding off track at the final corner, but there was a clear message to be read from the South American and Valtteri Bottas setting identical times at the culmination of another session of first-hurdle elimination for the team in Bahrain: their two drivers are extracting everything that can be extracted out of a fundamentally-weak package.
After returning to the winners' enclosure in 2012, Williams have regressed at an alarming rate since the turn of the year. Worse still, they appear devoid of a clear idea how they can arrest their slump. Both front and rear wings were changed this week, and it's difficult to keep track of which particular exhaust configuration is currently bolted on to the FW35 such has been the rate of change and reversions.
The wait goes on for a breakthrough as the team prepare to return to the scene of their long-awaited return to winning ways last May. In the meantime, the wonder must be whether Williams regret not running their new car at the Jerez test in February. For all the venue's inadequacies, the Jerez test could at least have acted as an early-warning system against flaws that none of Williams' internal checks managed to detect.
Caterham are ahead of Marussia again
Their progression won't feature in many Bahrain post-mortems, but at the back of the grid there was compelling proof that Caterham have overtaken Marussia again with Charles Pic beating both Jules Bianchi and Max Chilton as well as the Sauber of Esteban Gutierrez to the chequered flag. More advanced updates are expected in Barcelona when Heikki Kovalainen will complete back-to-back tests of the two packages in order to accelerate the CT03's development.
The inference from Heikki's appointment has to be that the team were unimpressed with the feedback they'd been receiving from their two current drivers, although the revelation from Heikki that a 'development role' was first mooted as long ago as before Christmas runs contrary to that assumption. Perhaps the doubts about the suitability of Giedo van der Garde and Pic are more profound - and certainly van der Garde's one-second deficit in qualifying to his team-mate cannot entirely be accounted for by the new parts only being run on the Frenchman's car. On race day, those new parts looked to be worth half-a-second per lap (the sort of advancement a frontrunning team would pay a large fortune for but is rather easier to effect from so far back at the depths of the grid).
As for Heikki, he'll need to be rather faster in comparison to his team-mate in Practice One at Barcelona than he was in Bahrain if he is to make a convincing case for a comeback. But it's a decent bet he'll be racing in F1 again before the end of the season - although not necessarily at Caterham given that the guileless Gutierrez looks so far out of his depth. No matter the size of his cheque, a pay driver can still be bad economics and Sauber risk far more in terms of prize money than they stand to gain with a driver who is a backmarker in a midfield car.