2013 Spanish Grand Prix analysis: Where Sunday's race was won and lost
Examining just how far off the pace the race was, why Rosberg only stopped three times, and the extent of Alonso's superiority...
By James Galloway, Pete Gill and William Esler
Last Updated: 15/05/13 9:09am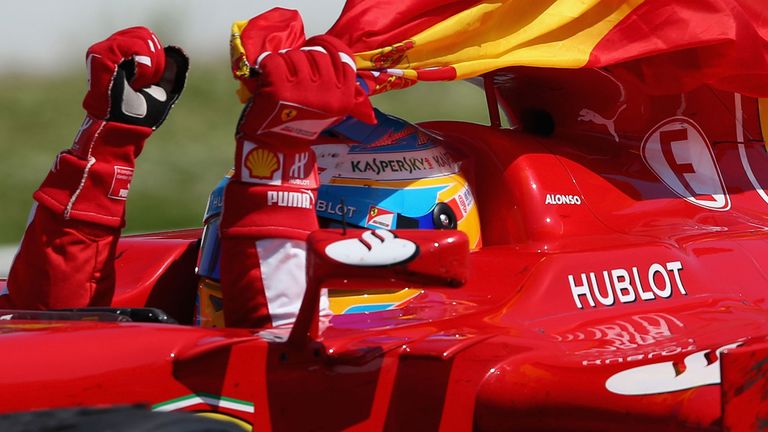 So how slow was the 2013 Spanish GP?
Given the furore Sunday's race has generated, the answer may surprise you: the 2013 Spanish GP really wasn't that much slower than the recent norm.
Fernando Alonso's overall winning time, even after slowing down to a crawl over the finishing lap, was just seven seconds shy of Pastor Maldonado's race-winning time from twelve months ago - a 1:39:16.596 on Sunday compared to 1:39.09.145 in 2012. And in comparison to 2011, when Sebastian Vettel crossed the line after one hour, 39 minutes and three seconds, Alonso's 2013 effort was only thirteen seconds off the pace.
So does that mean the fuss wasn't justified? Not necessarily. Viewed from a wider historical perspective, the 2013 Spanish GP was a very slow race - Alonso himself, for instance, won the 2006 event with a time of 1:26.21.759.
Perhaps even more pertinently, the impression that Alonso, despite lapping half the field, never stretched the F138's capabilities is emphatically borne out when comparing the fastest laps charts from Friday, Saturday and Sunday. Whereas Alonso's fastest lap on race day was a 1:26.681, he had gone fully five seconds quicker in qualifying and - even more incredibly - set a faster lap time during the drying Practice One than he did in Sunday's balmy conditions.
But there's an even more telling - and arguably damning statistic to consider. Despite being on a four-stop strategy which, in theory, required a flat-out pace to beat the three-stopping cars, the average lap time in Fernando's first two stints, even when excluding the first lap of the race and lap ten when he pitted, were 1:29.6 and 1:31.0 respectively. His qualifying lap was a 1:21.218. Proof that F1 really was running at only 90% in Barcelona?
And just how slow was Lewis Hamilton?
Hamilton's lap charts from Sunday's race make grim reading for Mercedes. Although the Briton just about kept pace with the frontrunners through his opening stint thanks to team-mate Nico Rosberg effectively acting as a roadblock, the 2008 World Champion's lack of pace became abundantly clear during his second.
Whereas Alonso regularly set times in the 1:29s with a best of 1:28.703 after making his first stop of the afternoon, Hamilton never once went quicker than 1:30.460 between laps nine and 24 after putting on the hard tyres at his first call to the pits.
Worse still, the W04 suffered such excessive tyre degradation that it started to rapidly lose what little comparable speed it had scarcely halfway through the stint - from lap 19 until pitting on the 24th, Hamilton's average time was 1:33.0. By comparison, Alonso completed his second stint with a 1:30.3 after five successive laps in the 1:29s. There was a night and day difference between the Mercedes and Ferrari on Sunday.
Was Fernando Alonso's victory nearly punctured?
In a weekend in which tyres became the depressing pre-eminent topic of F1 conversation, Ferrari were relatively unaffected by Pirelli's frail rubber as Fernando Alonso and Felipe Massa claimed the team's best combined result in 46 races. Indeed, Alonso's second victory of the season was all-but assured once his third pitstop was successfully executed on lap 36.
However, there was a small potential fright for the Scuderia in the laps approaching the race leader's fourth and final stop when data in the garage showed one of the F138's tyres had developed a slow puncture. Given the spectacular delamination seen on Paul di Resta's Force India during Friday Practice following a cut to the tyre, the Ferrari pitwall took a safety-first approach and brought Alonso's final stop forward by two laps to L46, meaning his fourth stint was a reasonably short 13 laps. "We had the data that the tyres were starting to go down slowly and our strategy was to stop him two laps later," Stefano Domenicali explained. "But in order not to risk anything, because we were controlling the pace of Kimi, we brought him in to avoid any extra stress on certain corners."
But had it caused any real concern? "It was not a serious problem," added the genial Italian. But had it occurred just a few laps beforehand, rather than at the culmination of a stint, Alonso's victory push really could have been punctured.
Would Nico Rosberg have been better off four-stopping?
One of the initially more curious aspects of an often bewildering race was Mercedes' decision to stare down the barrel of their tyre-wear nemesis and attempt what turned out to be non-conventional three-stop strategies with both of their cars. While Lewis Hamilton's grim race was ultimately converted into a four-stopper, polesitter Rosberg persevered with his pre-race plan of conservation and ultimately came home sixth - which in light of his team-mate's travails, wasn't such a bad result.
While Hamilton, in an unbalanced W04, cut his losses a mere 11 laps into his second stint on lap 36 despite his previous seven laps combined having actually been fractionally faster than his team-mate's, Rosberg carried on with his set of hard tyres all the way to lap 47. By that time he was lapping in the low 1:30s, which was often still within half a second of Hamilton and his far fresher rubber.
Rosberg completed a final stint of 19 laps to secure his sixth place, 68 seconds adrift of Alonso - who had passed him for the lead back on lap 13. So would have a four-stop been any better? Well, considering the Mercedes lost four positions on that very unlucky 13th lap alone, and a further one to Kimi Raikkonen two tours later, the German, while giving away heaps of time, only lost one further position thereafter - to Red Bull's Mark Webber, who overtook him on lap 39. Given that Mercedes clearly didn't have the race pace of the top three teams, sixth was just about as good as they could have hoped for either way.
How did Red Bull's three-stop hopes unravel?
Ferrari and Red Bull went into Sunday's race with two very different strategies in mind. The Scuderia doubted a three-stopper would be quicker for them and thus had a clear vision from the moment the lights went out. "We could not have done a competitive three-stop," said Ferrari's Stefano Domenicali. "We saw that in Friday practice."
According to Red Bull's computers, however, nursing the tyres and three-stopping would be four to six seconds quicker across the 66-lap distance. Throw in the fact that Vettel had again managed to stockpile several sets of fresh hard tyres from qualifying, and the attraction of making one less stop was clearly there. After a consistent, if slow, opening stint behind Rosberg, Vettel was undercut by Alonso at the first stops and quickly lost touch with the Ferrari - the Spaniard's advantage a full four seconds by lap 20. While Vettel went two laps longer on his stint, there was a difference of 2.6 seconds between his fastest lap - 1:29.244 - and his final full one - 1:31.630. He could only stretch the stint to lap 24 in any case, by which time Alonso was now lapping over three seconds faster on his fresh rubber.
Indeed, having only been separated by four tenths of a second after the first round of stops, Alonso had managed to open a gap of 13s after both cars had pitted for a second time. With a pit-lane loss time of around 21s, the next phase of the race would be critical if stopping one time fewer was to pay off for Red Bull. Alonso ran a long(ish) third stint of 15 laps, but continued to push throughout, lapping around a second a lap faster than Vettel who appeared to be nursing his rubber. The Ferrari's lead was up to 20 seconds approaching his stop, and with Vettel soon slipping back into the 1:30s, Red Bull's hand was forced and their bold three-stop bid was definitively over.