Why F1 must slow down in the pitlane
Sky Sports F1's Martin Brundle on Red Bull's choice for 2014, safety changes in the pitlane, and what now for the title race...
Last Updated: 09/07/13 5:13pm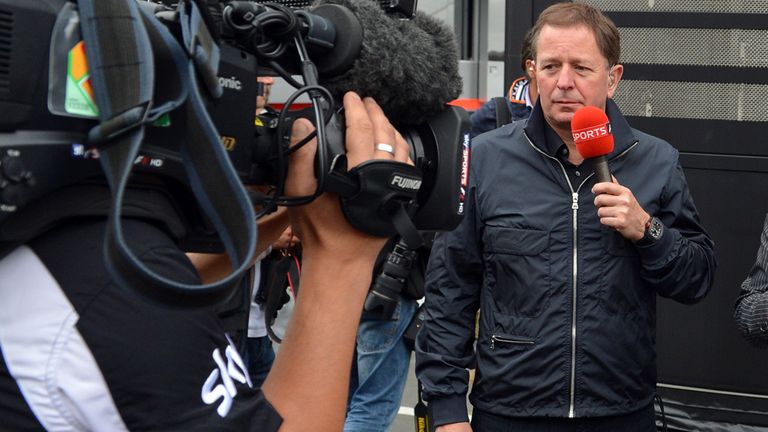 The hot track played into the hands of the Lotus team very nicely and they made the most of it. Frankly I would like to have seen Kimi Raikkonen win if only to keep the Championship battle closer, but it was a masterful effort from Sebastian Vettel in the face of a faster car/driver combo on the day. I wonder if those two will be team-mates next year. Part of me hopes that some fresh blood like Daniel Ricciardo gets his big chance, but I would equally like to see Kimi v Seb in the same team. Talk about chalk and cheese....
It's been easy enough to criticise Romain Grosjean in recent times and so it's important to recognise that he was both fast and faultless in his drive to third place. It does, though, appear that he needs Kimi to have problems before he would be allowed to finish ahead of the Finn.
Races where there is a big performance gap between the tyre compounds - meaning effectively one 'qualifying tyre' and one solid race tyre - really spices up both qualifying and the race. Having said that in two of the last three GPs the tyres have confounded the best brains in the paddock with their race day performance.
If you saw our recent SkyF1 features with Mark Webber and myself driving the Red Bull RB7s you will have been reminded how poor the visibility is from the cockpit of an F1 car, and how generally clumsy they are to drive at low speed in confined areas. This makes the pitlane a potentially treacherous place at the best of times, and as we saw at the weekend - especially so with Webber's errant rear wheel striking a cameraman.
Whenever I'm in the pitlane my senses are in hyper-alert, there is so much going on and it's easy to be looking the wrong way and not hear enough with ear plugs in. Anybody who has driven a steaming hot bundle of F1 energy into the pitlane will be the same.
I have no idea how or why, but we used to pit with no speed limit whatsoever in the '80s and we often used to be doing 160mph at the pit exit with freshly hopefully bolted on wheels. In Monza we approached the narrow pit entry at 200mph. Lunacy. Thankfully it's now limited to 62mph but imagine jumping out in front of a car on a dual carriageway doing that speed; it's still pretty fast.
The pit area is full of tools, equipment, compressed air, fuel supplies, KERS batteries, hot tyres and brakes, and of course people. The teams are not allowed to send their mechanics into the pit-stop zone until a stop is imminent, but under a Safety Car scenario this will mean most teams are out there.
The drivers are permitted to run side-by-side in the wider pitlanes around the world and the mechanics are under huge pressure to deliver the sub three-second stops. It's a dangerous combination. Maybe there should be a minimum four-second stop to take away much of the risk, but timed from when to when exactly, and who by? It would also take away an element of F1 'wow' and I'm sure the teams are furiously trying to deliver a sub two-second stop if possible. Fast pit-stops win races and even Championships.
In theory the traffic-light system triggered by sensors on four wheel guns and two jacks, with an override for other cars passing by, should be relatively foolproof but clearly under extreme pressure it's not. There needs to be some control now because it's getting critical. I was recently thrown out of the Le Mans pitlane for not wearing a crash helmet. Whilst the accompanying line from the marshal of 'Ce n'est pas pour touristes ici' grated a bit as a former winner, he was right.
There needs to be changes in pitlane procedures and protocol now in F1, over and above moving the TV cameramen to the pitwall.
I initially thought that Mercedes had been let off very lightly from the 'secret' test saga, but missing the Silverstone test with the further revised tyres will disadvantage them significantly I would have thought, especially as it's clear that they haven't sorted their tyre 'deg' problems out yet when it's hot or the compounds are marginal.
The three other World Champions on the grid are not having a great time. Lewis can't get that victory on the board despite prodigious qualifying speed. Jenson drove a great race on Sunday for McLaren but it's for the minor placings rather than the podium or victory. And I wonder how long Ferrari can tame the ambitions of Fernando Alonso if they don't soon give him a faster car.
MB