New range of Pirelli tyres leave Lewis Hamilton and Mercedes Hungary for more
Sky Sports F1 commentary expert Mark Hughes considers the surprising impact of the new range of Pirelli tyres in Budapest...
Last Updated: 30/07/13 5:43pm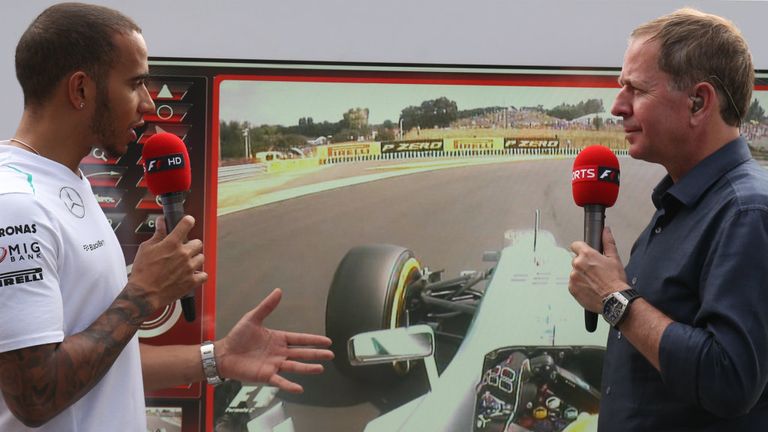 The hottest race of the year might have been expected to expose what has been the Merc W04's main weakness - a tendency to overheat its rear tyres by as much as 20-degrees Celsius, giving serious performance degradation. Yet the tyres held on just fine.
Was it to do with the different tyre spec here? For Hungary, F1 reverted back to the 2012-specification of front construction, as part of Pirelli's response to the blow-outs of Siverstone. Suddenly the Mercedes was using the tyre well, while the Ferrari and Force India - both cars that have generally been kind to the tyres - were struggling. The Williams was another car going much better - had Pastor Maldonado got his lap together he could have been vying for Q3 - and for reasons that apparently have nothing to do with any aerodynamic development. Nobody on any of these teams claims to know definitively if or why the change of tyre spec has changed the competitive order, but the evidence certainly suggests that it has.
"We came here with upgrades and constantly doing work to try and understand these tyres," said Hamilton post-race. "I think today we bolted them on and they just worked for us. I really was not expecting it. I came here hoping and praying that when we put on these tyres that they would come towards us more than away from us and it seems like they've done that: 52-55 degrees track temperatures today, one of the hottest races I think I can remember doing, and for a team that really struggles with tyre degradation today was a walk in the park. I'm really baffled... I used all the technique I could possibly use to look after the tyres which I'm sure everyone is doing, but it worked."
The new parts centred around an extra upper element for the front wing. This gave them a finer range of front wing adjustment - and that may have played its part, and may also offer a clue as to why the Hungary spec of front tyre is more suitable than the previous one for the Mercedes, which is a car with an inherently grippy front end. In qualifying the Merc can be observed generating more front tyre deformation than any other, suggesting it has more front-end grip. This helps the car to change direction quickly, the drivers not having to wait as long for the car to be pointed straight at the apex. This means in turn that the cornering loads are transferred more quickly to the rear tyres - which are essentially put under extra stress in keeping up.
The 2012-spec of front tyre used in Hungary - and set to be used for the remainder of the season - is inherently less grippy than that used so far in 2013. It has a stiffer sidewall, absorbing less of the cornering force, more of which thereby gets fed to the contact patch and robbing the tyre of grip. This just might have been enough to give the Merc's rears an easier time - enough to keep them away from that crucial temperature threshold at which they degrade rapidly.
"It's possible," allows team boss Ross Brawn. "It's a softer construction of tyre. But it's still about getting the car balance absolutely right - which is a moving target. For sure you don't want the rears to go away, but too much understeer costs you a lot of lap time. In all honesty, I still don't have any idea really whether this tyre suits us more than anyone else."
We will find out if Merc's season has been rescued by this change in the coming races. Even the Hungary victory hasn't quite eradicated Lewis' pessimism. "I just hope that that's not the last time my tyres work for me."
MH
He's joined! Follow Mark Hughes on Twitter