Sky Sports F1's 2013 Belgian GP schedule
What to look out for on this weekend's coverage from Spa...
Last Updated: 09/12/13 9:21am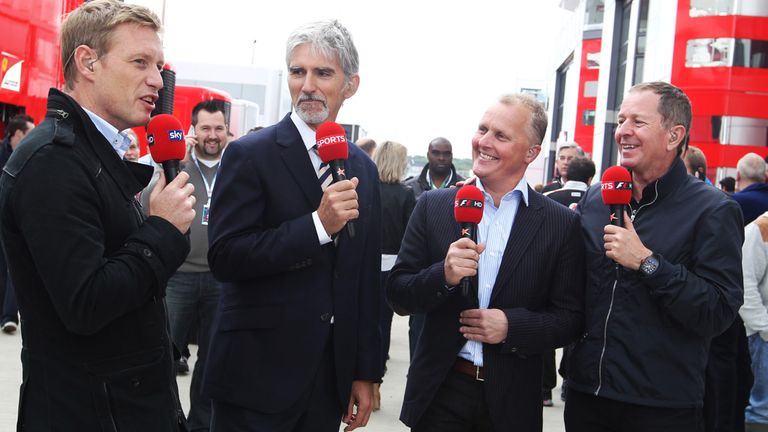 With the interminable summer break at an end, the legendary Spa-Francorchamps is the scene of round eleven of the 2013 season, but before we get to talking about what the weekend has in store we have to reach Belgium first.
After all, as well as being one of the favourite circuits on the calendar, Spa is also rightly famed as a roadtrip destination for motorsport fans across the continent. So what better reason for the Sky Sports F1 team to find out just how many ways there are to reach Spa? To that end, Martin Brundle and David Croft will be hitting the road, Natalie Pinkham will be on the train, Johnny Herbert will be on the ferry (and in a van!) while both Simon Lazenby and Ted Kravitz will be taking to the skies to arrive in style. You'll be able to see the feature in our race programme on Sunday.
And of course we have plenty of highlights lined up for when we arrive at the circuit for our all-encompassing coverage of the Belgian GP.
Following the success of last year's trip down memory lane when Martin Brundle toured the 'old' Spa circuit, Martin will be turning his attention to exploring today's venue in order to explain why it remains such a favourite for fans and drivers alike.
Speaking of drivers, we'll be hearing from Romain Grosjean in Friday's edition of The F1 Show, with the Lotus driver joining Ted Kravitz to explain how IT technology is used in F1 to aid both teams and drivers. Plus, both Caterham pilots - Charles Pic and Giedo van der Garde - will be meeting up with Johnny Herbert to talk circuits in the latest edition of our 'Know Your Tracks' series.
Then, over the weekend, we will be hearing from the last race winner - with Lewis Hamilton chatting to Simon Lazenby about how he spent the summer break, his chances of winning the title this season, and life at Mercedes - as well as the last victor at Spa. Just what does it take to win at the legendary circuit? And what can McLaren achieve in the second half of the season? Expect Jenson Button to reveal all when he sits down for a chat with Natalie for Saturday's qualifying show.
As ever, enjoy!
Sky Sports F1's Shell Belgian GP schedule in full
Wednesday 21st August
7.30pm - The Lost Generation - Tom Pryce.
8pm - Classic Races - 2010 Belgian GP.
Thursday 22nd August
2pm - Drivers' Press Conference - Live!
7.45pm - Gear Up For Belgium.
8pm - 2012 Belgian GP highlights.
Friday 23rd August
8.45am - Belgian GP Practice One - Live!
11am - GP2 Practice - Live!
12.05pm - Classic Races - 1985 Belgian GP (Highlights).
12.45pm - Belgian GP Practice Two - Live!
2.50pm - GP2 Qualifying - Live!
4.15pm - Team Principals' Press Conference.
5pm - The F1 Show - Live!
9pm - Classic Races - 1955 Belgian GP (Highlights).
Saturday 24th August
8.45am - GP3 Qualifying - Live!
9.45am - Belgian GP Practice Three - Live!
12pm - Belgian GP Qualifying - Live!
2.35pm - GP2 Feature Race - Live!
4.15pm - GP3 Race One - Live!
10.20pm - Ted's Qualifying Notebook.
Sunday 25th August
8.20am - GP3 Race Two - Live!
9.35am - GP2 Sprint Race - Live!
11.30am - The 2013 Belgian GP - Live!
4.15pm - GP Uncovered - The 1958 Belgian GP.
7pm - Belgian GP highlights.
8pm - Ted's Race Notebook.