Kimi returns to Ferrari: The Winners and Losers
Considering the ramifications of Raikkonen's return to Scuderia...
By Pete Gill
Last Updated: 11/09/13 2:38pm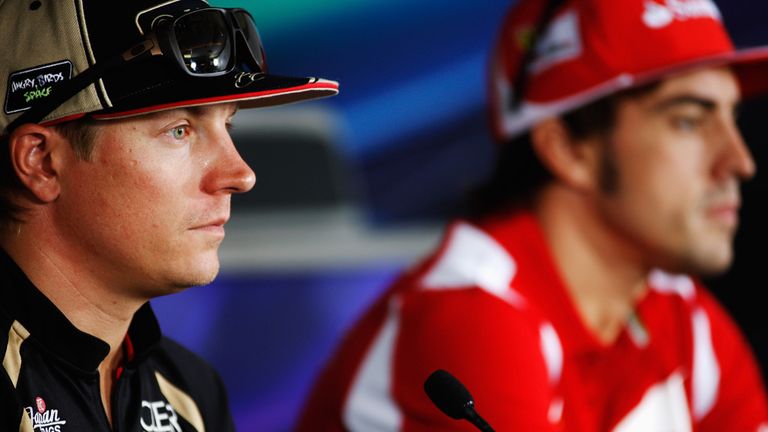 Kimi Raikkonen
Back at F1's top table and back where he belongs. The prevailing suspicion remains that Raikkonen would have stayed at Lotus if only the team were able to deliver adequate reassurances they'll have the necessary resources - financial and technical -for a sustained title bid in 2014.
But even if they had, Ferrari are surely the better bet to provide Raikkonen a platform from which he can land a second World Championship. It's where he won his first, after all.
F1 and the 2014 season
In Kimi v Fernando, the sport - and next season - has just the story it needs as Red Bull and Sebastian Vettel threaten to debase 2013 into a processional walkover. As Martin Brundle wrote in his column on Monday, this is just the tonic F1 required after flatlining since the summer break.
Ferrari
It won't be plain sailing, and the appointment of Raikkonen alongside Fernando Alonso is tantamount to an admission that their tried-and-trusted tradition of running with a clearly-defined number one driver has failed against an onslaught of Red Bull technical supremacy. But let's focus on the positives: Ferrari's statement of intent has been delivered in emphatic fashion. They'll be hogging the spotlight at the start of 2014 with the strongest line-up on the grid. Any mourning for Felipe Massa will be shortlived.
The fear, of course, is that Raikkonen and Alonso could be a repeat of Hamilton v Alonso at McLaren in 2007. Yet this is a gamble the team had to take as Red Bull home in on a fourth consecutive title double. Something had to change; Ferrari had to alter their approach.
Will it go wrong? Maybe. There are certainly no guarantees Plan B will be successful - which is one of the reasons why Raikkonen and Alonso's duel, the first time two World Champions have been pitted in direct combat at Ferrari since the 1950s, will be such compelling, riveting viewing. Yet Raikkonen is famously, wonderfully apolitical. He won't care a jot about what's occurring on the other side of the garage - or what is being said. And Alonso ought to be a wiser, more mature team-mate in 2014 than he was in 2007 when Hamilton's unforeseen, utterly unexpected competitiveness proved so destabilising. Forewarned doesn't necessarily mean forearmed, but Alonso can't say he didn't see the internal competition coming this time.
Moreover, one factor in Ferrari's gamble may be the consideration that an all-star line-up may actually prove stabilising rather than destabilising. One interpretation of Alonso's recent criticisms of the Scuderia - the first at Hungary, the second last week at Monza even after a public rebuke from the team's president tried to gag his dissent - is that he has become too big for his boots and his frustration was threatening to become corrosive.
Viewed from that perspective, the appointment of another number one in Raikkonen, far from sparking civil war, should actually serve to pull Alonso into line and push him to a new level of competitiveness. The flirtation with Red Bull has backfired; spurned by the World Champions, Alonso has now learnt the chastening way that he now needs Ferrari as much as they need him.
James Allison
Any doubts he may or may not have had about the wisdom of leaving Lotus to return to Ferrari as their technical chief have surely been dispelled by Raikkonen following him along the same path.
With Rory Byrne overseeing the construction of Ferrari's 2014 charger, and Allison not to be underestimated, Ferrari have all boxes ticked for next season.
The here and now
Compared to the recent announcements at Red Bull, McLaren and Mercedes, Ferrari have very much bucked the trend in handing a 33-year-old a two-year contract to partner a 32-year-old who is under lock and key until 2016. Whereas their rivals have the next generation - namely: Ricciardo, Perez and, to a lesser extent, Hamilton - already in place Ferrari have overlooked the future to focus on the present.
Why only them? Possibly because Ferrari, rightly or wrongly, still see themselves as irresistible. There's no need for them to secure the future when nobody turns down the opportunity to drive for Ferrari.
Sebastian Vettel
From the perspective of the Constructors' Championship, it's Alonso and Raikkonen at Ferrari. From the perspective of the Drivers' Championship, it's Alonso v Raikkonen.
In sum, what's bad news for Red Bull is, conversely, good news for Vettel; while his closest rivals in the championship will have problems at home to contend with, he'll be the established number one alongside a team-mate new to both the elite and his surrounds.
Don't misunderstand Ferrari's motivation: Although they've broken with their established convention in order to end Red Bull's dominance, it's the Constructors' Championship they are eyeing first and foremost.
Mark Hughes
He called it first.
Losers
Felipe Massa
He'll leave with his head held high and Ferrari's decision to let the Brazilian announce his own departure on Tuesday night was the least he deserved after an eight-year tenure which had become a dutiful service since Fernando Alonso's arrival.
Nor should Felipe's talent be underestimated. He was World Champion for ten seconds in 2008, saw off Raikkonen a year later, and has earned more points in F1 than any other Brazilian in history.
Yet, when all is said and done, his exit had been a long-time coming. He's not been the same driver since Hungary 2009 and, viewed in hindsight, last year's contract extension was a mistake. So far this term, Fernando has garnered more than twice as many points as Massa. 'Preferential treatment' doesn't come close to accounting for such a vast discrepancy.
Fernando Alonso
So Fernando, what are you going to do now?
The Spaniard has been pitted against an A-lister before, but not by deliberate design, and not since 2007 when his partnership alongside a largely-unknown rookie culminated in the most acrimonious intra-team implosion since Senna and Prost. Since then, Alonso has pursued - by absolute design - pre-eminence at both Lotus and Ferrari, where Nelson Piquet Jr and Massa both played the role of dutiful number twos with meek obedience.
Fernando won't like sharing number one status alongside Kimi. He won't like it one bit. An historical giveaway is that he has twice replaced the Finn, first at McLaren for 2007 and then at Ferrari three years ago. Their paths have followed, but never crossed. Make no mistake, if Alonso had his way, he'd still be the only rooster in the Ferrari henhouse.
So Fernando, what are you going to do now?
The answer, surely, is that he'll grin and bear it. Ferrari's logic is perfectly understandable and completely valid: why stick with the status quo when it is failing? Alonso ought not to take this personally. In any case, where else could he find a better seat? Red Bull have elected for youth. Lotus, where he won the 2005 and 2006 titles under the badge of Renault, has obvious appeal, but the financial doubts that have persuaded Kimi to abandon ship are likely to dissuade Fernando as well. He could plug the gap through his Santander sponsorship but, in the final reckoning, he must believe that he'll have a better chance of landing the World Championship at Ferrari, even if he has to overcome Raikkonen in equal equipment along the way, than he would in an under-powered, under-resourced Lotus.
Alonso will stay because Ferrari are his best bet and because he has to believe he's better than Raikkonen. But he won't be happy.
Nico Hulkenberg
His time may come again, but the 'stepping-stone' move to Sauber hasn't delivered the desired results for either 2014 or 2013. A switch to Lotus is, though, still on the cards. But a CV with four different teams in four years is a CV disconcertingly bereft of roots.
Ferrari's Reserve Drivers
With Raikkonnen's aversion to PR events the stuff of legend, and Alonso not exactly keen on days out with sponsors either, the backroom drivers at Ferrari will have a heavy off-track workload next season.
Red Bull
One overlooked statistic of the 2007 season is that McLaren scored more points than any other outfit on the road and, but for their 'Spygate' scandal, which resulted in their disgrace and expulsion from the championship, they would have been crowned Constructors' Champions. Alonso v Hamilton may have proved mutually destructive as Raikkonen wriggled through the carnage to claim the Drivers' Championship but, except for the extraordinary circumstances of Spygate and the Hungarian GP, Alonso and Hamilton was a winning combination.
Past behaviour is no guarantee of future replication, but it is suggestive. Raikkonen and Alonso will be, to universal consent, the strongest pairing on the grid next season. The Vettel-Ricciardo marriage shouldn't be underestimated, but, unless Ferrari implode or design a dud, Red Bull will need a convincing - and perhaps substantial - car advantage to prevail in the Constructors' Championship next season.
Brazilians in F1
Three years ago, Felipe Massa was one of three Brazilians in the F1 field. Four years ago, he was one of four. Since then, Rubens Barrichello has retired, Bruno Senna has lost his seat, and Lucas di Grassi forgotten.
Luis Razia, a F1 driver for all of two weeks this winter before his funding bounced, may yet re-emerge if he can obtain a new livery on his chequebook, and Massa himself could re-emerge at Sauber or Lotus, but the likelihood is that next year's grid will be without a Brazilian for the first time since the mid-1960s.
The F1 landscape is changing shape in all manner of ways.
PG