UK exclusive: Kimi Raikkonen interview
In the days before his Ferrari return was confirmed, Sky Sports Online sat down with the man-of-the-moment at Monza to talk 2014, his relationship with Luca di Montezemolo, his time at Lotus and his allure for '70s-style F1
By Mike Wise
Last Updated: 13/09/13 1:35pm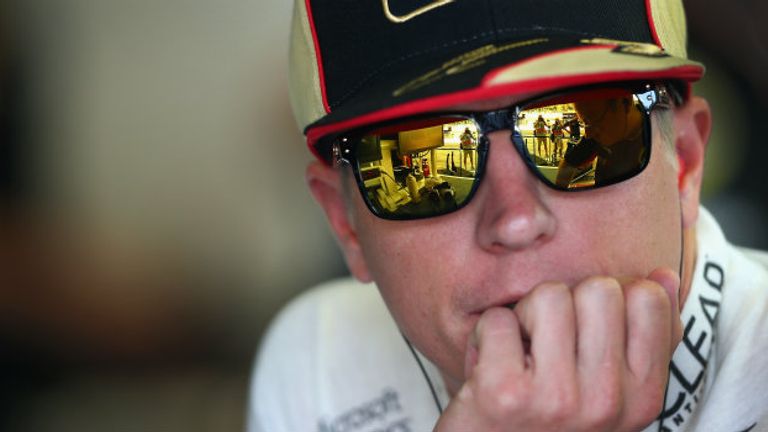 "I am really happy to be returning to Maranello where I previously spent three fantastic and very successful years," Raikkonen said on Wednesday. "I have so many memories of my time at Ferrari, memories which have stayed with me these past years, first and foremost, winning the World Championship title in 2007, which was really unforgettable."
Effusive stuff. Six days earlier came this slightly more muted response, when Sky Sports Online sat down with Raikkonen at the Italian Grand Prix.
"I don't know. We'll see, once I know what will happen. I'm not going to answer anything because you ask the same questions in ten different ways. You'll not get anything."
Not that we were expecting anything from Raikkonen - particularly on this subject. Getting anything out of Kimi is hard enough at the best of times and yet reporters persist; not only because he's a former World Champion and one of the pre-eminent drivers of the age but also because, every so often, he comes up with something special.
It might just be a few words, but it's invariably something no other driver would say. And it's often very funny. It also helps explain why he's one of F1's most popular drivers - if not the most popular. Raikkonen's vexed radio messages as he sped to victory in last year's Abu Dhabi GP, not to mention the discussion of his bowel movements with Martin Brundle on the grid at Interlagos in 2006, aren't the half of it: YouTube tributes give testament to the appeal of that deadpan, dazed delivery.
Those are the pearls but in order to find them, you have to sift through an awful lot of grit. "I don't know"; "It's difficult to say"; "We'll have to wait and see"; "It is what it is" - all stock phrases Raikkonen uses when deflecting questions, both pointed and prosaic. Sometimes there's a flash of irritation; more usually questions he doesn't care for are cut short by a weary croak of distress, a bit like a sheep that's snagged itself on a barbed-wire fence.
We've been hearing it even more than usual this summer but Raikkonen was rather more genial when asked about the swirl of speculation that 'silly season' whips up, chuckling at the guessing game surrounding his future. "Obviously I see it if I read some newspapers, because every day is a different story. But it's normal in Formula 1 - people try to guess and as long as they guess enough different choices then one of those will be the right one," he said.
"Every year at more or less the same time it's the same thing. It's just different drivers and different teams. I don't why people make so much effort because, for sure, in the end when somebody knows what they're doing, they will tell and it's as simple as that."
That end has now been reached, with Raikkonen committing himself to a two-year contract as Fernando Alonso's team-mate. The pair passed each other in Maranello's revolving door four years ago, when the Scuderia paid off Raikkonen's contract (at that time one of the most lucrative in sport) to make way for the Spanish double World Champion.
Of course, his return triggers all manner of expectation - not to mention the possibility of intrigue. This is Ferrari after all, although according to Raikkonen, rumours of a rift with the marque's excitable President Luca di Montezemolo stretching back to 2009 are wide of the mark. "I've never had a problem with him. For sure I've had arguments with many people and not just with him but with some other team bosses also. There's always a lot of rumours about different things I've done. But people write and they have no idea what's going on inside the team."
It was Montezemolo who used the metaphor "two roosters in the same hen-house" to describe precisely the team dynamic Ferrari didn't want; yet it's one they now appear wilfully destined to have created - unless, that is, an older, wiser Alonso and the apolitical Raikkonen can co-exist without feathers flying.
Whether Maranello is big enough for the both of them remains to be seen but when the subject was broached with Raikkonen, the shutters slammed down again. "I don't know. Go and ask them. I don't do anything with them. I don't decide; you'll have to go and ask them. How can I answer some questions about some other team?"
Concerned we weren't sure where to find Ferrari's HQ in the Monza paddock, he pointed towards the throng camped outside it and added: "Go that way and ask."
Ferrari remain "some other team" for now as Raikkonen still has seven races left to run for Lotus. There's no doubt the partnership has worked well since he returned to F1 at the start of 2012: two victories and 27 consecutive points finishes certainly constitutes a greater strike-rate than some had anticipated - if not the team themselves by the sounds of it.
"It's so far been very nice, great people to work with and obviously we want to improve things. Since we've started working together, it's been going well - probably what they expected for how the team has improved from the past years," Raikkonen said.
"But obviously it's never enough and we want to do well. But they've been very good for me and hopefully I've been good for them."
Was that last sentence an indication that Raikkonen had already made his mind up? He was open about the financial straitjacket Lotus find themselves in - "Obviously you want your salary when you work" - and in delivering the line, "We've won races, two in two years" with an ironic laugh, he hinted that it isn't enough. Such conjecture is now academic, although when it comes to making a decision, Kimi is an old enough hand to get his ducks in a row (as the Finns probably don't say).
"I need to have things as I wish and I want. Otherwise there's no real point to do some quick, silly decisions - that you're not 100 per cent sure you want to do those things and get the things as you want," he said. "I've been long enough in the sport to know what I want and what should be right for me."
One thing he was quick to point out, however, is that a move anywhere represents a gamble - to Ferrari, or even to Red Bull, whom Raikkonen was linked with for most of the summer. "Nobody really knows with all the changes in the rules," he said. "You hear a lot of stories from different teams that they have so much more horsepower or they are so good with the new rules, but I don't think we know it exactly until we get the new cars running and we get the first few tests done.
"You expect that the big teams will have more people and more money to do things. But we've seen in the past that big teams can get it wrong. I don't know. I have no idea who will have the best car; I don't think nobody does. Of course, you always expect your team to have the best car and it always looks the nicest car ever when they show it. But if it's not fast then that's another thing."
Further questions cover the Red Bull link - "I don't know why people try to make a big story out of it because I think it was pretty obvious what would happen" - Sebastian Vettel - "He was good straightaway when he came into Formula 1. I think he did his first race at Sauber, or BMW, or whatever it was" - and Sergey Sirotkin, the 18-year-old Russian who Sauber are pushing towards a 2014 race seat.
Sirotkin's presence in F1 is being questioned on account of his lack of experience and success to date but Raikkonen, who made his debut for Sauber in 2001 having previously contested just 23 car races, is open to the idea. "If you're good enough then you're not going to be any more dangerous than some other drivers out there," he said with a knowing smile. "Good for him if he gets the chance."
From F1's future to its past and with the sport currently surfing a wave of nostalgia as the film 'Rush' gets its long-awaited release on Friday, there's time to ask Raikkonen about that era. He's hinted before at an affinity with how the sport was in the 1970s and practiced at Monaco last year wearing a replica of James Hunt's crash helmet.
"For sure, Formula 1 was different. But if you look at any sport it was different because obviously there's much more money involved in all the sports and the big companies behind it will always change the sport - sometimes in good ways and sometimes in not so good ways," he said.
"There was much more risk involved also in those days, so people probably lived in a different way - because they probably expected more things going wrong than happens these days. It just looked different. It looked more fun - not just for the drivers but I think for everybody. It was a bit more relaxed and a bit more open."
Raikkonen has not driven a car from that era but added: "It would be nice to try. Just to know how it feels - probably very nice. Just for interest, it would be nice to try.
"There were much more chances to get hurt badly or lose a friend or lose your life. But they took the chance and I'm sure even now if it would be similar - more dangerous like that - there would be people taking the chance.
"Everything has come forward in the sport, the safety. That's how things always move."
As Raikkonen has shown, not everything - or rather everyone - moves forward all the time. How will his second stint at Ferrari work out alongside Alonso? We'll have to wait and see.
MW