Sky Sports F1's Singapore Grand Prix schedule
All the drama, all the action - exclusively live on Sky Sports
By Sky Sports Online
Last Updated: 25/09/13 3:52pm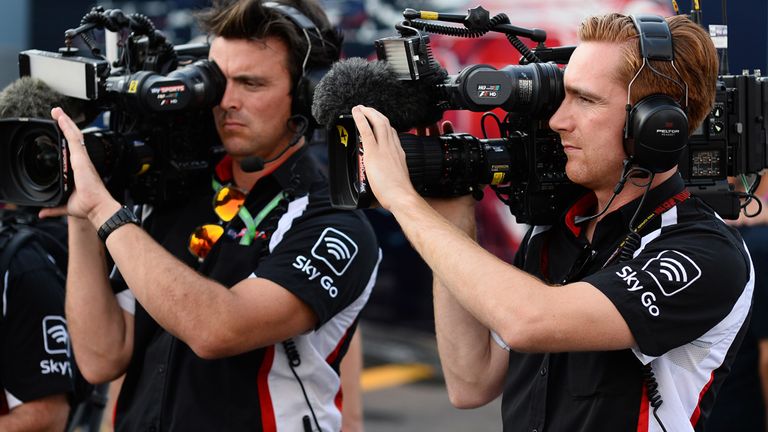 Described as "one of the wonders of modern sport" this week by Jenson Button, and hailed by Bernie Ecclestone as "the jewel in F1's crown which keeps getting polished", the Singapore GP has already become an iconic sight on the F1 calendar despite staging the first night race in F1 history less than ten years ago.
The sport has arguably never looked better than it does under the Singapore lights, providing the Sky F1 team with the perfect stage from which to tell the tale of the weekend from Friday morning all the way through to Sunday night as high drama off the track is married to what promises to be a fascinating battle on it.
So in addition to delivering the latest updates on the 2014 driver market - with Rachel Brookes joining Ted Kravitz on duty in the pitlane - we'll also be hearing from the likes of Nico Rosberg, Mark Webber and Heikki Kovalainen over the course of the weekend on the unique challenge of Singapore, F1's version of a gruelling two-hour high-wire act.
Plus, there's a plan afoot for a different kind of interview between Nico Hulkenberg, Johnny Herbert and a few selected others, but we'll tweet out more about that in due course...
Meanwhile, our race-day programme will include plenty of blasts from the past with Martin Brundle meeting up with former F1 World Champion Alain Prost, and we'll take a look at how Martin and Karun Chandok got on last week at Snetterton when they took some 1970 chargers for a spin.
Back to the present time, and Sunday's race show - on air from 11.30am on Sky F1 - will offer a unique perspective on the life - and schedule! - of a F1 driver away from the track as Ted Kravitz takes on the role of being Sebastian Vettel's PA for a few hours in order to discover just how the World Champion manages to juggle his sponsorship commitments on a particularly busy Thursday in Singapore, and then, back on track, Johnny Herbert and Damon Hill will tour the Marina Bay Street circuit to discuss the difficulties of racing around street venues.
And then it will be lights out at 1pm for the race itself...or, to be more exact, lights on as Singapore delivers the next chapter of the 2013 World Championship.
Will Vettel be prevented from completing a hat-trick of victories? You'll just have to tune in to find out...
Sky Sports F1's Singapore GP schedule in full
Tuesday 17th September
8pm - Classic F1 - 2010 Singapore GP.
Wednesday 18th September
8pm - Classic F1 - 2011 Singapore GP.
10pm - F1 Legends - Sir Frank Williams.
11pm - F1 Legends - Mika Hakkinen.
Thursday 19th September
11am - Drivers' Press Conference - Live!
8pm - 2012 Singapore GP highlights.
9:30pm - Gear Up For Singapore.
Friday 20th September
9:45am - GP2 Practice - Live!
10:45am - Singapore GP Practice One - Live!
12:55pm - GP2 Qualifying - Live!
2:15pm - Singapore GP Practice Two - Live!
4.15pm - Team Principals' Press Conference - Live!
6:30pm - The F1 Show - Live!
Saturday 21st September
9am - GP2 Feature Race - Live!
10:45am - Singapore GP Practice Three - Live!
1pm - Singapore GP Qualifying - Live!
3:45pm - Classic F1 - 2009 Singapore GP.
6:30pm - Lotus - Champman's winning Formula.
7:30pm - Singapore GP Qualifying replay.
10:15pm - Ted's Qualifying Notebook.
10:30pm - Classic F1 - 2010 Singapore GP.
Sunday 22nd September
9:05am - GP2 Sprint Race - Live!
10:15am - Architects of F1 - Gordon Murray.
11.30am - The 2013 Singapore GP - Live!
4.15pm - F1 Legends - Eddie Irvine.
7pm - 2013 Singapore GP highlights.
8pm - Ted's Race Notebook.