Reflecting on the Indian GP: The rise and rise (and rise) of Sebastian Vettel
An ordinary driver who got lucky? Think again, says Sky Sports F1's Martin Brundle after the Red Bull driver's latest title triumph
Last Updated: 28/10/13 2:46pm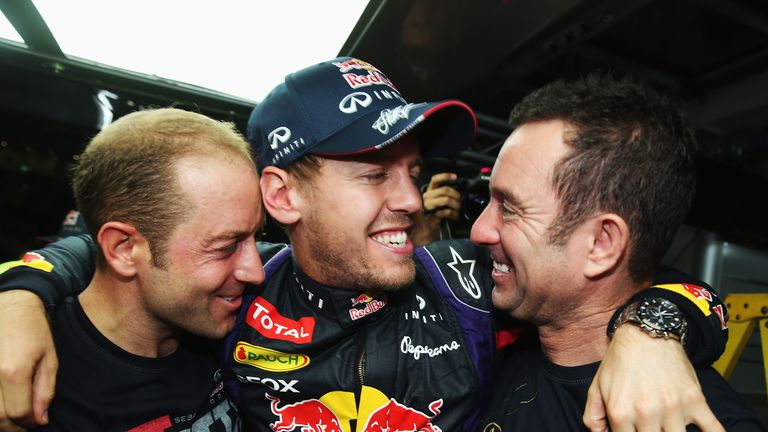 That is obviously apart from Vettel himself, given that he felt the need to carry two lucky coins tucked in his boot laces on this occasion.
He duly mastered a scenario where the soft Pirelli tyre turned to chewing gum in short order, and the medium compound would last pretty much all day, or rather just a little less distance than Kimi Raikkonen had hoped for in his one-stop failed dream.
Starting on the softs, Vettel pitted on lap two, so at least we had some new race leaders in the form Felipe Massa and Mark Webber. Falling inevitably near the back of the field, he simply steamed to the front of the race with a combination of raw pace, great overtakes, and others pitting.
I noticed in qualifying that he didn't hit the rev limiter with the DRS open and only fumes of fuel onboard, indicating that he was geared up for some strong straight-line pace confirmed by the top speed league tables. The extended DRS zone on the main straight made it a little easier to pass this year too.
The Red Bull is so complete they simply move the performance envelope around. If it's a traction-limited circuit, no problem, they can hook those rear tyres up. High-speed corner balance along with decent Vmax required? No problem, they have a package.
Reliability? Not quite so strong but somehow Seb's lucky coins keep his KERS and alternator churning out the sparks, unlike his team-mate Webber, who retired and left the circuit forthwith as yet another potential final victory before retirement totally evaporated. What does the man have to do?
Meanwhile, Seb was collecting another victory, his 36th, and then decided not to go into the pitlane to parc ferme, and proceeded to deliver a couple of tidy 'doughnuts' in front of a very appreciative crowd, and a few hundred million TV viewers.
Ignoring the fact that he was punishing a race engine and transmission briefly, he then switched it off, and like VR42, bowed down in front of the car to gift the cameramen the defining image of his season. Awesome.
He then proceeded to break further rules on his way to the podium via the crowd, which attracted a €25,000 fine for the team and a slap on the wrists for him. What a bargain for Red Bull marketing.
Vettel was very chatty on the podium and then spent an age in the TV 'pen' giving fulsome answers to everyone. A little later he was summoned to the stewards' office, although luckily I don't think they have breathalysers up there after their well-earned post-race celebration!
After a brief meal he then helped the team de-rig so they could get to the party earlier together and share some laughs and Jägerbombs. I doubt any World Champion has ever helped pack away, or any other F1 driver for that matter. But the team already loved him.
Those doughnuts probably did more good for his public image than anything else he's ever done, but no doubt there will still be plenty who say it's just the car and he's just an ordinary driver who got lucky. I'm not one of them, he's long been a truly world-class driver and legend as far as I'm concerned, and I've seen every F1 lap he's ever competed in, often right beside the track almost within touching distance. He's incredibly fast, and he's learned how to apply that speed, through hard work, with devastating effect.
Just as Ayrton Senna and Michael Schumacher did before him, Vettel will force everyone to raise their game. Hopefully soon.
Fernando Alonso endured a miserable day, his start technique and luck having deserted him of late. Felipe Massa in the other Ferrari continues to remind everyone he deserves more time in F1.
Ferrari are under real pressure now for second in the Constructors' Championship and I daren't think about the potential nuclear fallout of that, although they did tie McLaren's record of 64 consecutive points finishes.
Romain Grosjean drove a blinder from P17 to third despite the best efforts of his team-mate. Kimi Raikkonen's weaving and subsequent contact with Grosjean, despite having rear tyres with all the grip of oiled oak, made no sense for either of them and could have cost the team very dearly. That relationship, which has been so productive for team and driver, is sadly over.
Lewis Hamilton didn't have much fun either. Outqualified and outraced by a very on-form Nico Rosberg, and subsequently tucked up behind Massa, he then suffered the indignity of Sergio Perez passing him in the McLaren he departed last year, which I imagine was very well received in Woking. Perez has been given a hurry up if he wants to retain his seat against the likes of reserve driver Kevin Magnussen, and he responded with a fine performance.
Red Bull, of course, also sealed their fourth straight constructors' title, an immense achievement against the might of Ferrrari, McLaren and Mercedes. I'm relieved both titles have been sealed and we've been put out of our misery while waiting for the inevitable.
Now it's gloves off to stop Vettel winning a record-equalling 13 this year, but on recent performance only reliability can stop him. Let's hope he lends a lucky coin to Webber, although I somehow doubt that.
I hope and believe that we will return to India in the future, but it's Abu Dhabi this weekend. Talk to you from there.
MB