Marking the end of an era and the start of an uncertain future in Formula 1
Sky F1's Martin Brundle on how he'll remember the 2013 campaign and why he is expecting total calamity in the early stages of 2014...
By Martin Brundle
Last Updated: 26/11/13 5:12pm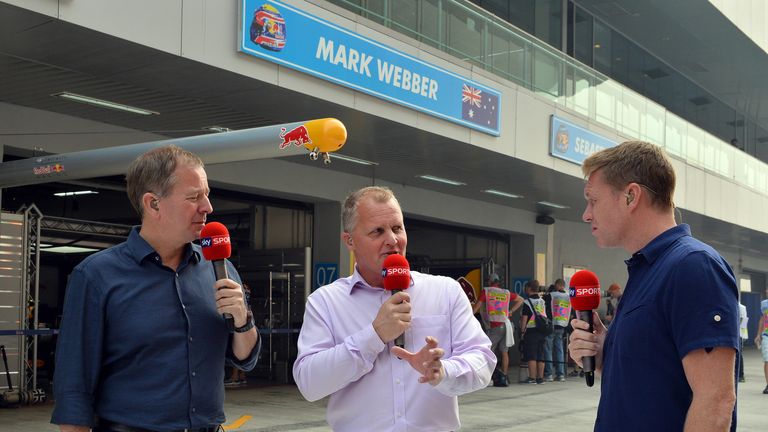 The end of Mark Webber's fine career featured very strongly as he completed a hat-trick of podiums to finish third in the World Championship, and the whole pitlane and especially his team gave him a fine send off throughout the day. As did many fans. 'Nice guys' do win on many fronts after all, just not championships it seems.
Mark's overtakes in the race were blinding although he did admit to us after the race on Sky Sports F1 that a couple of the early ones against Felipe Massa and Lewis Hamilton had him desperately hoping for no contact. Pressure is a funny thing and without doubt Webber has been at or close to his best since he called time on his F1 career, and Felipe Massa has been a new man in the Ferrari when he focused only on himself with nothing to lose.
We also saw the end of V8 normally-aspirated engines in general, and Cosworth in particular. Nothing to celebrate there but one day we might rue the loss of the 2014 V6 turbos I guess.
It's interesting to note that Renault won the last races of the V10 3.5-litre engines in Australia 1994, 3.0-litre engines in China 2005, and these 2.4-litre V8 motors, suggesting their development process is among the best, which could bode well for the future.
Vettel led every lap again for the 12th time in his career, including five of the last nine races. His points tally alone would have won the Constructors' Championship despite Ferrari and McLaren setting new records for race finishes. He's found himself in the perfect storm with a car so beautifully tuned to him and his driving style, while he's continued his impressive development to iron out any weaknesses through a Grand Prix weekend.
Meanwhile, the other teams have long since stopped development and turned their attention to 2014, rather like many fans and media. When I watch Usain Bolt and other great sportsmen and women I want them to win, and as I've said before we are watching something very special here in a car that's less dominant than other great champions have enjoyed from time to time. He remains one of the most approachable drivers on the grid, hence my opening line about it being strange we didn't make more fuss about his achievements.
I've often said to my Sky F1 colleagues, as somewhat amazingly we finish year two of working together, that often the best races have been after the championship was decided when the gloves are off and drivers get desperate for the following season. And so it proved again behind Vettel on Sunday with some great wheel-to-wheel action and lots of drama and controversy. If that had been for the lead we would all have still been talking about it...
The weekend rather confirmed that teams don't need four hours of dry practice every weekend, when the drivers sit and watch the others plod round half the time anyway. There must be a way to give young drivers a regular slot and consider more racing and less bumbling around. The teams have so much data that they can set their cars up before they leave the factory to a large degree, as Sunday proved. And I really enjoyed the uncertainty as the cars lined up on the grid.
Lewis Hamilton was unlucky with the drive-through penalty but he did rather wander across the road into Valtteri Bottas, who was unlapping himself but had no way of knowing that and is entitled to pass anyway. It was similar to the contact with Kamui Kobayashi at Spa in 2011 where Lewis seems to have mentally parked a slower car as being behind him and then contact is made.
Ferrari and Massa were wild with their penalty for crossing the line at the pitlane entry, which has happened many a time over the years, but they were warned about this before the race and again during the race before the penalty. It all seems so inconsistent when they are allowed to wander off track at will in many other corners around the world. Mind you, the end of that pit wall as you sweep through the blind left-hander while dipping into the pit lane flat out has always terrified me. You wouldn't want to hit that.
So another season is over, and let's be frank it hasn't been an all-time classic but there have been some highlights and surprises. I'm expecting total calamity in the early stages of 2014 and it remains to be seen if that's entertaining or confusing, but I have no doubt that these brilliant engineers and designers will master the issues sooner than later.
I agree with Jenson Button, big changes can only hurt Red Bull given they have such an advantage, but no doubt the usual suspects with the biggest resource will get there first. I'm hoping that we won't have a three-tier Ferrari - Renault - Mercedes championship in whichever order for both power and efficiency, but it's possible. I've asked my trusted sources in the paddock and they just roll their eyes and throw their arms up in the air. There's a huge amount of work to do in a very short space of time.
The midfield driver market should settle down in the next week or so. I've never seen anything like it frankly, and it doesn't bode well when the only team - Lotus - to consistently take the fight to Red Bull can't afford to chose its own driver line-up and take the best available. My alarm bells are going off for the general health of F1 and it needs urgent action, if not then a crisis, before it's back on track.
Thanks for your company this year.
MB