Mourning Mokpo: Why the Korean GP wasn't all bad and will be missed in 2014
Few F1 tears were shed when Korea dropped off next season's calendar, but has the remote Yeongam venue received an overly harsh rap?
By Mike Wise
Last Updated: 09/12/13 12:46pm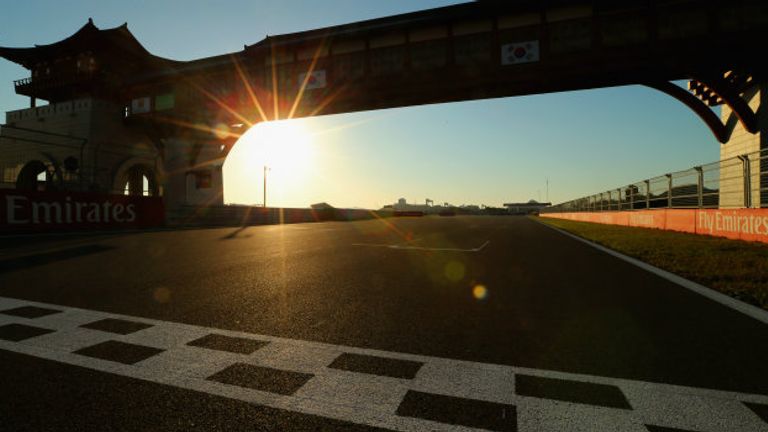 Yes, I know that, as points of view go, it's about as fashionable as Showaddywaddy turning up at a Blake's 7 convention wearing deely-boppers but sometimes these things just have to be said.
What's undeniable is that the race, held in Yeongam but, far more importantly for almost all concerned, a sapping five-hour drive south-westwards from Seoul, has proved resolutely unpopular since it first popped up on the calendar in 2010. Teams seemed to head down there with a collective shrug of weary resignation while spectators...well, let's just say the track owners have been guilty of over-optimism in their allocation of seats.
In fact, they've been over-optimistic full stop. The Korea International Circuit was meant to usher in a waterside 'city' development, comprising luxury apartments, hotels, conference centres and the like. There has been progress of sorts: parked cars could shelter under solar panels as of 2012 and a large, rather futuristic-looking bridge could be spotted the last time F1 paid a visit in October. But part of the problem is that no-one else could be bothered to visit in between times.
The general impression has been of a white elephant and its existence proof again that politicians do tend to be the most over-optimistic of us all when given oodles of other peoples' money to spend. Shiny, futuristic, never-built city aside (there has to be one of those scale models gathering dust somewhere) the race was also intended to boost tourism in the remote South Jeolla province. But the whole thing appears to have turned into a sort of Millennium Dome-style mess: ill-conceived, hastily-arranged and leaving people scratching their heads as to its point, purpose and value.
And head-scratching there certainly was in South Korea, which to say the least does not share the passion for motor racing clearly evident next door in Japan (from where a good percentage of the spectators were said to travel). After last year's race, I chatted to a man involved in the race's organisation, who told me that he had earlier watched with the Prime Minister (relegated to second in the list of VIPs present that day after 'Gangnam Style' pop purveyor Psy deigned to turn up). Apparently, the PM watched for quite some time and as Guess Who sped inevitably towards the chequered flag, he suddenly turned to him and asked who was leading. I can't think of a better anecdote to encapsulate the uphill battle the Korean GP has faced to establish itself in that country's sporting psyche.
So there we have it: a race beloved by just about nobody involved, besides perhaps the owners of so-called 'love motels' in nearby Mokpo, who charged an eye-popping premium each week the show came to town. And yet...
The drivers might not miss being hermetically sealed in the Hyundai Hotel (the area's only five-star accommodation, perched like Dracula's castle on a rock overlooking the circuit) but they'll certainly miss the track itself. The 5.6km KIC is as odd as everything else about the place but that hasn't stopped F1's best singing the praises of its 'long straight/fast bends/fiddly bits at the end' layout.
Most important of all, it has produced some great racing: from the rain-hit 2010 race which, with hindsight, put paid to Mark Webber's hopes of ever being World Champion; through Lewis Hamilton's spirited defence of second place from Webber the following year; to Nico Hulkenberg putting Hamilton and Fernando Alonso in their places this season just gone, I don't ever recall not being entertained by a Korean GP. I mean, even a fire truck led this year's race.
Having visited both as a fan and to work, the conspicuous lack of a 'circus' was also a boon: what thrives in places like Monaco and Singapore evidently wouldn't be seen dead next to a few paddy fields down at the bottom of the Korean peninsula. Such antipathy has been part of the wider problem, of course, but as far as I was concerned, heading to the back end of beyond was intrinsic to the appeal. It felt like an adventure. It also felt like going back in time - to an F1 that was smaller and without all the extraneous fluff.
Credit where credit's due: Korean GP organisers have reacted swiftly to the news that their race will not be on the 2014 calendar by making suitable statements of their determination to find a way back. But seeing as though they've been clinging on by their fingertips almost since day one, to do so now they've finally slipped from the window ledge does seem akin to reversing gravity's pull.
Perhaps they could seek inspiration from Montreal - after all, the Canadian Grand Prix fell off the calendar in 2009 only to bounce back the following year. Then again, that city also hosted the 1976 summer Olympic Games, which infamously ran up a debt estimated at approximately US$1.5billion.
It was eventually paid off 30 years later. With the Korean GP debt estimated at a measly US$180million by comparison, we can only hope that there's a race in which they can finally succeed.
MW
Click here to view the Korean GP-less 2014 F1 calendar