Testing, testing...Sky Sports' Bahrain plans!
The first of two Bahrain winter tests will begin on Wednesday
By Sky Sports Online
Last Updated: 14/02/14 12:11pm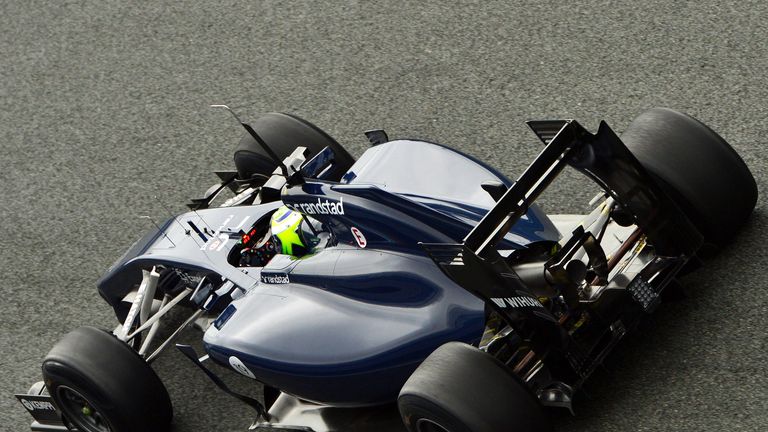 After the cool conditions and relative calm of Jerez last week, the first of the two Bahrain pre-season tests, which starts on Wednesday 19th February, will mark a serious upgrade in terms of tempo and temperature as the teams return to business in their new chargers - and, in the case of Lotus, give their 2014 car, the E22, its belated testing debut.
Having barely got out on track in southern Spain two weeks ago, Red Bull and their fellow Renault runners - including Lotus - will be particularly keen on spending as much time out on the Bahrain International Circuit as possible and Sky Sports will keep you fully abreast of all the developments and debuts on all four days of the event.
While the Sky Sports Online team will once again be providing a running interactive commentary feed from dawn to dusk as the cars hit the Bahrain track, Rachel Brookes will be on duty for Sky Sports News to provide live trackside updates and an evening round-up report which will be broadcast on Sky Sports F1 at 9pm on all four nights of the test.
The nightly report will be followed at 9.15pm by 'Ask Crofty', a two-part, half-hour programme in which the Sky Sports F1 commentator will be meeting with the great and the good of the F1 paddock to discuss the day's action before answering fans' tweets on all things testing and 2014.
If you want to get involved and have your question answered, join in using the #askcrofty hashtag.
As always, don't miss it!
Sky Sports F1's Bahrain Test One schedule
Wednesday February 19
9pm - Bahrain Day One round-up.
9.15pm - Ask Crofty, Day One.
Thursday February 20
9pm - Bahrain Day Two round-up.
9.15pm - Ask Crofty, Day Two.
Friday February 21
9pm - Bahrain Day Three round-up.
9.15pm - Ask Crofty, Day Three.
Saturday February 22
9pm - Bahrain Day Four round-up.
9.15pm - Ask Crofty, Day Four.
The Sky Sports F1 Online team will be providing live commentary of all three winter tests with live updates from trackside also on Sky Sports News. The next test, in Bahrain, begins on Wednesday February 19.