2014 Bahrain pre-season Test Two preview
Crunch time for Red Bull; Sky Sports Online to provide live commentary throughout; Ted's Notebook returns on Sky Sports F1 after nightly 9pm updates
By Phillip Porter
Last Updated: 01/03/14 5:16am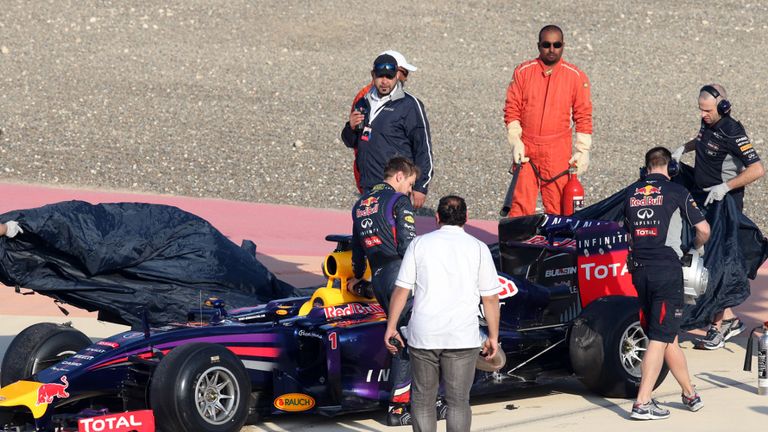 In particular, the four days of testing will be of critical importance for current and four-time World Champions Red Bull - having only produced 137 laps over the first two tests in Jerez and Bahrain combined.
It is, however, Mercedes who are the current leaders in pre-season, having set a high benchmark for other teams to follow. Both Nico Rosberg and Lewis Hamilton produced the fastest laps of Bahrain Test One on the new soft tyres - speed that has led Red Bull boss Christian Horner to suggest they are the favourites for 2014.
Worryingly, the teams supplied by Renault will be all too aware that they still lag some way behind teams with a Mercedes-based power unit. The French manufacturer again struggled in the shadow of Ferrari and particularly Mercedes in last week's second pre-season test in Bahrain, admitting that despite making progress with their power unit, it is still 'some weeks behind where we wanted to be.' It will no doubt encourage plenty of running from the likes of Red Bull, Toro Rosso and Caterham as they look to remove persistent teething problems with their new charger.
After an encouraging debut for the Lotus E22 in Bahrain last week, Technical Director Nick Chester says he can see no reason why the team can't be the leading Renault-powered team at the start of the season. Having missed the first test in Jerez, the Enstone team ended the first test on a positive note, running the car at full power, as Pastor Maldonado completed 59 laps on the way to setting the fifth fastest time overall.
What can we expect?
Essentially, for everyone, it's all about laps, laps and more laps. To date, Red Bull's new RB10's longest stint has been a mere twelve laps - expect it to be a long four days for the current World Champions.
Why Bahrain again?
With the team's already acclimatised and setup for Bahrain, it provides further extensive warm weather testing before the teams head to Australia for the opening race of the season on March 16th.
The track itself remains popular with engineers trying to assess the early performances of their cars - especially when factoring the heat on the new 2014 engines. The 3.3mile, 15-corner track provides a full range of low, medium and high speed corners, as well as long straights to make sure the cars - and the drivers themselves - get a thorough aerodynamic workout.
What's on Sky Sports F1?
Sky Sports News' Rachel Brookes will be providing updates from the test, whilst there will also be an evening round-up on Sky Sports F1 each day at 9pm. The round-up will be followed by the return of Ted's Notebook in which Sky Sports F1's pit lane reporter will be catching up with those in the F1 paddock to discuss the day's track action.
And of course, you can also follow all the action from Bahrain live from dawn (5.30am) to dusk with interactive commentary on the Sky Sports F1 website.
Who will be driving?
Red Bull: Daniel Ricciardo - Thursday and Friday; Sebastian Vettel - Saturday and Sunday.
Ferrari: Kimi Raikkonen - Thursday and Saturday; Fernando Alonso - Friday and Sunday
Mercedes: Nico Rosberg - Thursday and Saturday; Lewis Hamilton - Friday and Sunday
Lotus: Pastor Maldonado - Thursday and Friday; Romain Grosjean - Saturday and Sunday
McLaren: Kevin Magnussen - Thursday and Saturday; Jenson Button - Friday and Sunday
Force India: Sergio Perez - Thursday and Friday; Nico Hulkenberg - Saturday and Sunday.
Sauber: Adrian Sutil - Thursday and Saturday; Esteban Gutierrez - Friday and Sunday
Toro Rosso: Daniil Kvyat - Thursday and Saturday; Jean-Eric Vernge - Friday, and Sunday.
Williams: Bottas - Thursday and Sunday; Felipe Massa - Friday and Saturday.
Marussia: Max Chilton - Thursday and Sunday; Jules Bianchi - Friday and Saturday
Caterham: Kamui Kobayashi - Thursday and Saturday; Marcus Ericsson - Friday and Sunday
The betting
Following the opening test in Bahrain, Sky Bet have installed Mercedes' Lewis Hamilton, overtaking four-time World Champion Sebastian Vettel, as favourite for the 2014 F1 title.
Sky Sports F1's Bahrain Test Two schedule
Thursday February 27
9pm - Bahrain Day One round-up.
9.15pm - Ted's Notebook, Day One.
Friday February 28
9pm - Bahrain Day Two round-up.
9.15pm - Ted's Notebook, Day Two.
Saturday March 1
9pm - Bahrain Day Three round-up.
9.15pm - Ted's Notebook, Day Three.
Sunday March 2
9pm - Bahrain Day Four round-up.
9.15pm - Ted's Notebook, Day Four.
The third and final pre-season test starts on Thursday morning in Bahrain. The Sky Sports F1 Online team will be providing live commentary from dawn until dusk on all four days, with live updates from trackside also on Sky Sports News.