It's a big year for...Jenson Button
Having seen off Sergio Perez, the 2009 World Champ has it all to prove once again versus the highly-rated and very, very fast Kevin Magnussen
By Pete Gill
Last Updated: 07/03/14 10:02am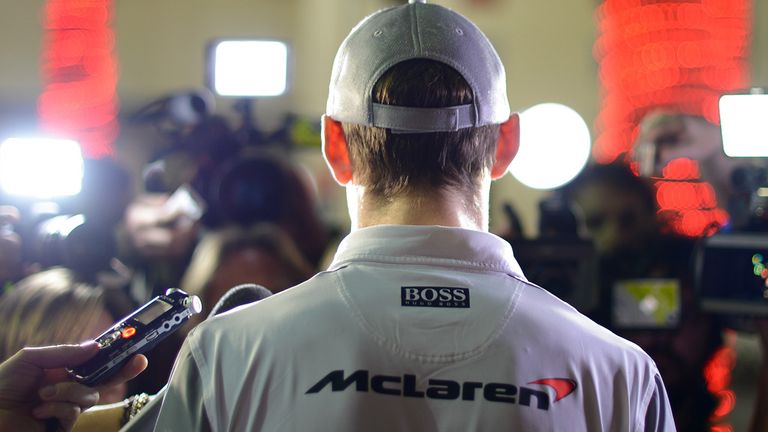 The contest between Kevin Magnussen and Jenson Button at McLaren will not, we trust, prove to be quite as brutal as those from a bygone era, but both rookie and veteran will nevertheless embark on 2014 under no illusions about the nature of their intra-team confrontation. Cut the smalltalk: There can only be one winner at McLaren this year. That most modern-day of concepts, the score draw, isn't an option. It's him or thee.
True, past history means that Ron Dennis's return to power at Woking has made the prospect of McLaren re-signing Fernando Alonso altogether more unlikely, if not impossible, but there will be very few drivers spurning McLaren's advances ahead of their reunion with Honda for 2015. If they want to be part of McLaren-Honda, Button and Magnussen have to deliver for a team that doesn't believe in sentiment.
On the one hand, Magnussen only has to consider the story of the driver he has replaced, Sergio Perez, to appreciate that time, despite his tender age, is not on his side. And on the other side of the garage, Button only has to glance at Stoffel Vandoorne waiting in the wings to remember that he has neither time nor age on his side.
Jenson does, at least, have a decade of F1 experience - not to mention a stack of victories and a World Championship - to stand him in good stead. Nor will he be in the least bit fazed by the challenge ahead; defying the critics is old hat to a driver who is now the second-oldest on the grid (only Kimi beats him in the longevity stakes).
Yet with every passing month and year, the pressure to deliver becomes ever more pressing. Experience in F1 is a double-edged sword: on the one side, it's an endorsement and a defence; on the other, it's a threat because the first hint of decay is likely to be fatal. Every season starts and resides in the last-chance saloon. Put bluntly: if he loses out to Magnussen in 2014, there is unlikely to be any coming back for Button in 2015.
And it's not as if he delivered an emphatic defeat of Sergio Perez in 2013 either. The final points tally offered statistical validation of the team's decision to sack the young Mexican but what it didn't show was that Sergio actually out-qualified Jenson over the course of the season. What's more, it's been reported that the team's engineering unit had substantial misgivings about the Mexican's ability to cajole Button out of his comfort zone. Button, it's said, needs to be pushed before he pushes the limits of his machinery and Perez wasn't quick enough to make Button as quick as he ought to be. Hardly a ringing endorsement of either driver.
Which is where Magnussen comes in, first as a replacement for Perez and now a clear and present danger to Button. The young Dane is not just quick; he's reckoned to be phenomenally quick. And outright speed is the one facet which Jenson, even in his younger days, has never boasted in abundance. No wonder there are plenty in the paddock already predicting that Button will be 'blown away' in 2014.
Still, this is not virgin territory for Button. He's been written-down and written off on countless occasions during his F1 career - indeed, he readily admits that his lowest period in the sport was the months just before his title-winning year of 2009. Nobody saw that coming and almost as few predicted he'd out-point Lewis Hamilton over their three years together.
Yet this is an altogether different challenge and one, it's reasonable to suggest, Jenson will have to win convincingly in order to persuade McLaren to retain his 35-year-old self ahead of Magnussen and the evolving potential of Vandoorne.
In a sport driven by numbers, Button's age is the one thing he can't overtake. To qualify for 2015, he'll need to race 2014 to perfection.
@skysportspete