Team-mate battles 2014: Which F1 driver will win their intra-team head-to-head?
Which drivers seized the initiative during the opening nine races?
By William Esler
Last Updated: 15/07/14 5:44pm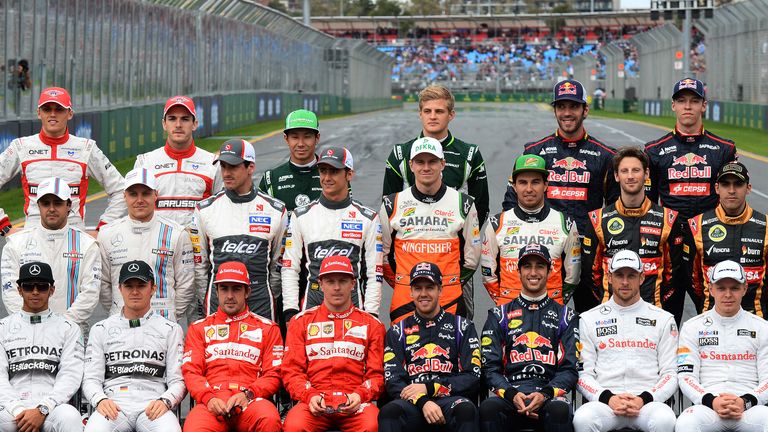 For the purpose of finding the quickest driver on a Saturday, grid penalties have not been taken into account and it is simply the driver's qualifying position that has been counted. If both drivers retire from the race, the score is awarded to whichever driver completed the most laps.
Red Bull
'Wow' is the first word that springs to mind when you see Daniel Ricciardo's domination of the race stats at Red Bull this season. Up against a four-time World Champion, the Australian has not wilted under the pressure and instead revelled in his opportunity with one of F1's big teams. Usually the master over a single-lap in qualifying, Sebastian Vettel has also been consistently outperformed on Saturdays and the German is in danger of becoming Red Bull's number two.
Mercedes
The nip-tuck battle at Mercedes continues with little to choose between the pair in the Drivers' Championship and their intra-team stats. Worryingly for Lewis Hamilton - a man who takes pride in his single-lap pace - he has been out-qualified by the German at each of the last four races and that is a trend he will be eager to reverse rather than starting each grand prix on the back foot.
Ferrari
This was billed as the battle to watch in 2014 as two former World Champions went head-to-head at Ferrari. Instead it has been an utterly once-sided affair that has only served to reinforce Fernando Alonso's reputation as the best all-round driver in Formula 1. He has outraced Kimi Raikkonen at every grand prix and hasn't been beaten in qualifying since Spain - not even during the mess that was Q1 at Silverstone for Ferrari. Some at the Scuderia must now surely be questioning what they are paying the big bucks to Raikkonen for, particularly with Academy driver Jules Bianchi doing a stellar job at Marussia.
Lotus
Pastor Maldonado finally beat Romain Grosjean over a race weekend in Austria, but that is only a minor blemish on the Frenchman's record as he dominates at Lotus in 2014. The E22 may not be the most competitive car on the grid, but Grosjean has twice finished in the points, whilst Maldonado regularly finds himself struggling to get out of Q1. The Venezuelan has done little to shake the pay-driver tag since leaving Williams and you have to question how much longer he would remain in the seat if not for the oil dollars.
McLaren
Jenson Button may have been challenged to do better by Ron Dennis but his record this season shows he is comfortably outperforming his team-mate. Never one famed for his single-lap pace, Button heads the qualifying battle from Kevin Magnussen - no mean feat given that the Dane took five poles from five at the end of the 2013 Formula Renault 3.5 season. It is in the races, though, that Button has really shone with Australia and Austria the only imperfections on his record.
Force India
Nico Hulkenberg continues to pick up the plaudits at Force India as he enjoys a 7-2 advantage in qualifying and a 6-3 lead in races over Sergio Perez. The Mexican made a slow start to life at the Silverstone-based team, exiting qualifying in Q2 in Australia and Malaysia whilst his team-mate was fighting it out in the top ten shootout. That said Perez did pick up the team's first podium for almost five years in Bahrain, was the only Force India to make Q3 in Monaco and was on course for a strong finish in Canada before a final-lap collision with Felipe Massa.
Sauber
Three-successive race victories have seen Adrian Sutil close the gap to Esteban Gutierrez, but the recent comeback cannot hide the fact that he is surely enduring his worst season in F1. The stats could look even worse for the German had Gutierrez been able to contest qualifying in Canada and he was running behind his team-mate in Montreal before the Mexican retired with six laps remaining. With Giedo van der Garde, Simona de Silvestro and Sergey Sirotkin all pushing for a race seat in 2015, Sutil really needs to up his game or his stint with the Swiss team could be very short indeed.
Toro Rosso
Daniel Kvyat's impressive start to his F1 career continues and his record next to Jean-Eric Vergne makes it all the more remarkable that this is his rookie season. The Russian seems to have a calm, calculated approach to races that some more experienced drivers still do not seem to possess and he has used that to outperform Vergne during the opening nine races this season. The Frenchman still heads the qualifying battle, but Kvyat closed the gap in Austria and at Silverstone as F1 returned to tracks he was more familiar with and with Carlos Sainz Jr waiting in the wings, Vergne needs to ensure he doesn't fall behind in that battle as well.
Williams
Valtteri Bottas is edging clear of the experienced Felipe Massa in the Williams battle, with Austria qualifying the only blemish on his scorecard in the last three races. Having been in the shadow of Fernando Alonso at Ferrari this was Massa's chance to become a team leader, but instead it is the Finn who is grabbing the headlines and the podiums. Heading into the second half of the season Massa desperately needs to find more of the flashes of brilliance that saw him take pole at the Red Bull Ring.
Marussia
The battle at Marussia is much closer than many predicted, with Max Chilton providing a sterner test for Jules Bianchi than he did in 2013. That said, the Frenchman still heads both standings and after a number of impressive performances this year - including a points finish in Monaco - it is surely a case of when rather than if he is promoted to a higher station.
Caterham
Kaumi Kobayashi is dominating the battle at Caterham with Marcus Ericsson's form suggesting it was money that secured him the seat rather than his achievements in GP2. Two of the Swede's race victories have come when Kobayashi has either retired or had a damaged car and speculation has already started swirling around the paddock that he could be replaced before the season is out.