Jolyon Palmer looks ahead to the new GP2 season and a new challenge with DAMS
Briton switches teams for 2014 and looked competitive in testing
Last Updated: 10/04/14 1:11pm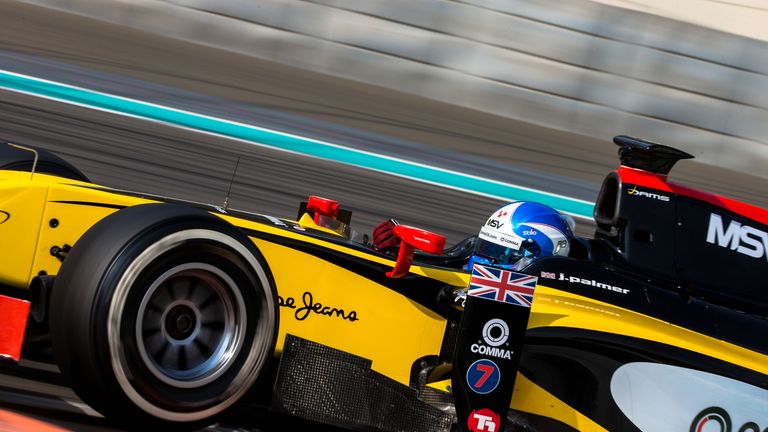 When you change teams over the winter, there are a lot of unknowns, because despite working on a simulator and in an office in the off season, you don't know really what to expect until you finally get in the car and see how you work and get on with your new engineers and mechanics and how suited to the car you are as different teams can have different ideas on set ups. I have been very pleased with testing though and feel I've fitted in very quickly with the team. We topped the opening two days and finished all six days in the top six, which I hope puts us in good stead for the season.
Testing is very unpredictable though, and although everybody wants to, it's difficult to read too much into times. For each test we have five sets of the harder prime tyres and two sets of option tyres and we can use these how we like over the three days. As well as doing short runs focussing on ultimate pace, it is important to practice long runs because the race running is very different to driving qualifying laps. You have to work on different set ups and different driving styles to protect the tyres and get the most out of the car over a number of laps. All this means that it is hard to tell who has used what tyres when and how much fuel different teams are running at different times.
I think it's a really exciting year for GP2 this season. The field looks to be the strongest for some time with a mix of strong returning drivers and some highly-rated rookies. It's great as well that half of the F1 teams have direct interests in the series as well for this year: Ferrari, McLaren and Williams all have young or reserve drivers competing whilst Caterham and Force India have teams in it, as Force India have a new link up with Hilmer this year.
There have been a couple of rule changes for this year:
Firstly the tyre rules have changed so that everyone has to use both compounds in the Feature Race this year, like in F1, which rules out the prime-prime strategy that was popular and almost essential to win in the second half of last year. I'm pleased with this change because it makes it a lot fairer throughout the weekend. The prime-prime strategy was much faster than using options last year and gave people that did it a big advantage during feature races, but then virtually ruled them out of contention in the sprint races, so I think this should make both races more open and hopefully better to watch.
Secondly our free practice is extended to 45 minutes for this year. It's not a massive change but I think this season is the best chance for a rookie to do well in a long time. With extra track time, it helps them to get up to speed more before the crucial qualifying session. Also some of the rookies have plenty of F1 resources behind them as well which should give them a benefit and help prepare them for the weekend.
Overall I think it all bodes well for the year. It is absolutely impossible to predict who will be fighting for the championship by the time we return to Abu Dhabi in November. Like everyone else in the field, I will be giving it my all and hopefully can be in the mix but one thing I've learned from the last couple of seasons is that to win the championship you need to put everything together and get a one or two lucky breaks as well. One thing is for sure though, the field will be close, the competition will be fierce and whoever comes out on top will certainly be deserving of Formula 1.
JP
Follow Jolyon on Twitter: @JolyonPalmer