Conclusions from the 2014 Malaysia GP
Malaysia sets the scene for the year ahead with the Silver Arrows W05 looking like a repainted Red Bull RB9
By Pete Gill
Last Updated: 31/03/14 11:07am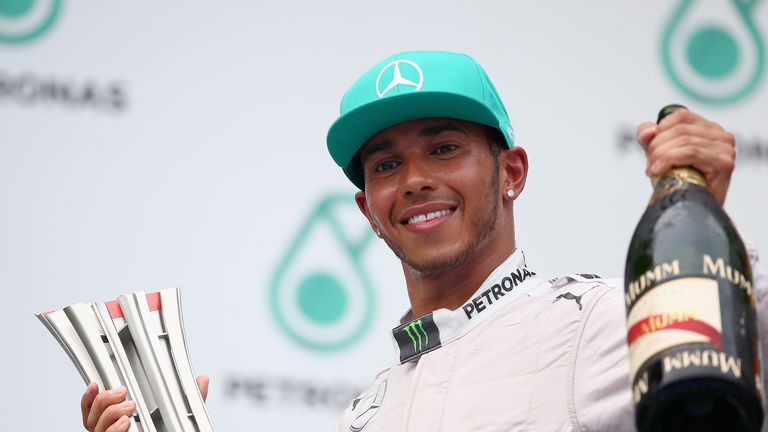 Mercedes are the new Red Bull...
Sometimes you can't have it all. Low on drama and incident, and lower still on overtaking at the front, the 2014 Malaysia GP was far from a classic - more vinegar than vintage - but still not without merit. Even if it was lacking as a show stopper, Sunday's race was at least a scene setter - a useful function after an unpredictable rules reset and a winter of bewildering flux. The fog is finally lifting.
For although the close detail is yet to be coloured in, the landscape of 2014 is becoming clear: Mercedes, bearing a close resemblance to Red Bull of 2009-2013, are the new dominant force in a package without peer but already under threat from the fast-improving World Champions. After two races that told a near-identical tale, with the size of Ferrari and Red Bull's deficit to Mercedes almost exactly the same in both Melbourne and Sepang, the frontrunning narrative is set shaped by the interlinked questions of whether Mercedes can maintain their competitive advantage with the ongoing development of the W05 and/or how long it takes Red Bull to catch up.
We can also now make some reasonably confident assertions about what 2014 won't be. With a Renault, Ferrari and two-Mercedes powered cars finishing in the top four at Sepang, the season will not be an unedifying three-pronged devolution with the eleven constituents split into three mini 'engine championships'. We can also breathe a sigh of relief that the best brains in the paddock have overestimated the value of cerebral thinking in the cockpit; either that or Lewis Hamilton's 'thinking man' credentials have been grossly underestimated and some hefty slices of humble pie will have to be served up in the press room.
...And Hamilton could be the new Vettel
In a race devoid of memorable moments but strong on message, perhaps the most powerful missive was that delivered by the faultless Hamilton as he proved with emphatic elegance that not only can he win over F1's new complexity but he can batter it into submission. Completing the Grand Chelem - defined as qualifying on pole position, recording the fastest lap of the race, leading every lap and then winning - for the first time in his F1 career, Hamilton's triumph was not so much a victory as a landslide. He'll get better at it too; remember, this was the first time that he had completed a race distance since Brazil last November.
In the final reckoning, Sunday's race mattered most for the message, received loud and clear, that Hamilton has taken possession of a car that is not only a potential title winner but one which dovetails exactly with his driving style. "It's probably the best car I have ever driven," he said afterwards. "What is - and was - the most important thing is that I feel really comfortable in this car."
2014 may be F1 as we've never seen - or heard - it before, but some things never change: a frontrunning masterclass rarely makes for an entertaining race, this is still a sport of speed and precision and a series of man and machine in which the car always matters most.
Daniel Ricciardo has inherited Mark Webber's bad luck
And some things never change at Red Bull either, with the second car suffering the sort of bad luck that never seems to fall Sebastian Vettel's way. Ricciardo may have proved his point on the track - his move on Vettel at the first corner was a rare highlight - and trenchantly vindicated his promotion (note how his performances currently compare to those of Kimi Raikkonen). The nagging bottom line, however, is that after two races he remains pointless.
The misfortunes of a botched pit-stop, a failed front-wing, a race-wrecking drive-through penalty rained down in a sudden downpour of bad luck, with the sting in the tale to follow an hour after the race when the stewards meted out a grid penalty for the unsafe pit-stop release. Rules are rules, but ought there not to be a rule outlawing a double punishment for the same offence?
Close finishes are out of fashion
Of the last six races, only one - November's United GP - has been won with a winning margin of less than ten seconds.
Ferrari are nowhere near the front
The only thing dangerous about Ferrari at present is the risk that they will give reliability an over-rated name. The F14 T, like its recent predecessors, appears to be bullet-proof, but on pace it is nowhere: After crossing the line 35.2 seconds behind the leader in Australia, Alonso was 35.9 seconds adrift of Hamilton this weekend. Admiration for the consistency is vastly outweighed by the frustration of a déjà vu that stretches across three seasons. At this modest rate, it won't be long before talk of a return to McLaren is rekindled.
Williams' mess entirely of their own making
The peculiarity of Williams' justifiably-ignored request to Felipe Massa to let Valtteri Bottas through is that it was so unnecessary. No, make that completely and utterly unnecessary.
In the second race of the season, with two cars in the points, with their drivers racing hard but fair, and safely, and with Bottas still highly unlikely to pass Button given that his tyres were only fractionally fresher than his team-mate's and so few laps still left on the board, it was meddling for meddling's sake, bereft of good cause or reason. It has subsequently been claimed that Williams would have ordered Bottas to give Massa the place back if he couldn't pass Button - a botched job to follow a botched strategy - with the prevailing irony throughout that the only risk to Williams' first double points-scoring result in two years was the potentially-ruinous distraction of ill-considered meddling from radio gaga.
Kvyat looks the real deal
Come to think of it, all the youngsters, with the rule-proving exception of Marcus Ericsson at Caterham, look to be the real deal: Kevin Magnussen's pace is living up to the hype, Bottas is finally in bloom, and Ricciardo is a clear upgrade on Webber, but there's more than a sneaking suspicion that the best of the lot could be Daniil Kvyat. Despite scant track time in winter testing, the Russian teenager has scored points in both of his first races in F1 and seems completely unfazed by the company he's keeping and the achievements he's already accomplished. He'll beat you heads-down in a stare-off, but keep an eye on this lad - he has the look and feel of a future World Champion.
PG