2014 Canadian GP analysis: Delving into the detail and strategies from the race
Why being the last man over the line is not an advantage at Mercedes, Button turns back the clock and Alonso loses his fast starts...
By William Esler and Mike Wise
Last Updated: 10/06/14 5:42pm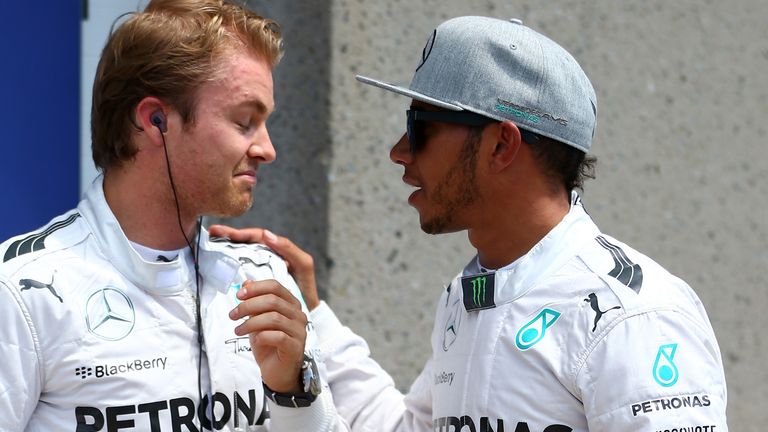 Is being the final man in qualifying no longer an advantage?
So often in F1 we have seen the last man over the line taking pole position after been on track when conditions were optimal.
Sebastian Vettel was the master at pulling a pole lap out of the bag right at the death on his way to four successive World Championships, but for Mercedes it has been the man who has gone out first who has taken pole position at five of this season's seven races.
With the supposed advantage of running last in Montreal, Lewis Hamilton could not beat Nico Rosberg's first effort, let alone the German's improved second attempt.
It has only been in Australia and Spain where the final man across the line has taken pole position in 2014 - with Hamilton edging out Daniel Ricciardo in Melbourne and Nico Rosberg in Barcelona just seconds after they had put themselves on provisional pole.
On three occasions we have seen the final man out make an error on his crucial lap, so could it be that there is an added pressure that comes with being the last man out?
In Malaysia, Rosberg made a mistake on the wet track to hand Hamilton pole; in China both drivers made errors on their final attempts and in Bahrain Hamilton locked up at Turn One to blow his chance of beating his team-mate.
WE
A tale of two Red Bulls
We had to expect a mega-watt grin from Daniel Ricciardo on the podium after his first F1 win. Similarly, Sebastian Vettel was magnanimous in defeat and yet the World Champion still found time to cut to the chase. "The Mercedes-powered cars were just too quick," Vettel said, and he didn't mean the works cars. Well not from about lap 37 anyway.
Rather, getting stuck behind the one-stopping Force Indias of Sergio Perez and, particularly, Nico Hulkenberg was the cause of his vexation. "Basically my race was over. I couldn't get past," lamented Vettel, who'd run second in the early stages. But it also helped Ricciardo, who'd been a fairly anonymous sixth early on, to get past him. How so?
For Ricciardo, the move forward started when he pitted on lap 13, jumping ahead of Felipe Massa after the Brazilian had a slow stop. Vettel, who'd lost second place to a fully-functioning Lewis Hamilton on lap ten, stopped two laps after his team-mate but, crucially, he rejoined right behind Perez and Hulkenberg. Managing tyre wear yet with more power down Circuit Gilles Villeneuve's long straights, it was the worst possible combination for Seb to come up against.
What's more it allowed Valtteri Bottas in sixth and the pursuing Ricciardo to close up themselves: between laps 20 and 30, Vettel's lead over the Williams came down from 3.2s to zilch. It was at this point that Williams tried to undercut Vettel, but Red Bull's response saw off Bottas. Counting against Vettel, however, was the traffic he encountered on his out lap. But according to Christian Horner it was Ricciardo - in clean air with Bottas out of the way - who made the difference when he stopped again on lap 37.
"His in lap was massively impressive," Horner said. "And it was the in lap that did the damage. The pit stops were within 0.2s of each other and that's how Dan got the jump on Seb." Stuck behind Hulkenberg he might have been, but Vettel hadn't actually wanted to pit when he did. "Basically I was asking to do something with strategy, which I think was possible," he said. "On the pit wall they have a much better overview but in my case they didn't really help me to create something different and to use the pace we clearly had. So in the end I pitted and also lost a position to Daniel."
With Hamilton out, Massa had also led briefly but when he was removed from the equation (Williams had tried to one-stop the Brazilian before thinking better of it) the only driver standing between Ricciardo and the by-now hamstrung Rosberg was Perez. But the Mexican was also struggling with his brakes in the closing stages and Ricciardo finally made his move on lap 66.
In the grand scheme of things, Horner thought it more important than that final pit stop. "The really decisive moment for him was his move around the outside of Perez into Turn Two. That was really what won him the race today."
MW
Button brings back memories of 2011
Jenson Button's charge through the pack in Canada may have gone under the radar, but it had hallmarks of his famous victory in 2011.
The McLaren driver was one of the first to stop in Montreal dropping him to 17th and third from last having started in ninth. Even after the others had stopped, Button had still dropped to P14 and it looked like being another disappointing day for the Woking squad.
Even when the 2009 World Champion pitted for a second time on lap 37, he was still outside of the points in 13th.
"I was so far back after the first stint and that was my problem and everything just felt wrong as it did many times at a certain race back in 2011," Button told Sky Sports F1 after the race. "But I was able to pick it up and catch up in the end."
And pick it up he did! The McLaren driver never dropped below the 1:19 mark following his second stop - he had never broken 1:20 prior to it.
After passing Daniil Kvyat on lap 48, Button set about closing a gap of 11 seconds to Fernando Alonso, reducing the deficit to just two seconds within ten laps. Perhaps in an effort to save his tyres for one final push, Button then maintained that gap to Alonso for a further ten laps, but the ease with which he then closed onto the gearbox of the Ferrari (lapping almost a second quicker than the Spaniard on lap 66) suggests the McLaren driver had pace in hand.
With two laps remaining, Button passed both Alonso and Hulkenberg to move up to sixth, before Sergio Perez and Felipe Massa's tangle promoted him further and gave McLaren their best finish since the season-opening Australian Grand Prix.
WE
What's happened to Fernando Alonso's starts?
...It was a point Martin Brundle made at the start of the Canadian GP as Alonso's Ferrari, which had fallen to eighth place on lap one, laboured behind Jean-Eric Vergne's Toro Rosso. Quick getaways have proved a real ace up the Spaniard's sleeve in recent seasons - particularly so during 2012, a year which, in lots of respects, may prove the high watermark of his F1 career.
Alonso made up a total of 30 places on the opening lap that season; only four times did he tread water, as it were, but given he was on pole position at two of those races then perhaps the urgency - of not having to play catch-up - wasn't quite the same. In fact, if we use the last three seasons as our sample, it was only at last year's Korean GP that Alonso actually lost any ground on the opening lap.
Since then, however, that has been the trend more often than not - given the notable exception of China, where Alonso used his start (even with that whack from Felipe Massa's Williams) to propel himself to a podium finish. It's uncanny how often one has led to the other in the recent past and with Ferrari's F14 T appearing as underwhelming as its predecessors, it's a knack he'd probably do well to rediscover.
MW