In Lewis Hamilton's mind he's been faster or beaten Nico Rosberg at each race
Sky F1's Mark Hughes on Hamilton's title plan, plus how Rosberg's set-up helped him in Montreal
Last Updated: 28/04/15 12:12pm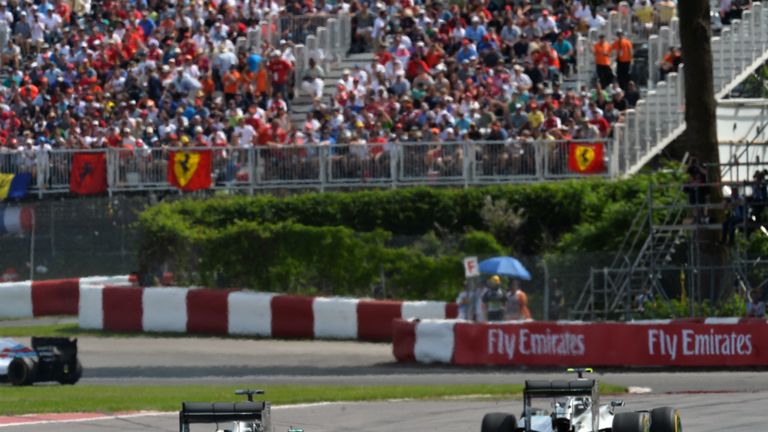 In Lewis Hamilton's mind he's been either faster or has beaten Nico Rosberg in all seven races so far - and yet he sits 22 points adrift of him.
Of the races Rosberg has won: in Australia Hamilton retired with the spark plug problem; at Monaco he believes he was tricked out of what was going to be the pole that was going to win him the race, and at Montreal the car let him down just after he'd taken the lead. At each of those races he believes he was basically quicker. At those races where Rosberg was faster - Bahrain and Spain - Hamilton beat him regardless.
That's not to say Hamilton has been faultless. He should have done a harder first run in Q3 at Monaco, so as not to be vulnerable on the second runs. At Montreal he messed up both his Q3 runs, costing himself pole, and was generally struggling a little more than Rosberg on the super-soft tyre, though was much faster on the soft. But generally, all-out performance is Hamilton's main concern, in that it's his chief weapon against Rosberg. That's why Hamilton was saying post-race in Canada, "Actually [the retirement] is not as frustrating as Monaco, believe it or not. I did the best I could today and had finally got into the lead but I could do nothing about the brakes."
In his mind, he'd blown qualifying and had been on his way to correcting that with what he was sure was going to be a race victory. That's how he was telling it after the race and it tallies with both his own fixation on sheer speed and with the pattern of his race. Into the second stint, on the harder tyre that was going to be everyone's main race tyre, he had wiped out what had been a 3s deficit within just three laps. It's true that he only took the lead as a result of a left-front-delayed Rosberg pit stop, and that both cars were by then without the ersK. But Hamilton's underlying pace was better than Rosberg's once they'd both switched to the harder tyre - and for Hamilton that's a very important point, one which allows him not to be so psychologically rattled by the fact that Rosberg had out-qualified him around a circuit at which Lewis has always been sensational, always faster than his team-mates.
The fact that Hamilton was forced to retire with no rear brakes as a result of the non-functioning ersK while Rosberg was able to nurse home a car with the same problem in second place has put Hamilton almost as far back as he was after the first race where he retired and Rosberg won. Only this time he has six fewer races in which to combat the points difference. In championship terms it was a very expensive retirement.
Rosberg was able to make the brakes last partly because he was running more front brake bias - as he usually does. Usually it's simply a driving style preference between them but in Montreal it took a crucial bit of stress out of rear brakes that were vulnerable once the ersK had failed. Because the ersK takes braking energy from the rear wheels it forms its own braking effect in its resistance to the movement of the wheels. This has allowed teams to reduce the size of their rear brake discs for aerodynamic benefit and technically it would be possible to run the cars with no rear discs at all - though it isn't permitted in the regulations and would obviously leave no fail-safe in the case of an ersK failure.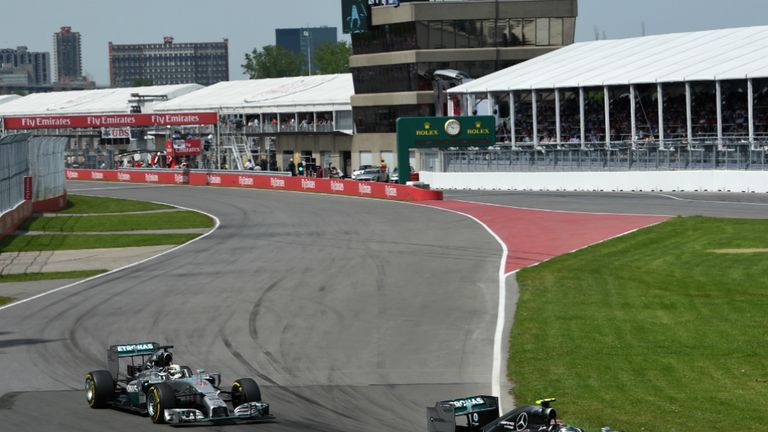 But that's the reason the rears, rather than the fronts, were so vulnerable. Rosberg generally prefers slightly more front bias than Hamilton anyway in that it gives a more understeery balance on turn-in to the corner, as they overlap braking force with cornering force. Hamilton is more comfortable with a little rear instability on corner entry - which more rearwards bias tends to give. So while much is being made of the fact that Rosberg nursed his car and Hamilton failed to do so, to an extent that was simply a happy corollary for Rosberg of a set-up that applies at most tracks.
One of the reasons Hamilton was generally faster at Montreal was to do with that set-up. The more rear bias you can use, the faster you can harvest the electrical energy - and so at crucial parts of the lap he may have had more power available to him. It all just illustrates how it's so much more complex than just all-out performance - though that remains the primary requirement of a driver. As such, Hamilton is bullish about his prospects of overcoming that 22 point advantage. "I came from 25 points to be leading after Spain," he said. "I've caught up before and I can do it again. That's the plan." And that plan involves only all-out performance.
MH