2014 Austrian GP analysis: Delving into the detail and strategy from the race
Hamilton's pitstop delays, Williams' caution, the stewards' new guidelines and 2014 v 2003 all assessed after a fascinating race
By James Galloway and William Esler
Last Updated: 24/06/14 5:46pm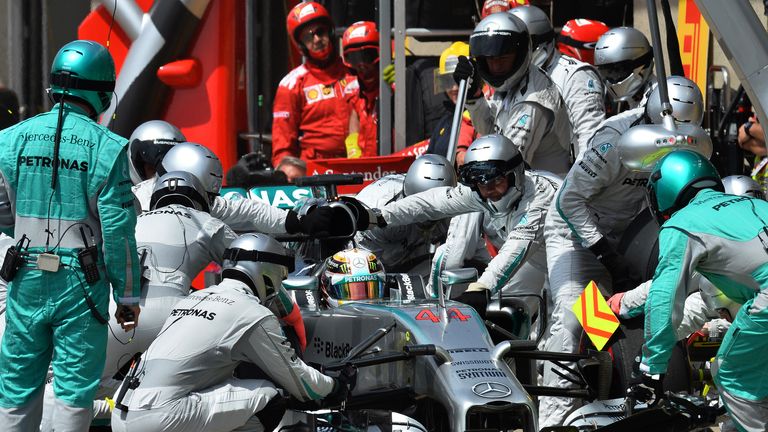 Did Lewis Hamilton lose the race in the pits?
There was no shortage of debate after Sunday's grand prix over how costly Lewis Hamilton's pair of slow pitstops had proved in his attempts to beat team-mate and title rival Nico Rosberg to victory. The intrigue was heightened, rather neatly for those who like a 'what might have been' tale, by the fact that the combined 1.9-seconds Hamilton lost compared to his team-mate in the stops was precisely the same margin the Briton took the chequered flag behind the winning W05 at the end of lap 71.
However, while some basic maths might suggest that the extra time in the pits did indeed prove critical, Hamilton himself wasn't convinced. "They had some problem with my left-front wheel on one of them and I think on the first one I was a little bit long," he reflected after the race. "I overall lost two seconds in pitstops. So, valuable, but it wouldn't have put me first."
So, while anything better than second place was unlikely, a quicker opening stop for Hamilton on lap 13 – the Briton was stationary for 0.9 seconds longer than Rosberg - would have at least put Hamilton second in front of Valtteri Bottas from the start of the second stint, rather than behind the Williams in third as proved the case. Should that have happened then Hamilton would have theoretically had another 20-or-so laps right behind Rosberg in which to mount an attack, in addition to the 31 he did have after Mercedes broke with in-house protocol to pit the second car first in a bid to, successfully, undercut Bottas.
Something else that Hamilton's pitstops did provoke, and not for the first time on ever-frenzied social media channels, were a wave of conspiracy theories alleging that Rosberg's title bid was being favoured by the Anglo-German outfit. While such accusers rather overlooked the fact that just two weeks before in Canada it had been a problematic second pitstop for Rosberg which handed Hamilton the lead, albeit fleetingly before his brakes failed, general observations that the Briton has spent more time in the pits than his title rival so far this season are actually backed up by the statistics. Comparing purely total pitlane time - which is calculated from the moment a car enters the service road to the moment it leaves it – Rosberg has had faster combined stops in the four of six races where comparisons are valid (Australia is discounted because Hamilton retired on lap two, as is Monaco because both drivers' stops took place under the Safety Car). Hamilton has only enjoyed a pit-stop advantage in Canada and Malaysia this season.
There's certainly no conspiracy at a team which appears to be going to be going to great lengths to ensure parity – and transparency – between its two rival drivers, however the rub of the green is certainly Rosberg's friend at the moment.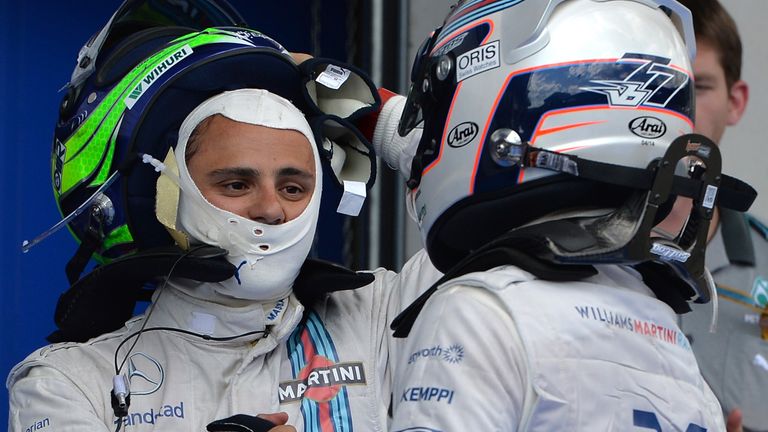 Should Williams have gone for it?
"I can't help but feel that had Williams been driving the strategy – being proactive rather than reactive – then they could have won Sunday's race." The considered words of Sky F1's Martin Brundle in his latest online column after a race which many felt revitalised Williams, for all their impressive weekend-long speed at the Red Bull Ring, had perhaps let slip an even better result than third and fourth places.
Even if mistakes from both Mercedes drivers in Q3 had opened the door for Felipe Massa and Valterri Bottas to snare a shock front-row lockout, the fact that both drivers managed to hold track position over Nico Rosberg and the fast-starting Lewis Hamilton through the first stint on the supersoft tyres underlined that the FW36's race pace was fundamentally strong too. In fact, at the end of the last full lap before Mercedes initiated the first stops for the leading quartet with Rosberg, Massa was actually 2.2 seconds ahead of the lead Mercedes. Yet in the space of the three laps between Rosberg's lap-11 stop and Bottas stop on lap 15, Massa, not helped by a slow service, had not only lost the lead but slipped to fourth place. Only a stunning 2.1-second service on Bottas's car, and sluggish pitstop for Hamilton in turn, prevented both Williams' from being jumped by their Mercedes counterparts.
It was a similar story at the second round of stops as, having run within two seconds of Rosberg for the majority of the stint, Williams pitted Bottas later than both Mercedes' again – with the two-lap difference between Hamilton (lap 39) and the Finn (lap 41) proving decisive. So why the seemingly caution-first approach?
"We knew that we had to manage systems on the car, brakes, tyres, and it was all about that," Williams' Head of Vehicle Engineering Rob Smedley explained. "It was about consolidating and making sure we got the third and the fourth place and we didn't do anything silly trying to race with Mercedes and finish fifth and sixth or even worse.
"In hindsight could you have done a different strategy? I'm not sure you could have done it very differently to be honest. Don't forget, yes, Mercedes had problems, but I don't think they were running their full pace. Once they got in front I think they were quite happy to stroke it along to the end. Even with the strategy we did we were managing tyres and managing tyre wear. It would have been fairly gung-ho and brave to have gone for it on that lap. Then you look like a bit of an idiot if you then finish your tyres with five, six laps to go and cars come streaming past you. I'm pretty happy with what we did to be honest."
In fairness, it is easy to see why Williams focused on running their own race, even if a second place at least was up for grabs. Having slumped to ninth in the Constructors' Championship last year, the Grove outfit had yet to cap their winter revival with a first podium finish in over two years prior to Austria, let alone secure a 27-point haul from one grand prix weekend. But by doing just that on Sunday, the former champions not only landed their single biggest points haul since F1's current scoring format was introduced four years ago, but their best two-car finish since the 2005 Monaco GP. Should they sustain their rate of improvement, then further opportunities to return to the winner's circle will be an inevitable consequence.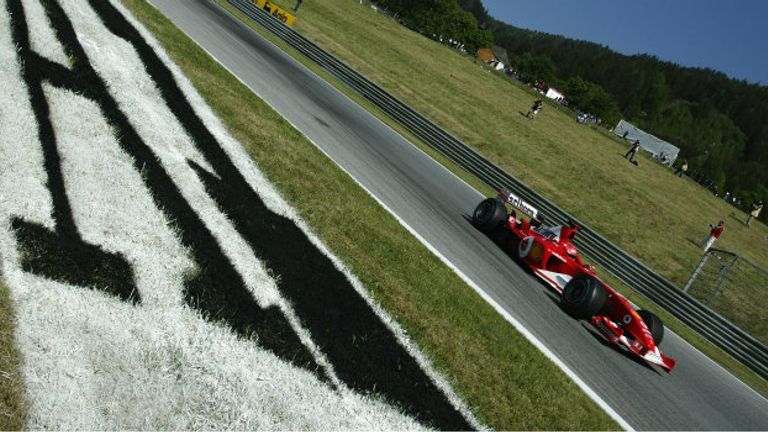 How did F1 2014 compare to F1 2003?
Some fans criticise modern F1 for being too slow and yearn for the days of the early 2000s when there was a tyre-war between Bridgestone and Michelin and refuelling was allowed. So just how did Sunday's race compare to F1's previous visit to the then A1 Ring 11 years ago?
The race track remains neigh on the same as it was for that race, thus giving us reasonably comparable data. The first thing to be noted is that the 2003 race was run over 69 laps (294.494km) compared to 71 laps (307.020km) this year. Yet, despite that, there was only three minutes and 50 seconds of difference in the total time taken to complete the race - with this year's grand prix taking the longer to complete.
Back in 2003 race winner Michael Schumacher had both Kimi Raikkonen and Rubens Barichello in close attendance so had to push, whereas team radio during Sunday's event revealed that both Mercedes cars were nursing brake problems and not running at their full potential.
Whilst the qualifying format is now slightly different – back in 2003's single-lap era low-fuel runs on a Friday were used to set the running order for race fuel runs on Saturday - Felipe Massa's 2014 pole time of 1:08.759 would have put him fifth-fastest in 2003's low-fuel runs and just under eight tenths back on Schumacher's quickest time. Another noticeable difference back then that should be noted is that the drivers were allowed to run with all four wheels off the circuit at Turn One, gaining them valuable tenths.
However, one rather noticeable difference between the eras comes in the outright fastest race laps: Sergio Perez's 1:12.142 effort from Sunday compares with Schumacher's 1:08.337 from 11 years ago, underlining how close drivers were often able to run to their outright qualifying pace on Sundays.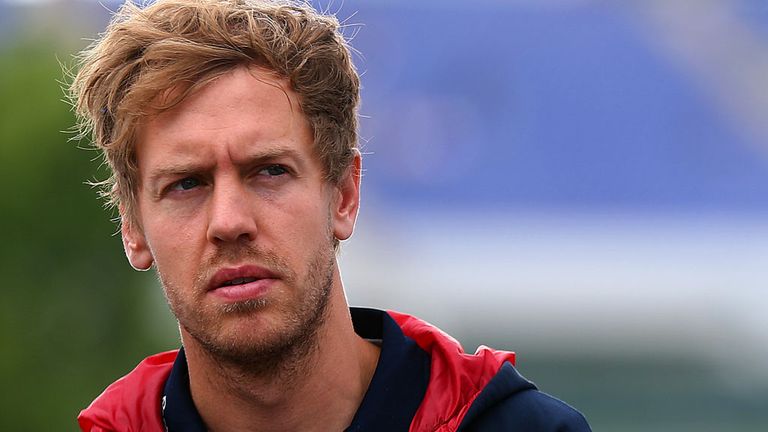 Why wasn't Sebastian Vettel punished?
One of the other big differences between F1 at the start of the century and now is the steady demise of the so-called 'racing incident'. In an era where absolutely everything – let alone F1 collisions – is discussed and dissected in forensic detail, apportioning outright blame when drivers collide on the track, however innocuously, is usually an inevitability once the now infamous 'incident between car x and car x is under investigation' strap flashes up on the world feed.
However, Sunday's race was a rare occasion recently when a clash between drivers went unpunished after Sebastian Vettel, battling over last place of all things after a loss of power in his Red Bull early on, hit Esteban Gutierrez's Sauber up the back coming through Turn Four. As the car behind, the stewards seemed likely to send some form of sanction the World Champion's way, yet no further action was taken against the German driver, who soon retired anyway.
Why so? Well, official confirmation of the ruling after the race contained the following line: "In light of the new guidelines from the Formula One Commission, there is no further action warranted."
The new guidelines relate to the outcome of last week's wide-ranging Commission meeting at Biggin Hill where teams agreed with the FIA that, in order to not deter drivers from overtaking, the stewards no longer needed to intervene on minor incidents where there was no clear party at blame. The Vettel/Gutierrez collision was the first example of that new interpretation, but it remains to be seen if a similar clash of higher-profile further up the field would be handled in the same way. Many will hope so.