Could - and should - revitalised Williams have won the Austrian GP?
After failing to convert a front-row lockout into a race win in Austria, Mark Hughes asks whether Williams made a miscalculation or were right to err on the side of strategic caution
By Mark Hughes
Last Updated: 28/04/15 12:12pm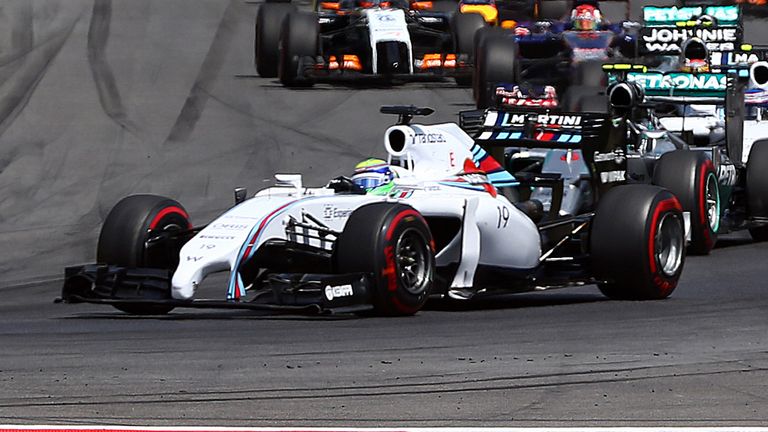 Williams converted a one-two on the grid to just a three-four in the race and afterwards there was naturally much talk of whether they had thrown away the chance of victory.
Even though Felipe Massa and Valtteri Bottas ran first and second throughout the opening stint, a conservative strategy saw Williams not respond to the early first stops of Mercedes. That vaulted Nico Rosberg past both Williams' and Lewis Hamilton past Massa. A similar late response to Mercedes at the second stops allowed Hamilton to then undercut his way ahead of Bottas for second place.
Post-race, Head of Vehicle Performance Rob Smedley was defending his team's strategy choices, whilst acknowledging there were certain areas for improvement. "We were racing a faster car and a better organised team," he said. "We were managing systems, brakes and tyres and we had to make sure we got the third-fourth and didn't try anything silly trying to race what was a faster car and ending up fifth-sixth or even worse.  We knew that without their problems the Mercs would have qualified one-two and that going into the race it was going to be difficult to stop them, despite our grid positions.
"Our biggest challenge was rear tyre wear and it was quickly apparent in the first stint that we weren't going to be able to drop the Mercs – they were in fact crowding us. If we'd tried to respond to Rosberg's stop on lap 11, it would have been fairly gung-ho and brave, given our tyre wear. There was every chance we'd have been out of tyres with five-six laps to go and with everyone streaming past us."
After Rosberg's stop on lap 11, Hamilton was in on lap 13 – and only after that did Williams make their stops, Massa coming in on lap 14, Bottas on 15. At the second stops, Hamilton was in on lap 39, Rosberg on lap 40, Bottas on lap 42, Massa on lap 43. Post-race the teams can look at the strategy choices with the benefit of hindsight and vital data unavailable at the time – particularly the exact state of the tyres.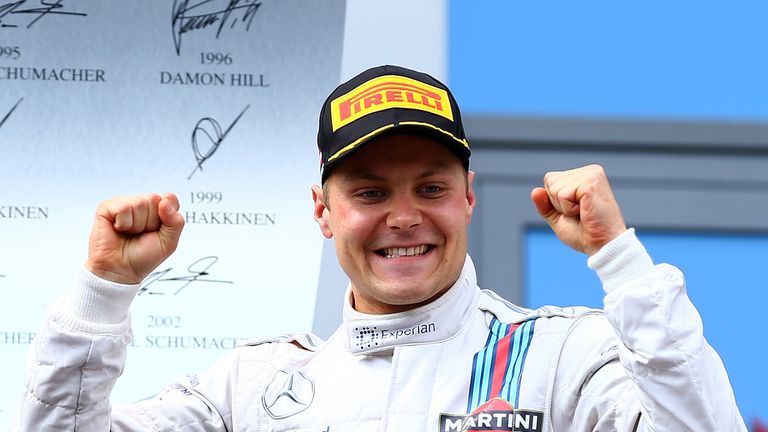 It was evident on this weekend that Massa's rear tyre wear was greater than that of Bottas. This has been the case most of the season – Felipe is simply harder on rear tyres than Valtteri and at a race where that was the critical factor, to have used Massa to respond to the early Mercedes pit stops would not have worked.
Had Williams responded and brought him in from his lead on lap 12, he would definitely have stayed in front into the second stint – because the presence of Bottas between Massa and Rosberg ensured the Merc could not get super-close before pitting. However, post-race analysis of Massa's tyre wear suggests that he would not have had the tyre life to make it to the end before losing pace spectacularly in the last few laps. The scenario Smedley describes above would almost certainly have played out in the case of Massa.
So: what if Williams had focused its attention on Bottas? If it had brought him in on lap 12 in response to Rosberg's stop, could he have remained ahead of Rosberg? This in fact is the crucial question. Because analysis of Bottas' tyres suggested that, unlike Massa, he could in fact have made the longer subsequent stint lengths. So if Bottas could have stayed ahead at the first stops, he had a fighting chance of still being ahead at the end of the race, given the difficulty of overtaking and a Mercedes pace advantage that was only around 0.3s.
Bottas was 1.2s ahead of Rosberg before the latter pitted. His in-lap was fast, but Bottas still had good pace at this time and could have responded. Rosberg in fact came out behind Jenson Button's McLaren and so was not especially fast on his out-lap – at the time that Bottas would have been making a full attack in-lap. It would have been very close, but it would have been entirely feasible that Bottas would have emerged in front had Williams responded on lap 12 to Rosberg's lap 11 stop. Whether he could have stayed there on cold tyres with Rosberg attacking on fully-warmed tyres is another matter. But he may have been able to.
The trickiest point then would have been the second stops. The Mercedes had better tyre wear than the Williams, Mercedes knew this and in a situation where Rosberg was sitting hard on Bottas' tail up to the second stops, it would almost certainly have gone super-aggressive in how early it made that second stop. Unlike at the first stops, Rosberg would be doing it from right on Bottas's tail too. It's likely – but not certain - that Rosberg would have got ahead at that point.
So even given all the post-race rationalisation and hindsight, a Williams victory was feasible but far from certain. In real time, it wasn't the disastrous miscalculation that some believed it to be.   
MH