Ask Mark Hughes: Your questions, his answers!
The Sky Sports F1 analyst answered your questions at the British GP
By Sky Sports Online
Last Updated: 06/07/14 10:10am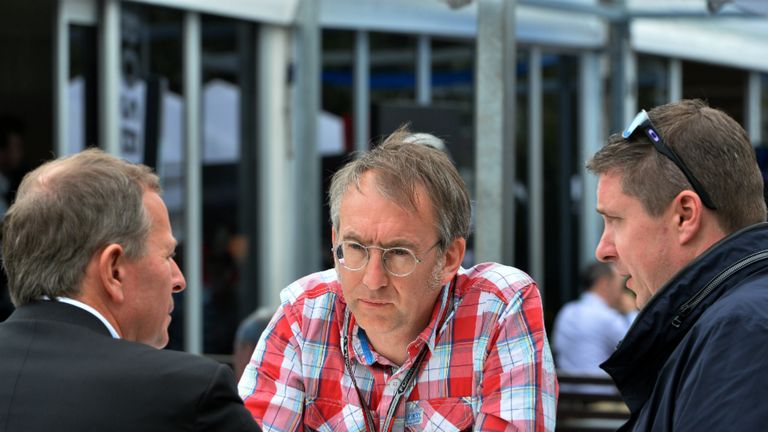 Journalist and Sky Sports F1 analyst Mark Hughes answered a selection of your questions at the British Grand Prix.
Question from John Winterburn: "The reason for the change to hybrid cars was to come closer to future road car technology. If that is the case why are the cars not running on commercially available fuels as supplied to the general public?
"Please don't say the engines have to have special fuel to make the required power because that is an issue that should have been addressed.
"Is this not just another example of the hypocrisy surrounding this new formula?"
Mark Hughes: "The reason was to make it easier for manufacturers to justify spend in F1. Nothing more, really. Making it the exact same technology or fuel was never a particular aim. If that's hypocrisy, then sure. Sounds more like practicality to me."
Question from Liam Hodgson: "Can you please tell us all what you think of Jenson Button? To me it looks like he has nothing left to prove, he's beaten Hamilton (on points) over 3 years, he saw off Perez and he's doing a pretty good job against Magnussen yet it seems that nobody, not even his employers, rate his ability?? Do you think he deserves more credit from those in the know?"
MH: "Button's driving as well as he ever has but unless you are winning consistently or are perceived as something beyond the norm – Alonso, Hamilton – then you have a natural shelf life. Not fair perhaps, but just the law of the F1 jungle."
Question from Steve Randall: "A 2014 regulation/rule change brought about a lowered front nose height and if I've got it right, a larger front crush zone for safety reasons.
"Mercedes and Ferrari did not go down the same route as others but were able to incorporate the regulation/rule change into their nose.
"If a lower nose was required then why not insist on or reintroduce the low nose from the '93 season AKA McLaren with a 2014 front wing or better still the front wing from the 2007/08 season?
"Why did the teams adopt these silly/stupid/ugly noses?"
MH: "The '93 solution would not have passed the current crash test – or have come anywhere near close. The 2015 regs should banish the ugly noses, though to be honest I stopped noticing them after about two races."
Question from Joseph O'Connor: "Mark, when do you believe we will see McLaren return to top form and also do you think Button & Magnussen are the right drivers for McLaren? I do not believe we will see a McLaren comeback for some years yet giving their restructuring process in personnel will take time to bed in & for that to correlate to performance. My prediction for a McLaren comeback 2017!"
MH: "I think your timetable analysis will turn out to be pretty accurate. If the car was Mercedes-quick, Button and Magnussen would finish 1-2."
Question from Andrew Klue: "If Jenson Button isn't back with McLaren next season, who do you think will replace him? Thank You."
MH: "Romain Grosjean."
Question from Stephen Taylor: "Do you think further updates will help improve Kimi Raikkonen's performances and how would you rate the Finn out 10 (10 being the best) for his performances this season?"
MH: "The problem for Kimi is that Ferrari has bigger problems than just attending to his driving style needs. I'd rate him around 5/10 this season."
Question from Chandni Patel: "There has been a lot of talk around the McLaren driver line-up. Do you see Magnussen staying with them from what he's done so far this season?"
MH: "So long as he has a strong second-half season relative to Button, then yes."
Question from Michael Dastidar: "Dear Mark, As Lewis seems to consistently use less fuel during a race than Nico, would it not be fair for him to be able to use a higher engine mode towards the end of a race to aid overtaking if necessary?
"We saw in Austria that both Lewis and Nico finished the race in the same engine mode, but Lewis had more fuel on board and was trying to overtake Nico. In essence Mercedes issued team orders negating Lewis' fuel saving advantage?!"
MH: "Yes, effectively. Lewis uses more rearward brake bias (as we saw in Montreal) because he can keep more momentum up into slow corners, and thereby needs to re-accelerate less, allowing him to use less fuel. But it's up to Lewis to get ahead by taking pole or winning the start – then he can use his fuel advantage."
And from Twitter…
Ashwin : "Predictions as to when when Kimi is gonna feel comfortable n be competitive in that ferrari#iceman
MH: "Not sure that he is. Hope I'm wrong."
Calvin Kirstein: "Is Lewis Hamilton's hope for this World Title now just reliant on retirements from Rosberg?#AskMarkF1
MH: "No, I think he can still do it by regularly beating Rosberg."
Mr Biggles: "Do u think Formula E will overtake Formula 1?"
MH: "No, not a chance. Formula E will generate plenty of interest initially but I don't think it will have long term staying power. It's a technical exercise but I can't see it igniting long-term fandom."