Uncertain future of Fernando Alonso keeps the Formula 1 transfer market in a flux
Sky F1's Mark Hughes considers the state of play in the driver market as the teams weigh up their options for 2015 and 2016...
By Mark Hughes
Last Updated: 28/04/15 12:11pm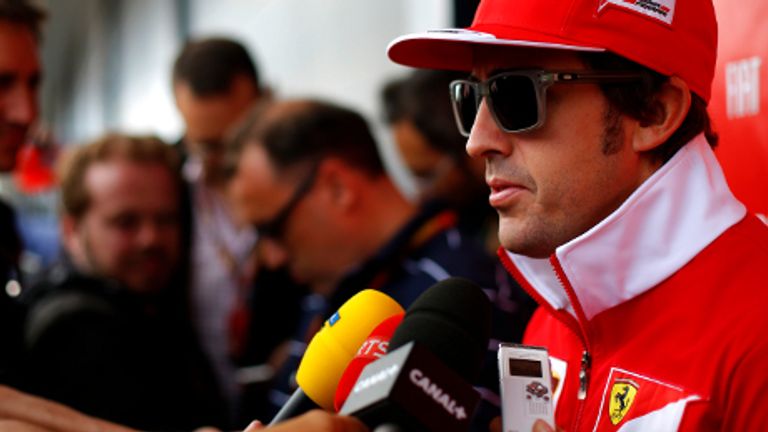 Fernando Alonso's possible presence on the 2016 driver market – after his current Ferrari contract runs out – is having a knock-on effect on next year's driver line-up.
That's surely the reason there has even been the suggestion that Lewis Hamilton might not stay at Mercedes beyond the end of 2015, when his current contract is believed to expire. Nico Rosberg's contract runs one year longer and there are unlikely to be any grounds for a performance clause to be triggered. Therefore if Mercedes decides it wants Alonso from 2016, it could only be Hamilton's current seat that was available.
Would Mercedes be willing to sacrifice Hamilton in order to get Alonso? Who knows how the Hamilton-Mercedes partnership will develop both on-track and off by the time any decision needs to be made.
Alonso's choices also have potentially profound implications upon McLaren. Ron Dennis has made no secret that he would like to see Hamilton one day return to the team that launched him into F1 and with which he won the 2008 World Championship. He just may be available into 2016… Alonso too is believed to be a McLaren target. Although previous history would probably prevent a repeat of a Hamilton/Alonso line-up in 2016, it's quite conceivable that one of them could end up there.
Essentially Alonso has from now until the latter part of 2015 to decide if the big structural changes underway at Ferrari look like paying off and finally giving him a car in which he may fight for the World Championship. If not, there are a line of suitors –Mercedes and McLaren the most notable - waiting to give him an alternative.
What Alonso can also judge during that time is the potential of the McLaren-Honda partnership that begins in 2015. As well as the performance of the new Japanese engine, Alonso would also be keen to assess whether McLaren has got a handle on the aerodynamic shortfalls that have blighted its last two cars.
It is against this backdrop that Jenson Button continues to publically stress he is keen to enter into a new agreement with McLaren beyond the end of this year. Yet a deal continues to be elusive. Because of the volatility of the Alonso-driven 2016 market, McLaren will be keen to give itself contractual flexibility. Its ideal solution would be to sign Button for just 2015, but Button will be reluctant to do that. But if it's the only way he can continue…? Romain Grosjean or Nico Hulkenberg are each potentially available, both super-quick and probably cheaper than Button.
The rookie Kevin Magnussen is by no means certain to be retained there into 2015 and only a consistent out-performing of Button for the remainder of this year – an exceptionally difficult task - would definitely secure him an extension. McLaren's other junior driver Stoffel Vandoorne, meanwhile, is waiting in the wings.
There are at least two big picture factors that could impact hugely upon this Alonso-driven market. One is if three-car teams happen. It's something that Bernie Ecclestone and at least one of the big teams would like to see, and might be triggered automatically if one or two of the smaller teams expire. With three car teams a Hamilton/Alonso/Rosberg line-up at Mercedes in 2016 would be possible (albeit expensive and potentially difficult to manage). 
The other possible determining factor will be the relative performance of the reconfigured power units into 2015 and beyond. Fairly extensive changes are allowed to be made to the specs of the 2015 units over those of this year – giving at least some hope that Renault and Ferrari can overcome what at the moment is an enormous deficit to the Mercedes units. But if it turns out the Mercedes advantage remains hard-wired in, and the Honda unit is not a match either, then there would be some serious long term consequences for F1. With Lotus having already switched from Renault to Mercedes from 2015, where would an uncompetitive Renault unit leave Red Bull? And what effect might the potential availability of Sebastian Vettel into 2016 have? Ferrari remains very interested in securing his services. Might he make their Alonso replacement?
 MH