Who's signed up until when? The state of play in the developing driver market
A look at which teams already have their drivers signed up - and who might have vacancies - as the 2015 'silly season' gathers pace
By James Galloway
Last Updated: 25/09/14 3:51pm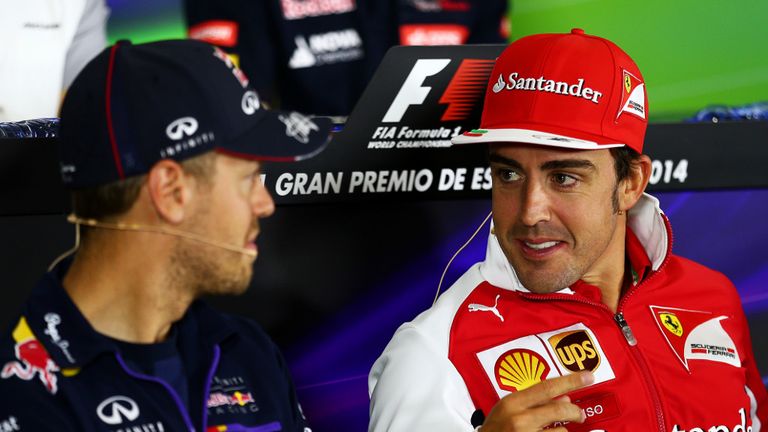 The F1 driver market has a distinct 'smoke and mirrors' feel to it this year with the 2014 season approaching its final few months.
Here's a rundown of which teams already have drivers under lock and key - officially at least - for 2015 (or beyond) and which ones might see some movement heading towards the winter...
Red Bull
Sebastian Vettel – 2015
Red Bull quietly announced last summer that their home-grown World Champion had agreed a one-year contract extension to take his stay with the team up to the end of 2015. That has still not stopped speculation that the German could yet engage in a high-profile 'seat swap' with Ferrari's Fernando Alonso for next year, although any move on his part before 2016 at the earliest appears unlikely. 
Daniel Ricciardo
Already on a central Red Bull contract even before arriving at the firm's senior team from Toro Rosso, Ricciardo was only confirmed for 2014 when his promotion was announced this last September, but his Vettel-beating and race-winning performances this year would appear to make a long-term stay one of the formalities of 'silly season'.
Mercedes
Lewis Hamilton – 2015
Underlining just how quickly time flies in F1, Lewis Hamilton is already half-way through the three-year deal he signed with Mercedes for the start of the 2013 season. Although speculation has suggested McLaren are trying to tempt him back to Woking before then, both Hamilton and Mercedes have publicly made clear they would like to extend their relationship, although contract talks have been put on hold for the title run-in.
Nico Rosberg – 2016/17
Rosberg's expected contract announcement, delivered on the eve of his home race, only stated that the German had signed up to a "multi-year" term. However, from the wording we can deduce that the 29-year-old has signed up for a minimum of two years, hence at least the end of 2016. Reports in his homeland suggest it's actually a three-year deal until 2017.
Ferrari
Fernando Alonso – 2016
Officially, the Spaniard remains commited to Maranello for another two seasons having signed up until the end of 2016 as long ago as spring 2011 when only a year and a bit into an initial three-year contract. But with the partnership still yet to yield a World Championship, and Ferrari beset by political turmoil this year, speculation persists that it may not run its full contracted course. Rumours of a previously unthinkable return to McLaren from even as early as 2015 continue to stalk the paddock...
Kimi Raikkonen – 2015
Four years after being paid not to drive for Ferrari any longer, Raikkonen returned for this season on a two-year deal. Already the oldest driver on the grid at 34, the Finn has suggested that Maranello will be his last F1 destination and recent comments that he will "probably stop" at the end of his current contract would appear to confirm that, although Ferrari have since attempted to play that remark down.
Lotus
Romain Grosjean - 2014
The Frenchman has himself revealed that he could be on the market for 2015 as he looks to secure the most competitive seat available for the next stage of his F1 career. A switch to McLaren had been mooted as one possibility owing to his ties to Eric Boullier, but with doors closed or closing elsewhere, a new contract at Enstone is now looking more likely.
Pastor Maldonado - 2015
Despite enduring a torrid first season at Lotus, Pastor Maldonado's position at the team for 2015 has already been confirmed. The former Williams driver's substantial backing from Venezuela's PDVSA oil firm - which the team made no secret last year was key in his hiring over Hulkenberg - remains his ace card.
McLaren
Jenson Button – 2014
The 34-year-old signed up to a fifth season at Woking late last year but his plans for 2015, when McLaren reunite with Honda, are yet to be settled. Team chief Eric Boullier told Sky Sports News in June that he 'expects' the former World Champion to stay on while Jenson himself more recently said he is "happy" in the belief that he will end up with a new deal. Another one-year deal is therefore likely.
Kevin Magnussen – 2014
Like his more experienced team-mate, Magnussen is being made to wait to learn his 2015 fate with McLaren having made clear they are in no rush to confirm their driver-line-up for next season. Although a McLaren protégé whose promotion in place of the ousted Sergio Perez was supported by Dennis, Magnussen could face competition to hold onto his seat from fellow young gun Stoffel Vandoorne.
Force India
Nico Hulkenberg – Multi-year
The highly-rated Hulkenberg has yet to stay in the same race seat for more than one season but that looks likely to change for 2015 given the success the German is enjoying in his second stint at Force India. Unless one of the big teams finally comes calling, Hulkenberg looks likely to stay put for 2015.
Sergio Perez – 2014
Although announced on a multi-year deal when arriving at Force India this year, a second season for Sergio Perez is not quite yet signed and sealed, although the Mexican has revealed he and the team are now "very close" to agreeing on 2015 terms. The former McLaren driver has certainly proved valuable both on and off the track for the team so far, delivering their first podium in five years in Bahrain and opening up the Mexican sponsorship market for the team.
Sauber
Adrian Sutil and Esteban Gutierrez - 2014
With both drivers announced for 2014 only last winter, much is likely to depend on the state of the struggling Swiss team's finances in regards their eventual driver choice for next year, a budget which could take a further hit if they don't make progress up the Constructors' Championship order from tenth place. Gutierrez's presence comes with support form Mexican billionaire Carlos Slim's Telmex company. Reserve Giedo van der Garde is thought likely to step up to one of the seats should the team survive the winter.
Toro Rosso
Jean-Eric Vergne - 2014
One man who is definitely on the driver market for 2015 after Toro Rosso announced in August that the 24-year-old would be dropped after three seasons to make way for teenage protege Max Verstappen. Linked to ailing Sauber, Vergne has also not ruled out looking outside F1.
Daniil Kvyat - 2015
Incredibly, Kvyat will be become the 'senior' driver at Toro Rosso next season following the promotion of Verstappen - aged just 20. However, the Russian has showed himself to be a star of the future with a string of accomplished drives in his rookie year. 
Williams
Felipe Massa – 2016
Officially announced on a "multi-year" deal last winter following his release from Ferrari, Williams' Brazilian driver revealed to Sky Sports F1 that his deal actually runs for three years. Should that fact be correct then the 34-year-old would appear to be in possession of one of the more secure seats on the grid. In any case, he has already been re-confirmed alongside Bottas for 2015.
Valtteri Bottas - 2015
A long-time Williams protégé, having been first signed by the team as a test driver whilst making his way up the order in F3 back in 2010, Bottas was confirmed as staying alongside Massa for 2015 at the Belgian GP. The new deal warded off reported interest from McLaren in the Finn, who has impressed with a string of podiums in 2014.
Marussia
Jules Bianchi and Max Chilton - 2014
The Bianchi/Chilton pairing has proved a solid one for Marussia since they teamed up at the start of 2013 and both can point to progression in their second seasons of F1. Bianchi also has ties to Marussia's engine suppliers Ferrari, although it doesn't appear Maranello are ready to come calling for the Frenchman just yet.
Caterham
Kamui Kobayashi and Marcus Ercisson - 2014
Both drivers' futures heading into 2015 were most likely have been debated even before Tony Fernandes sold the team in July to a constorium of Swiss and Middle Eastern investors. Despite Kobayashi dominating their intra-team head-to-head Ericsson brings more funding to the team and it was the Japanese who was replaced for Spa by Andre Lotterer. Any number of combinations could end up behind the wheel for 2015 - provided the team make it that far.