Sky Sports F1's Anthony Davidson on why Jerez is the perfect place for a test
Everything you need to know as F1's new era begins in Spain
By Sky Sports Online
Last Updated: 27/01/14 12:16pm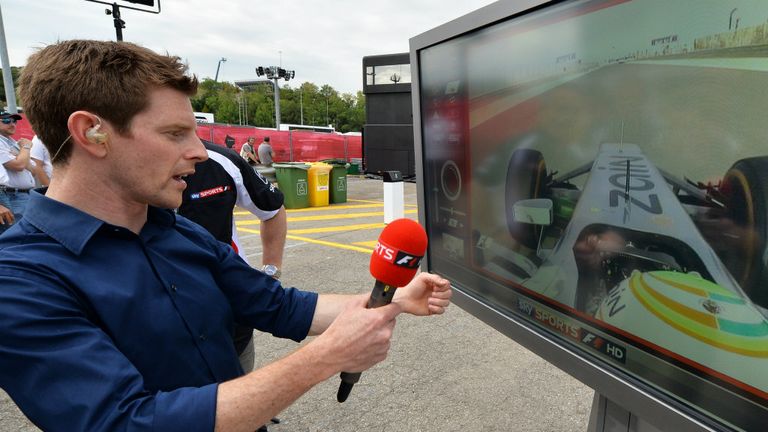 So why Jerez?
Anthony Davidson: "First and foremost, the weather. I always used to joke that were I to go on a European holiday then it would be at Jerez because it's one of those places which seems to guarantee good weather. It always seemed to be sunny there even when the rest of Europe has rain or snow, and the teams can expect temperatures which reflect Melbourne. As a result, tyre testing becomes far more valid than at somewhere like Silverstone or Paul Ricard, where it would just be too cold even if it wasn't snowing or raining..."
But the rest of the car would still be tested in very low temperatures, wouldn't it?
AD: "Actually, it's not just the tyres. Remember, these will be brand-new cars so the teams will be testing things like brake cooling, radiators and ducting. The car as a whole will be given a far better work-out in the temperatures we can expect at Jerez than anywhere else in Europe they could test at.
"On top of that, the nature of the track is very, very punishing on the rear tyres. It's a traction-limited circuit - and by that I mean you get a lot of wheelspin on any given lap, so the rear tyres take a bit of a pounding. There are also challenging corners both left and right, whereas at somewhere like Barcelona it is predominantly just the right-handers which tend to work the tyres, while the surface of the track is quite coarse.
"All in all, then, it's a very, very good circuit for work on rear-tyre degradation."
Is there a track on the calendar at the moment that Jerez is similar to?
AD: "Good question! Every circuit is unique in its own way and I'm not really sure you could compare Jerez to any other on the current calendar. It's an old-school track and very different to the modern-day Tilke circuits. If I had to associate it with somewhere else then I'd say it's more akin to somewhere like Silverstone or Suzuka - places which are little rough around the edges but more naturally sculpted. Because of the surface and the old-school nature of the place, I'd say the closest is Suzuka - although it is less flowing than Suzuka and is more stop-start."
And what's it like for the drivers?
AD: "It's a very enjoyable circuit for the drivers - although, from my own perspective, the problem is that I have completed many, many laps around Jerez and Barcelona and whenever you do something too much you tend to lose the love for it! Whenever I think of those circuits, my immediate association is pain and, 'Been there, done that'!
"But looking at it afresh, Jerez is a very enjoyable circuit - challenging, with good undulations, it's pretty testing on the brakes, and has a nice flow of right and left turns at both high and low speed. It has a good mix of everything, although from inside the car you also know it's one of those circuits where just one mistake could put you in the gravel or possibly in a tyre wall."
And it also sounds worth a visit for anyone who happens to be at a loose end...
AD: "Absolutely - and in addition to the race track, the place itself is in a beautiful part of the world. There's even a high-grade golf course just around the corner, which usually tends to be a mark of a nice place to be!
"And there should also be quite a big fanbase in attendance because of the Alonso effect, so it should have atmosphere as well - even during a test."
What will the atmosphere be like back in the paddock?
AD: "It's such an exciting time! It's brilliant to see all the new cars and friendly faces who you haven't seen since the last race. It's a bit like the first day at school, but there will also be a lot of trepidation and anxiety as well. This is crunch time. Everyone will want to know what sort of car they have and what the opposition have got."
Who will know first if a car is quick or not - a driver or the men with the stopwatch on the pitwall?
AD: "You can hide lap times with fuel loads and so on, but a driver will always still know if his car is quick or not.
"I think some people seriously under-estimate how much 'feel' a racing driver has for his car at this level. These cars really talk to you when you're inside them and a driver is so well connected with the car that he will be able to feel the smallest detail - a 5psi difference in tyre pressure, for instance, will be felt by a driver at this level - and so he will definitely know very quickly whether in general they have a better car than last year."
How long does it take?
AD: "I know it sounds crazy to say, but a driver will know even on his out-lap whether or not he has a good car or not. I remember in winter testing for the 2004 season, when I was driving the BAR, coming back to the garage after my out-lap and saying to the guys, 'This is a really good car'. And it was: it finished second in the Championship that year."
First impressions really count then...
AD: "It depends on the skill of the driver, of course, but a driver should know almost immediately whether he has a potentially title-winning car underneath him."
And finally, what about those people who aren't in the car? If someone is going to Jerez, where would you advise them to situate themselves? Be our tour guide...
AD: "Stand at the exit of the last corner! Even at a circuit like Jerez which highlights a good car, this is where a good car really comes into its own. I've been there on many an occasion, watching in envy at the sight of cars exiting the last corner with minimum wheelspin...
"Standing at Turn Five is also brilliant. It can take your breath away. Stand there at the end of the week when they are putting on new tyres and starting their qualy simulations and the sight of the cars attacking that corner will take your breath away - and give you an indication of which cars have good downforce."
The Sky Sports F1 Online team will be providing live commentary of all three winter tests, starting in Jerez on Tuesday January 28, with live updates from trackside also on Sky Sports News.