Jenson Button Q&A: McLaren driver gives his first thoughts on their new MP4-29
"A positive start," says 2009 World Champion after first day in car
By Sky Sports Online
Last Updated: 30/01/14 12:35pm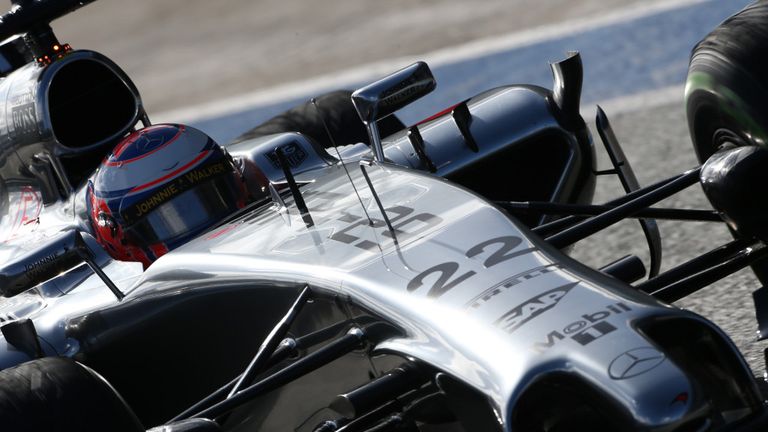 A bit of a relief today after yesterday?
Jenson Button: "Yeah, it's always a weird one sat in your motorhome all day long, hoping that they build a car. We had a lot of issues yesterday, [it's] nice to see we've been able to solve them overnight though. Lots of start-ups last night I could hear from my motorhome, so I wasn't worried about being woken - it was nice to hear that the engine was starting."
"Not a lot of laps today, 43, but I think a positive start. There's no horrible issues with the car itself, no big issues with the power unit in terms of how it delivers, so the basic car itself is where we want it to be.
"We always aim to have a good base because this is the way that it's going to improve throughout the year and how much we're going to add to this year aerodynamically and also development in terms of the engine is massive, so having a good base is important.
"We did lots of different runs today. We weren't able to do any long runs just because we had a few little issues. The good thing is we're able to solve them pretty quickly and get out there and actually puts some laps in.
"I enjoy driving this car. I think the power unit doesn't sound as good - that's a fact - it's not as exciting to hear from the outside. But when you're driving it, it sounds good; you've got the turbo noise, the wastegate noise. It's actually quite a nice change. And the power of the engine is also nice. It's very torque-y, it feels the most powerful engine I've driven. It obviously isn't in terms of outright power but as a racing driver you feel the torque and power at low speed; at high-speed, you don't really feel the difference then.
"It's coming out the corners when you have so much torque - it's exciting. [There's] a lot to improve with the car in that area. But, again, with so many tools at our disposal, the great thing is I know exactly what they are and how we can improve the car."
Do you feel bad having missed Tuesday?
JB:"I'm driving tomorrow morning, so I'm gaining a bit of time. Yesterday, I didn't drive a single lap and this morning it was wet. So it does hurt, and because I've got a lot of experience with racing cars, I've got a lot to give. But today was a useful day and everything's new; it's not just a 'new' car but everything is new with this car. So I'm amazed to go around and do as many laps as we did today."
Last year, you were also the fastest driver on your first day. How does this day compare?
JB:"Our first day last year was quick but the car had its flaws and we could see that on day one. The car was bouncing around a lot and we had our issues that were not going to be easy to solve. At the moment we definitely don't have those issues, the basic car is good and it works as you would hope. No scary things with it.
"I'm also pleasantly surprised about how you put the power down with the engine."
And the downforce? Any difference?
JB:"Well you would hope so. The cars have a lot less downforce than last year, so high-speed corners are slower. Surprisingly, in low-speed corners, the car feels good but two laps are never the same because you're always playing around with engine modes and braking modes - you have a very different system where the rear braking is controlled in a very different way, it's not controlled by your foot - so it's a very different system.
"We're running through a lot of system checks and failsafe checks today, so no two laps have ever been the same in terms of set-up. There's a lot of improvements needed but it's stuff we can do overnight, which is exciting. I'm really looking forward to getting back in the car."
What about the appointment of Eric Boullier? Is that good news?
JB:"I think it's good to have fresh ideas. He does add to the team. The team will never be changed by one individual but I think he does add something. When the management structure is complete we will be in good shape."
Do you know what they're doing with the management structure?
JB:"Hand on heart, I don't know who will be in the roles, but I have an idea of the structure."
Have you had a chance to speak to Eric Boullier?
JB:"Not really, I've never worked with him. I know him as a friend in the paddock but I don't know the way that he works. Obviously, Lotus have had a very exciting and interesting last few years and last year was a very difficult year for the team, with what was going on in the background, and it did look like he controlled that reasonably well."
Things are looking rosy for the Mercedes-powered teams, aren't they? But not so rosy for the Renault-powered teams...
JB:"Looking at the timesheets today it's very interesting because we're running a very different programme to [Nico] Rosberg and Mercedes. We're running very different engine modes, we're trying different things, so we're getting a lot of information from both cars. Also with [Williams driver Valtteri] Bottas and with [Force India's Sergio] Perez as well.
"So there's a lot of information, a lot of mileage. I think it's 75 per cent of the mileage done by an F1 car in the last two days was done by a Mercedes engine. You could say we're in good shape that way as long as it continues like that. We all need to work together. Obviously at the end of the day we're all here to fight each other as teams but the more information that we can share over the next few weeks and months can really make a difference to our championship."
The situation Vettel's in at the moment - 11 laps in two days - is the nightmare scenario, isn't it?
JB:"Tomorrow it might work and be okay but who knows? At the end of the test, we'll have a better understanding of where people are and how much work is needed by certain power unit manufacturers."
How has it been working with your new team-mate?
JB:"I've done a couple of photoshoots with him and that's about it so far! He's got a nice smile, that's about as much as I know. He's obviously done simulator work but I've done nothing this year in the simulator. I've had my own issues - all sorts of different issues - but he seems like a good guy.
"He's got his head screwed on. He's obviously young, he doesn't have so much experience in a Formula 1 car but he's an intelligent guy I think and he's proved his speed to the team. I'll be here tomorrow when he's driving to have a listen to his feedback and sit in on the meeting at the end of the day to see how he feels the car, what his feedback's like and whether we're thinking the same things and going in the same direction."
How gentle do you have to be with your right foot to control the acceleration? Are you using the lower gears?
JB:"You are using the lower gears - you have to slow the car down to start with with. But there's so much more power than we're used to. I think the positive thing is that we have the ERS unit to fill in the gaps. I would say it's a very driveable engine, and that's at this early stage. There are moments when you're part-throttle through a corner when there's all sorts going on - it's so different to what we're used to.
"We're used to revs, we're used to downshifting - everything that's normal to us. But this is so different with the noises, the turbo, the wastegate, the ERS units doing all sorts. It's very noisy and you've got to take your mind away from the noise because it can take over a little bit."
You're about 6s away from this time last year. How much more is there to come before the end of the test and will you be quite a bit slower than last year?
JB:"Yes, we will be. I don't know what tyre we used last year. We've used the medium so far, which we think is half a second slower than last year's medium. The cars are also heavier, which is about 1-1.2s, though weight. So that's 1.6-1.8s already with those two changes.
"I think you'll see people getting down into the 22s, so it'll still be 3s off what we did on day one last year, but it was always going to be slower."
Slower than GP2?
JB:"No, but they'll be a lot closer on certain circuits. High-speed, we'll be quicker - but not much quicker. Then again, this is the first test with a very new package; last year was hardly changed at all in terms of the regulations. So at the first test, we were going to be quick and you improve for the first race. But it's not a massive chunk.
"Whereas now, when we get to the first race, everyone's going to be much quicker. Then three races in, there'll be another chunk of lap time. By the end of the year, we might not be far off - a couple of seconds, I think, will be pretty good when we get a real handle on it."
What preparations have you been doing over the winter?
JB:"I've done a hell of a lot of training over the winter and, in terms of diet, limiting my intake - but in a safe way. But that's all gone out of the window in January; I haven't trained for three weeks because I've had a knee infection.
"And when you're sat on you're a*se all day like yesterday, you just want to eat. So I'm not as light as I will be at the first race, but I'm definitely going to lose another kilo by race one and it's going to be tight. But we won't be 10 kilos overweight and that's the important thing.
"There's a lot of weight that's got to come out of the car still, because there's so much logging in the car. So there's a lot of work needed for race one but we understand that and everyone at the factory is doing their best to make everything light."
The Sky Sports F1 Online team will be providing live commentary of all three winter tests, with live updates from trackside also on Sky Sports News.