McLaren frustrated in attempts to test new front-wing on the final day in Bahrain
Jenson Button only able to run 22 laps as team try out new front-wing
By Pete Gill
Last Updated: 03/03/14 10:37am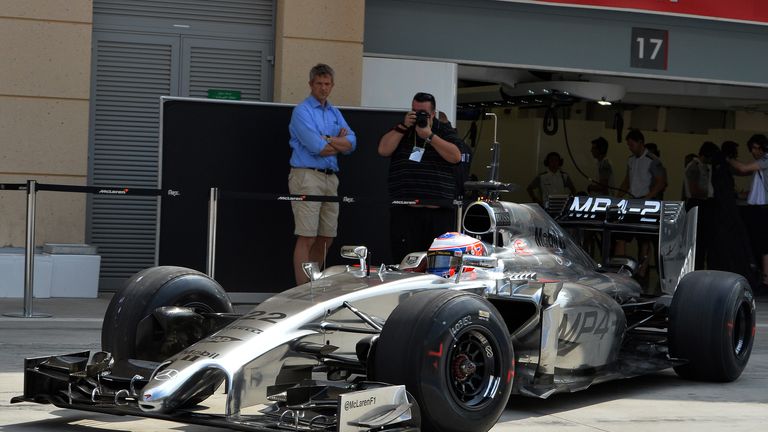 Having concluded the first of the two Bahrain tests apparently vying with Mercedes to be the lead runner at the start of the season, McLaren appeared to lose ground during the final test to Ferrari and fellow Merc-runner Williams.
Although Kevin Magnussen was able to complete over 80 laps on Saturday, Jenson Button was limited to just 22 laps on Day Four by an engine failure and then an electronics issue which struck just after the lunch break.
The setbacks were particularly ill-timed for the team given they had determined to devote the weekend's running to evaluating upgrades to their MP4-29 car.
'At the end of the day, any further attempts to run were hit by an as-yet undiagnosed control electronics problem - the result of which is that the team had no driver feedback upon which to evaluate the new front wing,' rued the team. 'The engineers will be able to evaluate its strengths using the limited run-data we accumulated during the day.'
Speaking on Friday night after his first outing of the week, Button had acknowledged that McLaren's new car needed more new parts - and more pace - after opting for a relatively conservative design with the MP4-29.
"I think this car is a good car. But at launch we went in a direction that was for more driveability with the car and it's not just bolt-on downforce that we've got on it, it's usable downforce," he said.
"We always knew we were probably lacking in that area, but we feel that by the first race we'll be good. I don't know where we'll stand but we'll be a lot more competitive.
"I'm not worried about where we are. I'm quite happy with the basic car that we have, but I know we need more downforce. But that's coming."
The new season starts in two weeks' time with the Australian GP at Melbourne's Albert Park.