"A lot of work to do," says Button after McLaren fail to score a point in China
Crestfallen Magnussen highlights lack of downforce from MP4-29
By Pete Gill
Last Updated: 20/04/14 2:52pm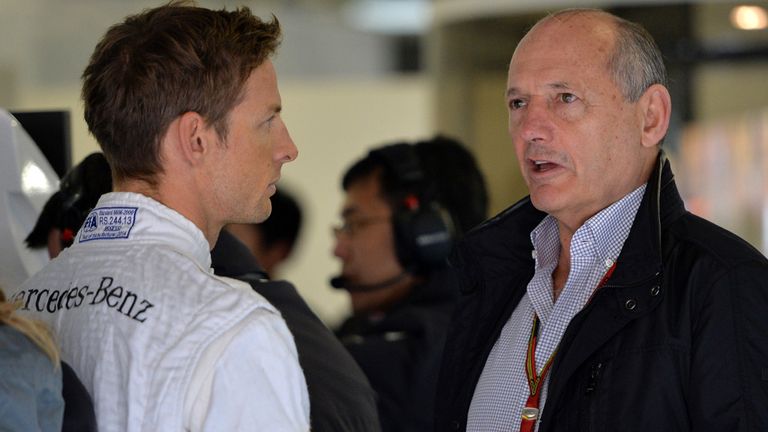 Despite arriving in China convinced that the MP4-29 was the second-fastest car on the grid, McLaren struggled all weekend with neither Button nor team-mate Kevin Magnussen finishing in the points on Sunday.
"We have a lot of work to do. It's tough for all of us - it's tough in the car because we have to put up with it for an hour-and-a-half, but it's also very tough for the guys working at Woking," Button admitted to Sky Sport F1 after being lapped by race winner Lewis Hamilton.
Since registering a podium finished on his debut in Melbourne a month ago, Magnussen has scored just two points in the last three races and the young Dane bluntly bemoaned his car's lack of downforce after crossing the line a distant 13th in Shanghai.
"It's a big issue, but the problem for us is that we are struggling to get front-tyre heat in the wet - and it's also a problem in the dry," added Magnussen. "It's not that we don't switch the tyre on as such, it's that it grains immediately.
"We're very front limited and this circuit has shown where our weaknesses are."
With three weeks until the next race, the Spanish GP at Barcelona, team boss Eric Boullier has promised that McLaren will leave no stone unturned in a bid to extract some extra pace from the MP4-29.
"Our car isn't competitive enough, we know that, its deficiencies are mostly the consequence of insufficient downforce," said the Frenchman.
"Furthermore, the Shanghai circuit is front-limited - in other words it punishes lack of front-end grip. That being the case, the fact that we've been unable to get sufficient heat into our front tyres in the chilly weather conditions we've experienced this weekend has further compromised our performance here.
"There's a three-week gap between now and the Spanish Grand Prix, and we'll work flat-out between now and then in an effort to address our car's shortcomings. We know what we have to do, and we'll work night and day to do it."