Hamilton: No complaints
Lewis Hamilton says he can take comfort from the fact he again finished on the podium after pit delays contibuted to him dropping out of the fight for victory.
Last Updated: 27/03/12 9:03am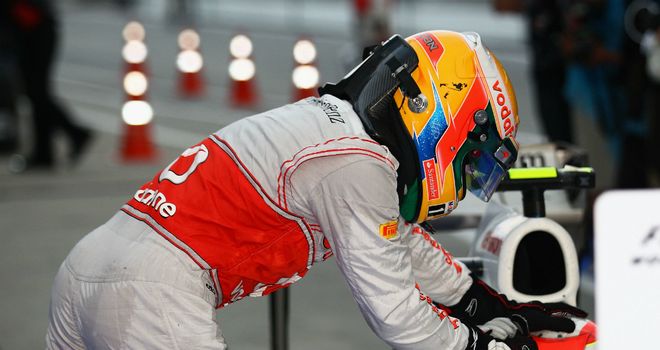 Lewis Hamilton has taken comfort from a second successive podium finish even though pit-stop delays in Malaysia contributed to another failure to convert pole position into a race win.
The McLaren driver managed to fend off team-mate Jenson Button into the first corner at Sepng but the onset of changeable conditions made the Sepang race more of a lottery than the Woking squad wanted.
Hamilton led convincingly to the early red flag but lost ground at the subsequent pit stops at the re-start, which dropped him behind Fernando Alonso and he then steadily lost touch with the Spaniard and surprise package Sergio Perez as the duo waged an absorbing fight for victory.
Speaking to Sky Sports F1's Natalie Pinkham after finishing third for the second time in eight days, Hamilton conceded that the two men he finished behind had performed well and his own delays had simply left him with too much to do.
"It was an interesting race," he said.
"Obviously we would have been much happier finishing where we started. But the other two drivers [Alonso and Perez] did a fastest job and I tried my hardest to catch them.
"It was just a very eventful race really. Trying to find the right time to change from extreme tyres to intermediates - we were probably a bit late with that - and then going on to slicks. Making the call, it's whether you take the risk or not and the others went a little bit earlier.
"We lost a bit of time through our pit stops - I think I had a [problem with the] right-rear, or left-rear, on one of the pit stops and then a right-front and so I lost a bit of time there.
"So I was a kind of out of the fighting and trying to close a 12s gap was pretty tough."
And although he will have to wait another three weeks for another chance to open his victory account for 2012, Hamilton took the positives from the result.
"I can't complain," he said. "I think the car has been good all weekend and the team continue to do a good job. And I'm on the podium again - which is my target, to have consistency.
"I can't understand for the life of me understand how I did it in 2007 [when he finished on the podium in nine consecutive races] so I'm trying to repeat that."