McLaren to play hardball with Hamilton
McLaren Chairman Ron Dennis has hinted that Lewis Hamilton may have to accept a less lucrative contract if he decides to stay on at the team into 2013.
Last Updated: 11/06/12 6:39pm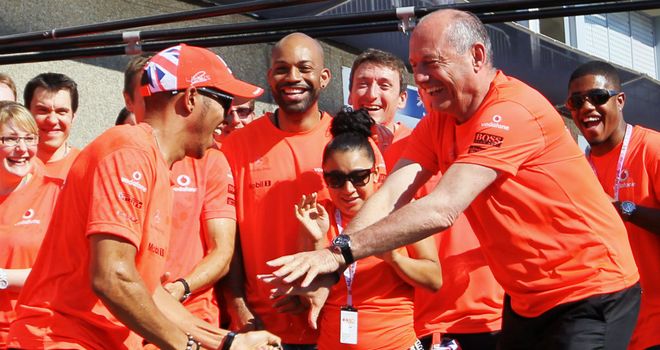 McLaren Chairman Ron Dennis has hinted that Lewis Hamilton may have to accept a less lucrative contract if he decides to stay on at the team into 2013 owing to the current economic climate.
Hamilton's current deal at McLaren expires at the end of the season and reports in the British press last month suggested that the Woking outfit, who are desperate to hang onto the driver they have nurtured since the age of 13, were poised to offer the 2008 World Champion a new five-year, £100m contract which would make him the joint highest-paid driver in Formula 1.
But with the current worldwide financial climate very different to the one Hamilton signed his last five-year contract in back in early 2008, Dennis has suggested there will need to be a "balance" struck in talks over a new deal.
Speaking to Sky Sports F1 in the aftermath of Hamilton's first victory of the season in Canada, which saw him regain the lead of the Drivers' Championship, Dennis said: "It's a complex situation. He's on the end of a contract which was signed at a time when the economy was somewhat different and now there has to be a balance between that."
Asked by Martin Brundle if he meant Hamilton would have to accept a pay cut, Dennis replied: "He's very highly paid. He's certainly paid more than I am!"
Hamilton has been linked with all three of the Woking team's main rivals - Red Bull, Ferrari and Mercedes -and Dennis added that it was natural that both driver and McLaren themselves would be looking at alternative options in case a new contract didn't materialise.
However, the former Team Principal expressed hope that Hamilton's long-established ties to McLaren will prove a decisive factor.
"You're obviously going to look at what's available; where can he go - he's going to look at that - we're going to look at who's available," Dennis added.
"At the end of the day, hopefully, the fact that he's been part of this team from the beginning of his career will pay a significant role in whatever decisions both sides make. But it's a little early to be talking about it."
After a turbulent year both on and off the track in 2011, McLaren Team Principal Martin Whitmarsh has spoken about the emergence of a more mature Hamilton this year and Dennis says he has also seen signs that the 27-year-old is a far more relaxed character so far this season.
"Lewis had a tough year last year for lots of reasons and not all of them on track or in car, some of them came from things [that] happened in his life," he said.
"He's still a young guy and I always think, slightly morbidly, the last thing you learn is how to die and at the end of the day everybody learns every single day. He's in a challenging part of his life, I think he's come through it well now, he's much more focused and more relaxed, and that I think is [important].
"Being relaxed is what the team needs to be. We were too tense in the last races. Some of these mistakes which were made were too much pressure and this race will relax the team as a whole."