Sky Sports F1's Martin Brundle says too soon to rule Lewis Hamilton out of 2013 title fight
Although pundit does think YDT ban will have hurt Mercedes
By James Galloway
Last Updated: 25/07/13 12:13pm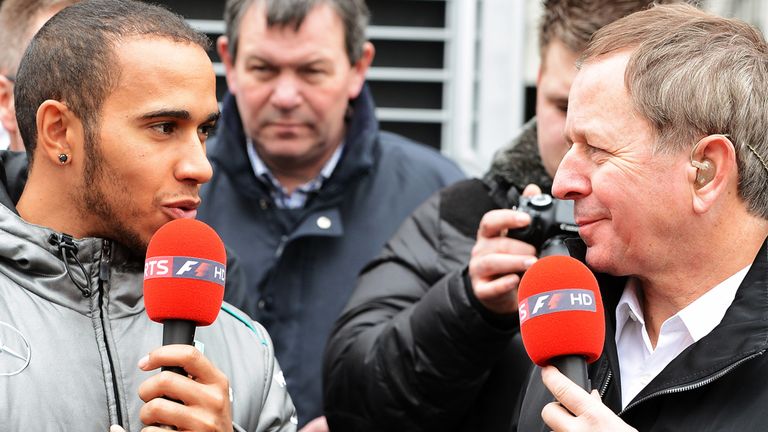 Ahead of this weekend's return to racing action in Hungary, Hamilton's deficit to championship leader Sebastian Vettel stands at its largest margin of the season - 58 points - with the 2008 title winner still to win for his new Anglo-German employers.
But with ten races and a maximum 250 points still to play for between now and November's season-finale in Brazil, Brundle thinks it is too early to sound the death knell on Hamilton's 2013 title aspirations.
"There's a long way to go in this championship. Halfway through the Hungarian Grand Prix is halfway through the championship season, so many points to come," the Sky F1 expert analyst told Sky Sports News.
"Lewis is still in there. He's got some points on the board so he's not out of sight already. He's got the pole positions, the victories haven't come his way - two have gone to [Nico] Rosberg of course, his team-mate, who's driving beautifully.
"So I wouldn't write him off."
However, Brundle thinks Mercedes' chances at the Hungaroring this weekend won't be helped by their enforced absence from last week's Silverstone test given they are the only team yet to sample Pirelli's revised tyres on track.
Although the fact that the new-look rubber appears more consistent over a race stint should theoretically help Mercedes' long-running attempts to get on top of often chronic degradation problems, and the team have been given the data from the test by Pirelli, Martin reckons the lack of first-hand experience will prove problematic.
"Missing the Silverstone test will hurt them quite a lot because the tyres are fundamentally changing now for the second half of the season," he said.
"They will get the data but they won't know how it applies to their car. Even a tiny change in the side-wall of the tyre, or the squash as it's going down the straights when the downforce starts getting applied, affects the aerodynamics of your car. So I think it's going to hurt them quite a lot."
Hamilton's current mindset is also likely to be scrutinised further in Hungary amid ongoing tabloid reports about his private life following his recent break-up with Nicole Scherzinger.
Brundle added: "He needs to find a way pretty soon to be able to package that up and be able to manage his private life and make sure he's maximising his racing life.
"He's made a great decision it seems in going to Mercedes-Benz, I think they'll be strong again in 2014, so he's done some things that are proving to be very smart. Let's hope it stays that way."