Lewis Hamilton credits his education in karting for nailbiting Bahrain victory
Rosberg duel reminded Hamilton of pair's dices as juniors
By Pete Gill
Last Updated: 08/04/14 8:11am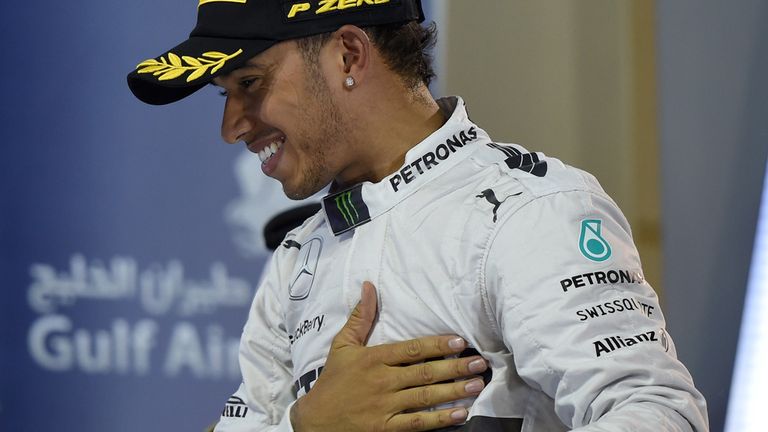 With the ten-second lead he had built up through the middle stage of the race instantly wiped out by the appearance of the Safety Car, Hamilton, running on the slower medium-compound tyre, delivered a tour de force of defensive driving to fend off team-mate Nico Rosberg for the final ten laps of the race.
Having re-taken the lead from Rosberg on lap 17 after being briefly passed by the German, Hamilton twice saw his Mercedes team-mate edge ahead in Turn One only to under-cut the sister W05 and hold the inside line through Turns Two and Three during a riveting finale that ultimately concluded with Hamilton crossing the line a mere one second ahead of the World Championship leader.
For the millions watching the spectacle unfold, it made for riveting viewing. From the confines of Hamilton's W05, it made for a nostalgic trip down memory line.
"Me and Nico haven't had a race like that since back in our karting days," mused Hamilton after cutting his points-deficit to Rosberg to a mere 11 points.
"There was a race we did years ago. He was leading the whole way and in the last lap I overtook him and won the race. I thought 'he's going to do the same to me', and get me back. That's what was going through my head."
Yet with Hamilton aggressively defending the width of the race track, there was no way through for Rosberg with the victor crediting the tricks of the trade he picked up as a karter for the successful rebuttal.
"A lot of times Nico was in my blind spot and I had no idea if he was there or not, so I tried to leave space," said Hamilton. "You don't know whether he's attacking or braking later into the next corner because you don't even know where he is. That was very difficult. But for me it feels like a long time that I've been able to have a real racer's race and really use whatever skills that I've acquired over the years as a youngster in karting. Being able to apply them in Formula One is a lot harder but to be able to pull them out of the bag and use them again.
"The time that I went round the outside or got back, just timing it right - you know, it's a fantastic feeling to be able to do that. It's one of the greatest feelings when you obviously come out on top."
For a grim-faced Rosberg - whose post-race slap on the back for Hamilton was, on second viewing, as much a rugby tackle as it was a respectful embrace - the feeling couldn't have been more contrasting. Yet having repeatedly insisted that he was the faster driver on the day, Rosberg, to his credit, refused to make any criticism of Hamilton's defence despite, at one stage, being forced off the track by his team-mate.
"There was always the necessary margin, might not have looked like it on TV but there was. It was good racing," declared the German. "I was just pushing to the limit, going for it and just making sure we don't crash, but all the way, as hard as possible and it worked out, and at no time did I think 'we're going to...' At no time were we at risk of taking both cars out."
Rosberg's does at least retain the lead of the World Championship with his performance in Bahrain a vast improvement on his underwhelming outing in Malaysia where he was defeated by the remarkable margin of 17 seconds as Hamilton's claimed the first of his two victories in a week. In the wake of losing out on pole position to his team-mate on Saturday, Hamilton voluntarily identified Rosberg as the faster driver around the Sakhir circuit and confirmed after his gruelling victory a day later that he would be studying the data from Rosberg's W05 to understand his disadvantage.
"A lot of the advantages that I had in the last race Nico found them as we came here and applied them and did even better, so I've got to go now and find out what he did better than me and see if I can improve for the next race," acknowledged Hamilton.
If Hamilton's victory in Bahrain was built on the grounding he received in karting as a youth, his prospects for next week's Chinese GP - where Rosberg claimed his first F1 victory two years ago - may now be dependent on homework of an altogether different kind.