Damon Hill says title will be difficult for Rosberg but Hamilton can still be beaten
Lewis eyes fourth successive win in Spain but Nico still tops standings
By Pete Gill
Last Updated: 01/04/15 2:42pm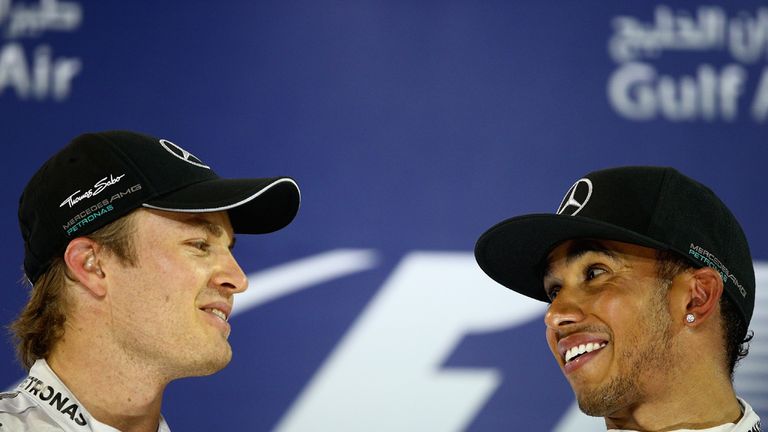 After three successive victories - the first F1 'hat-trick' of his career - Hamilton will arrive in Spain with momentum on his side and the status of pre-race favourite. Yet it is Rosberg who retains the lead of the championship with the German's victory in the season-opening Australian GP - from which Hamilton retired after a handful of laps - followed by three successive second places behind Hamilton. Don't rule him out, warns Hill.
"Hamilton is looking so good, he's in the sweet-spot, and it's going to be difficult for Rosberg," the 1996 World Champion, back on duty for Sky Sports F1 this weekend, told Sky Sports News.
"But it will only take one more win for Rosberg to really set it up because we know Hamilton can be fragile at times."
Despite featuring both the Spanish and Monaco GPs - the latter being the showpiece event of the season - the F1 month of May this year will forever be recalled in the context of the 20th anniversary of Ayrton Senna's death. It's perhaps as a result of that eclipsing perspective that the all-Mercedes title battle has been compared to Senna's legendary and defining duel - or should that be feud? - with McLaren team-mate Alain Prost in the late 1980s.
"The championship is between those two," declared Martin Brundle in the wake of Hamilton's crushing defeat of Rosberg at the Chinese GP three weeks ago, yet the fireworks and bitter acrimony which made the Senna-Prost battle such compelling viewing has not yet featured in the fight for supremacy at Mercedes. At least not yet.
"In those days, drivers could be themselves; sometimes that could be good and sometimes that could be bad. In today's world there would have been more of an outcry about some of the things Ayrton was prepared to do to win," mused Hill. "Hamilton and Rosberg know they have to keep their relationship as good as possible, but it's tight and tetchiness is starting to creep in."
This weekend's Spanish GP, live on Sky F1, starts at 1pm on Sunday afternoon