Jenson Button feels an unhappy Lewis Hamilton will be 'untouchable' in Canada
Briton admits compatriot would "destroy" him following a defeat
By William Esler
Last Updated: 27/05/14 2:42pm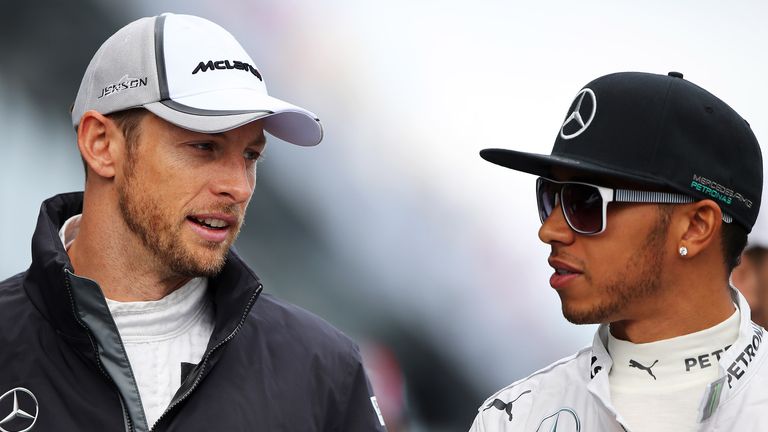 Tempers - or at least tensions - flared in Monte Carlo between the Mercedes team-mates with Hamilton seemingly convinced that Nico Rosberg had deliberately run off the road at the end of qualifying to prevent him from taking pole position.
Having partnered the 2008 World Champion at McLaren for three seasons, Button knows that an unhappy Hamilton is a dangerous force and admits his former team-mate would always come back stronger and "destroy" him at the next race after being put on the back-foot.
"Whether Nico did it on purpose or not, Lewis is going to think that he did and that is the way when you are team-mates fighting for a World Championship," Button told the written press following the Monaco GP.
"But you will see a more determined Lewis at the next race. I remember with Lewis that when we had a tussle in a race or there was an issue between us or with the team, he would have a really bad race and be quite outspoken and emotional. And at the next race he would destroy me. He would come back stronger than ever."
Button cites the 2012 season as a key example of this when a set-up mistake saw Hamilton qualify in seventh at the Belgium GP whilst he was on pole and went on to win. At the following race in Italy, Hamilton topped two of the three practice sessions, qualified on pole and took victory.
"In Spa, we had the issue of running different downforce levels and he did not like that," he added.
"It hurt him that weekend, but he came back and won the next race. He is very good at turning it around because he is a super driver, he is very fast and he can wrestle a car around a circuit. The mind games people play on him will not work.
"Initially, he is an emotional character, and he will be quite hurt, but he comes back strong. After a bad race he would arrive at the next one very quiet, and then go out and blitz it. He will do the same in Canada - he will probably be untouchable in Canada. And he likes the circuit."
The Circuit Gilles Villeneuve was the scene of Hamilton's first F1 pole and victory in 2007 and the Briton has since gone on to win twice more in Montreal.