Lewis Hamilton's German GP woes worsen as grid drop for gearbox change confirmed
Title-chasing Briton bumped down to 20th on the grid
By James Galloway
Last Updated: 20/07/14 5:17pm
Lewis Hamilton will start the German GP from 20th place after Mercedes were forced to change the gearbox on his car after it was damaged in Saturday's qualifying crash.
The championship-challenging Hamilton crashed heavily at Sachs Kurve in Q1 after a front-right brake disc failure pitched him into the barriers, leaving him with the prospect of starting the 67-lap race from at least 15th place on the grid - 14 spots behind title rival Nico Rosberg, who qualified on pole.
Soon emerged that the Briton's weekend could get even worse with Mercedes planning to change the brake material on his W05 from Brembo, which failed, back to Carbone Industrie, something that could have incurred a pitlane start.
The FIA has since allowed Mercedes to make that particular switch without penalty. Article 34.2 of the Sporting Regulations lists work allowed on cars in parc ferme and besides accident damage, teams must satisfy the governing body that 'any replacement part a team wishes to fit is similar in mass, inertia and function to the original'.
Mercedes have done this but with the gearbox on Hamilton's car damaged in the 130mph shunt, the five-place penalty incurred by its replacement means he'll start on the penultimate row of the grid alongside Caterham's Kamui Kobayashi.
Speaking on Saturday night, Hamilton, who admitted he was "sore" after the accident, conceded his hopes of winning the German GP were already over from wherever he started. 
"Whenever the lights go out, I'm always thinking of finishing the race first, that's always my target. But I'd have to be smoking something to think I could really get to Nico," he said.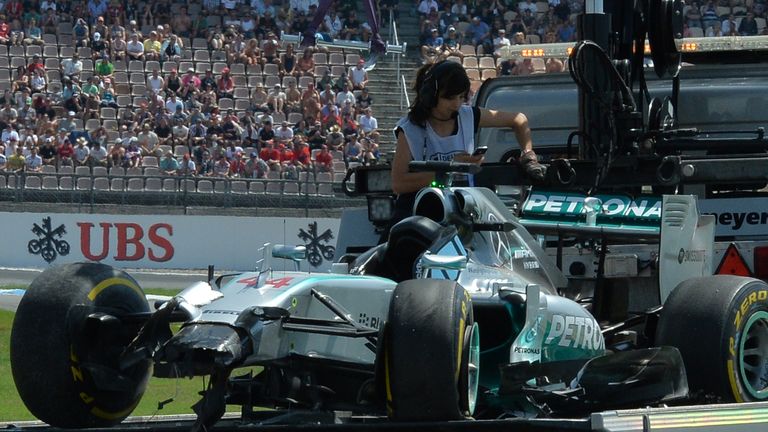 "He's on pole position, he's got no-one in front of him, so by the third or fourth lap he'll be several seconds up the road and as I'm starting last, I could be a good 30 or 40 seconds behind.
"I've now got to do damage limitation again, which I seem to be doing quite often. I don't know where I'm starting – if I'm starting 16th or starting in the pitlane. We'll find out."
Hamilton therefore faces the prospect of seeing his points deficit to Rosberg widen once more, just two weeks after his British GP victory trimmed the gap to just four points.
The former World Champion last started a race from as low as 20th place when he was sent to the back of the grid at the 2012 Spanish GP for fuel irregularities. On that occasion, he recovered to finish eighth in a McLaren.